March 10th, 2012
My grocery shopping schedule was a bit funky this week due to our travel. I did my normal "big" Kroger run on Tuesday evening, which felt so weird (though the store was nicely empty). But I managed to put together a pretty awesome Publix trip yesterday!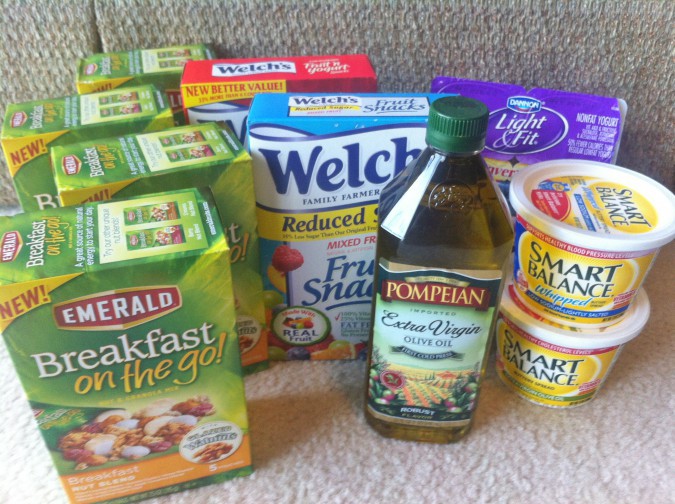 Total Spent: $12.23 (including tax) Total Saved: $28.96 (between coupons and "special price" savings)
4 boxes Emerald Breakfast on the Go at 2 for $3.29 used 4 $1.00/1 coupons $0.65 per box
2 boxes Welch's Fruit Snacks at 2 for $2.79 used 2 $0.50/1 coupons; doubled to $1.00 off $0.40 per box
2 tubs Smart Balance buttery spread at 2 for $2.59 used $1.00/2 coupon $0.80 per tub (Land o Lakes spread is my favorite, but this was too good of a deal to pass up.)
2 Dannon Light and Fit 4-packs at $2.19 each used $2/2 Publix coupon used 2 $0.25/1 manufacturer's coupon; doubled to $0.50 off $0.60 per 4-pack
1 32-ounce bottle Pompeian EVOO, BOGO at $12.09 used $1.00/1 coupon $5.05 after BOGO and coupon (I paid $4.19 for a Kroger brand 16 ounce bottle, so this was a great deal.)
I also picked up 2 bags of Pretzel Crisps at Target: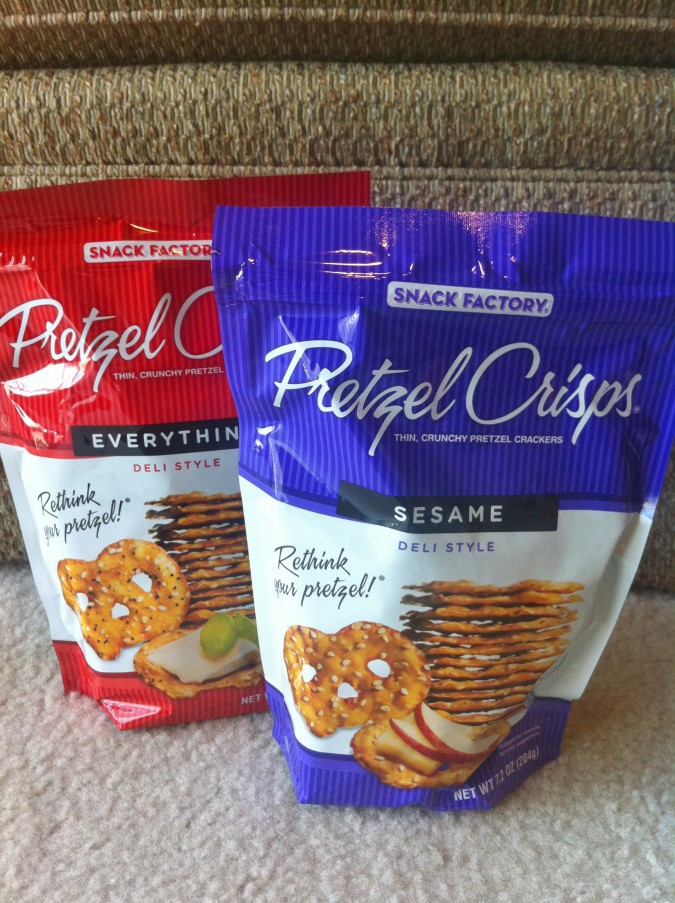 Total Spent: $2.09 (including tax)
These actually were not on sale; their normal price is $1.99 at Target, but there was a printable $1.00/1 coupon this week, so I got them for $0.99 each. I also saved 5 cents by using my own bag. :-)
And…..I swung by the thrift store. I had to go for work purposes, but of course I ended up buying a couple of things: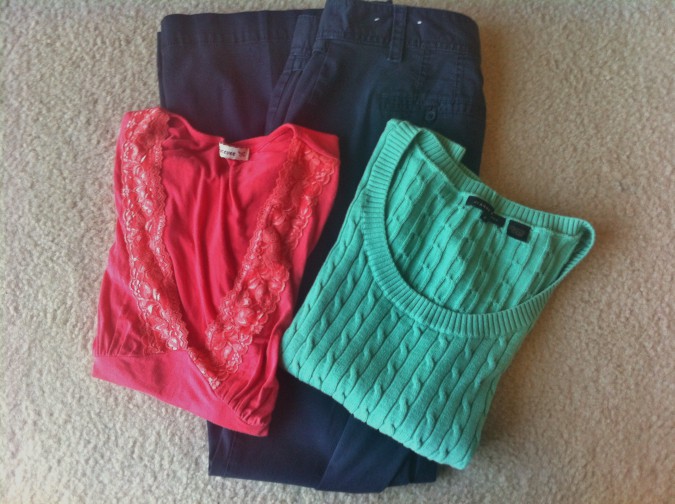 You can tell I was in a spring-y mode. The navy blue chinos are Ann Taylor Loft, and I thought they would be cute with the camel colored flats I'm eventually planning to buy. The pink shirt is Forever 21, and the short-sleeved cable knit cotton sweater is by Jeanne Pierre (whoever that is). I spent around $8.00 total, thanks to my employee's discount.
So that was my week! It felt good to get back to being frugal after being on vacation. I always feel like I'm just bleeding money on vacation, even though I know we had it saved and it was totally worth it to spend. I'm looking forward to some good CVS deals starting up tomorrow!
---
---