September 9th, 2011
I had a great trip to Publix on this week's ad, a few good finds at Kroger, and an utter failure of a trip to CVS.
Here's my Publix haul: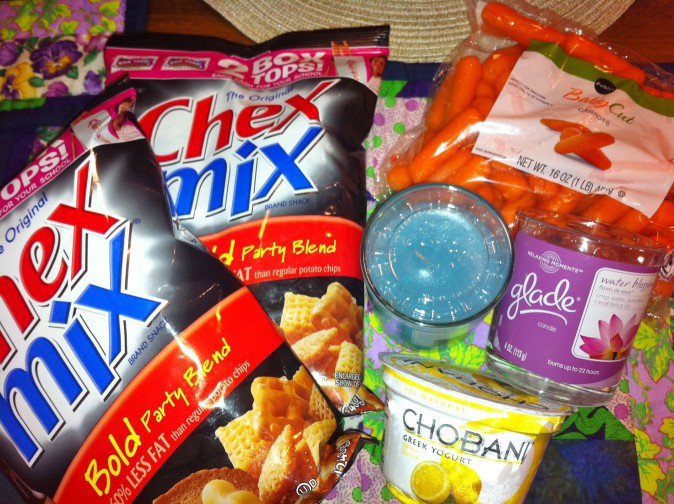 (not pictured: 1 Cover Girl Cheekers blush)
Total: $8.00, including tax
 Chex Mix: regular $2.59 each, on sale Buy One, Get One Free used 2 $0.50/1 coupons which doubled to $1.00/1 paid $0.59 for 2 bags
Chobani Yogurt: on sale 10/$10.00 or $1.00 each used 1 $0.30/1 coupon which doubled to $0.60/1 paid $0.40 for 1 (which is the price of store brand yogurt all the time, but I prefer the more expensive Greek kind. Sigh.)
Glade Candles: regular ~$4.00 each, on sale 2/$5.00 used 1 $1.50/2 coupon paid $3.50 for 2 candles, or $1.75 each
Baby Carrots: on sale for $1.25, a great price for baby carrots!
CG Cheekers blush: regular ~$3.75, on sale for $1.59
Saved $11.34 (including coupons and promotional pricing) or 58.6%
I do my full grocery shopping at Kroger, so my savings percentages aren't usually as impressive. This week was lacking in coupon matchups, but there were some good prices on things even without coupons.
My favorite finds included:
Valencia Oranges: 8 lb bag for $5.99, or $0.75/lb!
Green Bell Peppers (which I buy anyway): 20 for $10, or $0.50 each
Oscar Mayer Turkey: 1 lb family sized bag 2/$6.00 or $3.00 each (I bought 1)
Mueller's Whole Grain Pasta: $1.65 used 2 $1.00/1 coupons that I got in the mail when I complained to their customer service about not being able to print their coupon in Google Chrome paid $1.30 for 2, or $0.65 each
There were also some good markdowns in the Manager's Special meat section. Do you know about Manager's Specials at the grocery store? They put low prices on items when they are close to the expiration date. I have found bread, meat, and salad mixes for rock bottom prices by looking for that special orange price tag. As long as you freeze it immediately or know it will get used quickly, this is a great deal. Often, even when it is marked down, it's 2 or 3 days away from its sell-by date, which is fine by me. I got two packages of boneless pork chops for under $4.00 each and a package of sirloin tip steak for $4.67! Often this section is bare bones, but I caught it on a good day this week. The meat is currently labeled and frozen away for when I'm ready to use it.
Bolstered by those successes, I headed to CVS to play some drugstore game that ultimately failed. My plan was to use $1 Extra Care Buck I had from my last visit (4th scan of my Green Bag Tag!) and a few coupons. There were some Colgate Multipacks of toothbrushes that were advertised as starting at $2.99 that would print $3.00 Extra Care Bucks. So, I was going to buy one pack in my first transaction, using the ECBs I had, and then buy 2 more packs in separate transactions using the $3.00 ECBs to get them for free and donate them to a homeless ministry. Sadly, though, none of the packages I saw were marked anywhere near $2.99, so I would have been paying a good deal out of pocket. Also, the item I had planned to use my coupons on was not yet marked down. I've been really frustrated with this particular CVS for the delayed posting of current ad prices and for the attitude I've gotten from checkout clerks when I'm trying to use coupons and do multiple transactions. But it's the closest one to me, and I like being able to walk there. So this week, I just used the free Dove coupon that printed out at the Scan Center and my $1.00 ECB to get a Dove chocolate bar and a Suave deodorant (marked at $0.99) for only $0.06 tax. Not bad, I guess, but I was disappointed about not being able to get the toothbrushes to donate.
Have you had any great frugal shopping trips lately? What are your favorite tricks for saving money at the store?
---
---