April 29th, 2015
I was first introduced to Connie Britton as Tami Taylor, a.ka. Mrs. Coach, on Friday Night Lights. She was such an epitome of the modern Southern woman - the drawl, the fierce mama love for every player on the football team, the stand by your man, and, of course, the hair. Her hair was impeccable. I grieved when I got to the end of the series on Netflix, and I know I wasn't alone in that.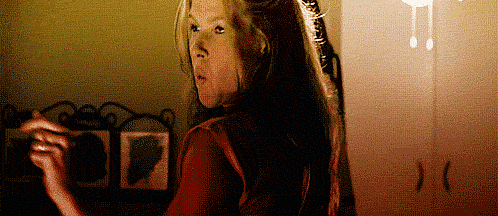 So a few years ago when I heard about this new show Britton was going to be on called Nashville, of course I scheduled it to record. (It doesn't hurt that I also like listening to country music.) I've been enjoying it ever since. Every week I'm blown away by whoever the talented songwriters are who create practically an entire album of hits for each episode. Oh, the emotional drama sucks me in too (understatement of the year).
I wondered at first whether it was really the show's actors singing. I remember thinking early on, "I didn't know Connie Britton was a singer as well as an actor," since I had only known her as Coach Taylor's wife. Well, you know what?
She wasn't.
I did some Googling, as one does, and found a few articles about when Nashville's creator Callie Khouri picked Britton to play aging country star Rayna James.
Khouri hired Britton without hearing her sing, even though Britton had not sung for an audience since she did regional theater in her early 20s. Khouri's husband, the music producer T Bone Burnett, was confident they could make it work. "All girls can sing," he said. "I figured, Look, she's going to go on national television, she's not going to make a total fool of herself," he told me later. "She must think she can handle it." Working closely with a voice coach and Burnett, Britton developed what Burnett considers a strong, storytelling voice, more like a Lucinda Williams than a Carrie Underwood. Britton still gets nervous singing in public, but some of the more intimate musical numbers are more compelling for the vulnerability Britton brings to them.
Connie was a little surprised herself about being offered the role.
Britton's real voice would be used on the show. And that made the actress very nervous. "I grew up singing," Britton reveals. "My mother was a music teacher and I trained for [musicals] in drama school. But when I started pounding the pavement in New York, I realized that people there have these majestic voices. I'm a perfectionist, so I let that go by the wayside.'"
I also read an interview recently with two of the actors from the show who make musical magic together as a duo. They weren't a package deal; they'd never even met before being cast. And it turns out, they're not even Southerners. They're a British man and an Australian woman playing a Texas cowboy and a Mississippi ingenue on an American TV show set in Nashville, Tennessee.
The music absolutely makes Nashville, and the show has such a sense of place. But all of that comes from an ensemble cast that includes a star who never sang professionally before and two people from far away continents.
It doesn't make any sense on paper, but that doesn't make it any less true.
So here's my question: what have you been holding yourself back from because you're not a fill-in-the-blank?
Connie Britton "wasn't a singer," yet I've been listening to her croon on Spotify all morning.
If you sing, you're a singer. You don't have to wait for someone to give you permission or to print out the right label to stick on your permanent record. Just start being a dang singer. That's what Connie Britton did.
Tune into Nashville tonight and every Wednesday at 10/9 central.
---
---