November 16th, 2012
When fall comes around, I go pumpkin crazy. I've always loved the pumpkin pie at Thanksgiving, but I'm not sure I ever thought about enjoying pumpkin outside of that one day a year until Starbucks pumpkin spice lattes came into my life. Now, I'm one of those people who gets excited when it's featured on their menu again every year (though one of my coworkers reminded me that you can get whatever flavor drink you want at Starbucks all year round). Even though we don't usually get much of a fall in the South, once the calendar hits September, I have pumpkin on the brain. When I realized I had a preposterous number of pumpkin recipes pinned, I decided to share them here. Here's the 9th of 10 different pumpkin recipes for your gustatory pleasure--all that's left is the pumpkin pie!
I'm not much of a baker, but I've come to enjoy making quick breads, i.e. breads that don't need to rise and be kneaded. They really are quite quick to pull together! I've had Trader Joe's boxed pumpkin bread mix before and thought it was really tasty, so I decided to do a comparison between it and "real" pumpkin bread.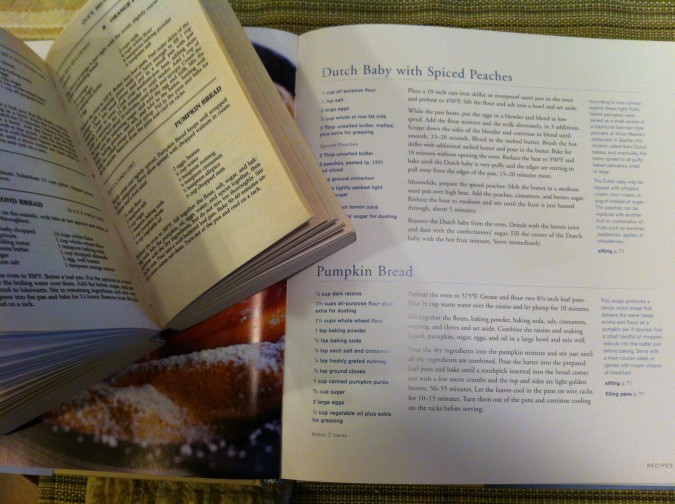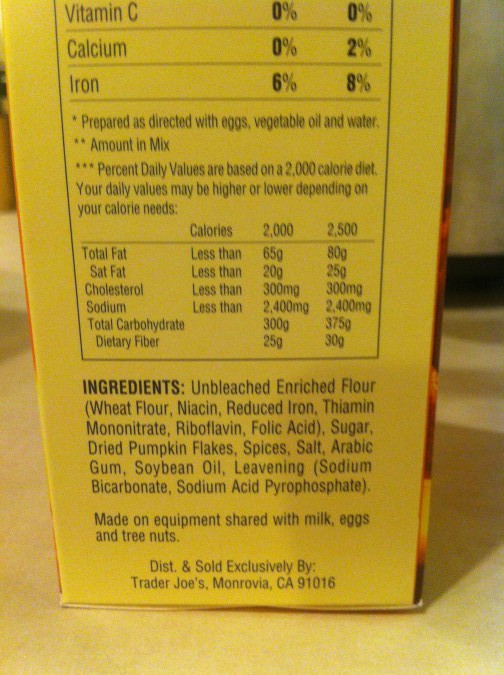 I went with a recipe from my trusty Fannie Farmer cookbook (on the left above); the one in Baking at Home a) made 2 loaves and b) required ingredients I didn't have on hand. Plus, ole Fannie has stood me in good stead for similar products, so I trusted her. The recipe basically included flour, sugar, water, oil, spices, and pumpkin puree: simple! You can see from the Trader Joe's box that it's basically that, as well, only with added preservatives, and pumpkin flakes instead of pumpkin puree. Yum?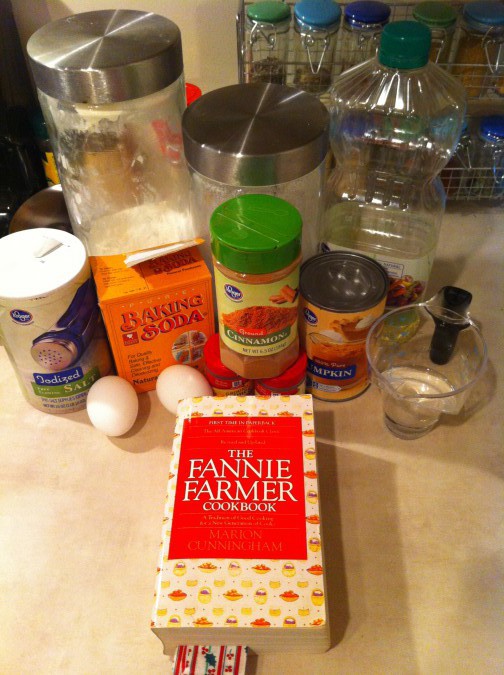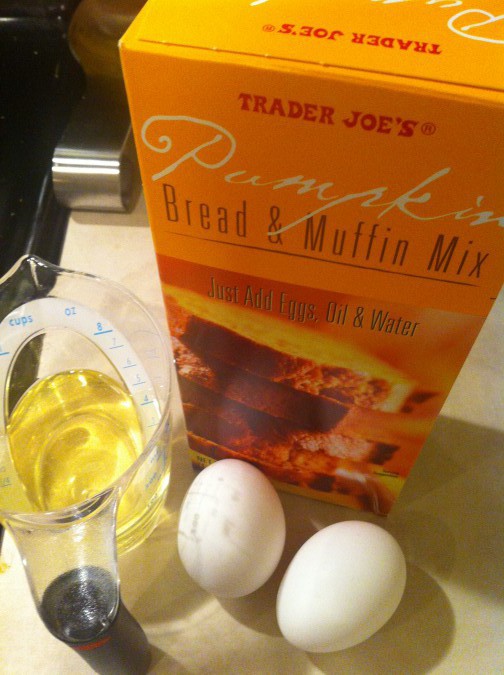 Unfortunately the Fannie Farmer recipe called for 1 cup of pumpkin instead of a whole can (probably because she assumes you've made your own), so I was left with another partial can of pumpkin. :-(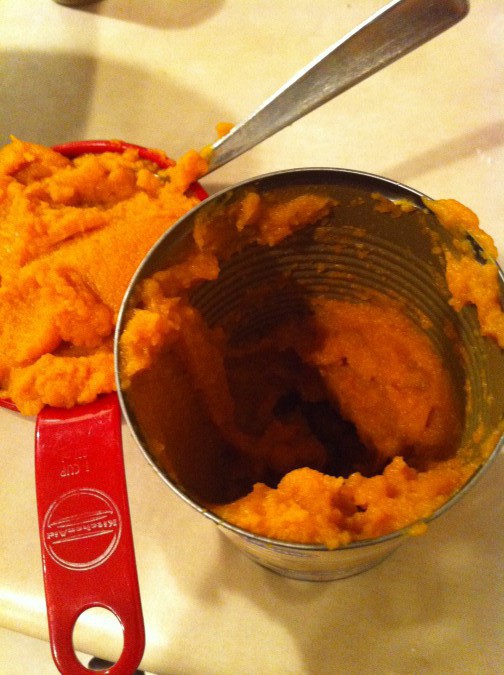 The batters mixed up pretty similarly, though obviously the Fannie Farmer involved more measuring (and "sifting" again).
The batter from the Trader Joe's mix was a little runnier, and not quite as pretty of an orange hue. You can see from the two pictures below that it evened out a little better into the loaf pan: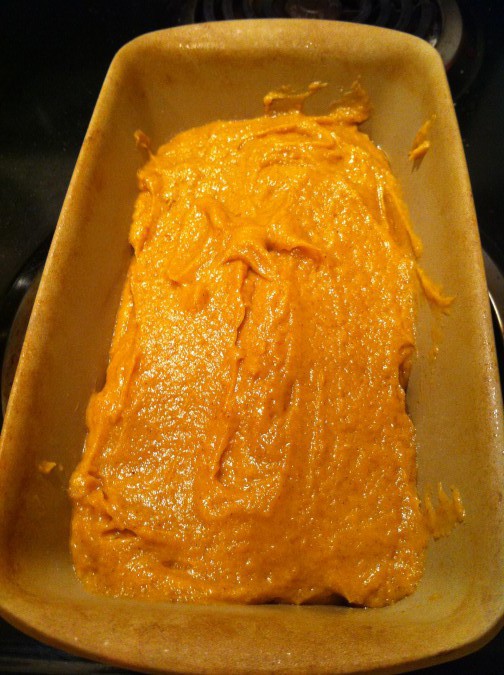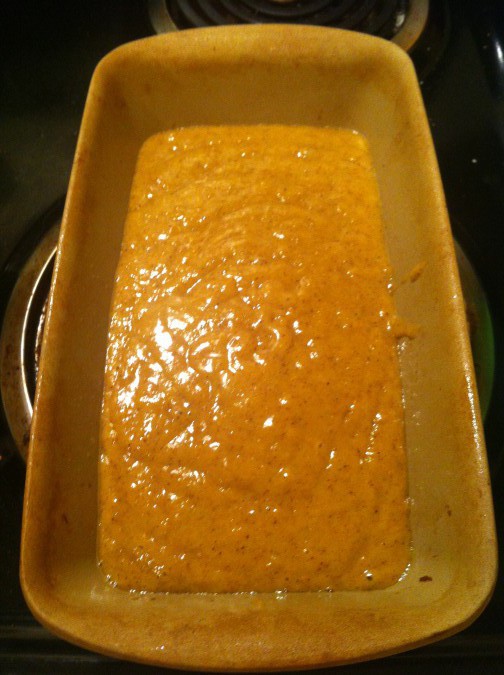 But the true test is the taste test, right?
First of all, when I cut the Trader Joe's bread, it ended up like this: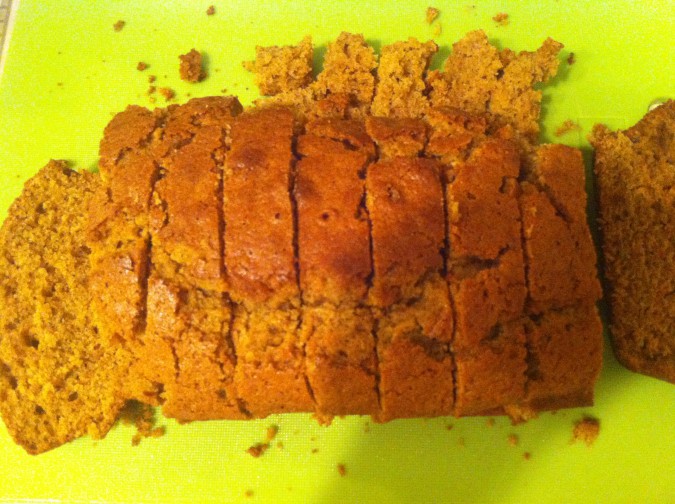 Boo! It had developed somewhat of a sugary crust on top, though I didn't add any sugar or anything to it, and the bread inside was so soft that even my sharp knife had trouble cutting through it cleanly.
I heated the breads up with colored toothpicks so I would know which was which (though actually, I could tell), and had Andy help me taste them. It was a real hardship on his part, you know.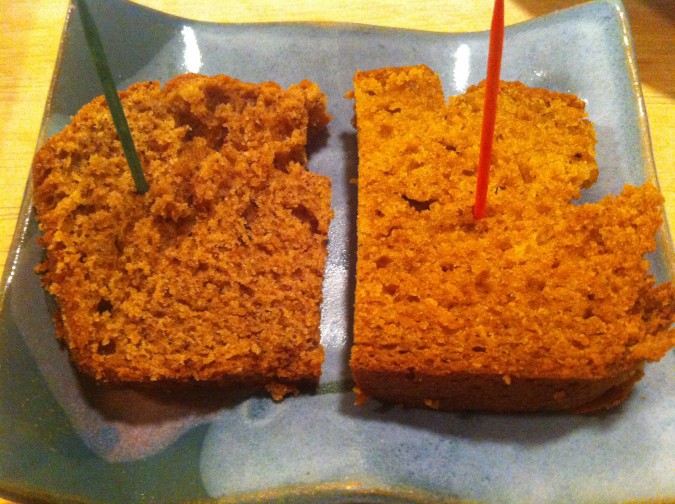 The one on the left is Trader Joe's. You can see it's not as orange-y and not as fluffy. It was a little drier and a little sweeter, though I felt like it had perhaps a bit more flavor. With no prompting from me, though, Andy chose the "real" recipe as the winner. It was moister and just seemed like a better bread all around. It's also probably nice that it doesn't have all the preservatives of the boxed mix. The Trader Joe's mix is only $2.99, but if you have the ingredients in your pantry for the Fannie Farmer bread, it's surely cheaper. I'd say turn to Joe in an absolute pinch, but if you can stomach a brief stint of baking, the from-scratch bread is worth the bit of extra effort.
---
---