September 28th, 2012
When fall comes around, I go pumpkin crazy. I've always loved the pumpkin pie at Thanksgiving, but I'm not sure I ever thought about enjoying pumpkin outside of that one day a year until Starbucks pumpkin spice lattes came into my life. Now, I'm one of those people who gets excited when it's featured on their menu again every year (though one of my coworkers reminded me that you can get whatever flavor drink you want at Starbucks all year round). Even though we don't usually get much of a fall in the South, once the calendar hits September, I have pumpkin on the brain. When I realized I had a preposterous number of pumpkin recipes pinned, I decided to share them here. This is the second of 10 different pumpkin recipes for your gustatory pleasure!
You know I love pumpkin, but did you know that I love cream cheese, too? Really for me a bagel is just a conduit for the cream cheese, and cream cheese icing is far and away my favorite. So when I saw this recipe from Gourmade At Home for Pumpkin and Cream Cheese Muffins I knew they had to be my on my fall to-try list.
They're more complex than the 2-ingredient cookies I featured last week, but not so complicated as to be intimidating.
The cast of characters: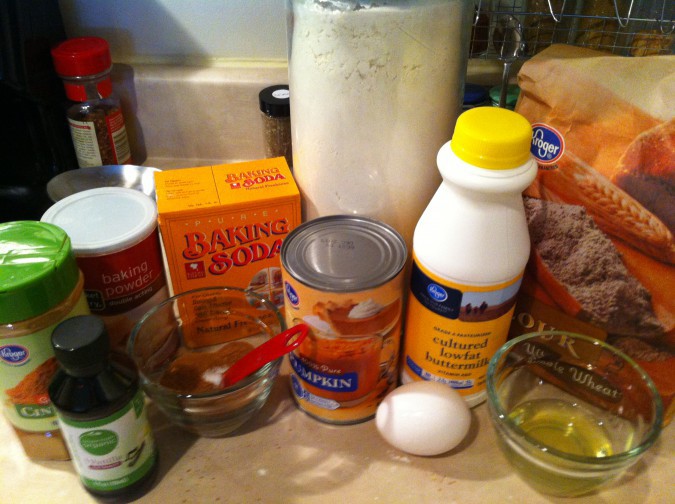 minus the oil and sugar because I spaced out about including them
1 cup all purpose flour 1 cup whole wheat flour 2 tsp. baking soda 1 1/2 tsp. baking powder 2 tsp. pumpkin pie spice, or to taste 1 tsp. ground cinnamon 1/4 tsp. salt 1 cup pumpkin puree 1/2 cup white sugar 1/4 cup canola oil 3/4 cup buttermilk 1 egg + 1 egg white 3/4 tsp. vanilla
1/2 cup whipped cream cheese 1 TB confectioners sugar
I didn't feel like paying the extra for a tub of whipped cream cheese, so I bought Neufchatel cheese, which is my go-to replacement for cream cheese. It comes in the same type of brick and supposedly has 1/3 of the fat. I used my hand mixer to whip that with the confectioner's sugar for the filling: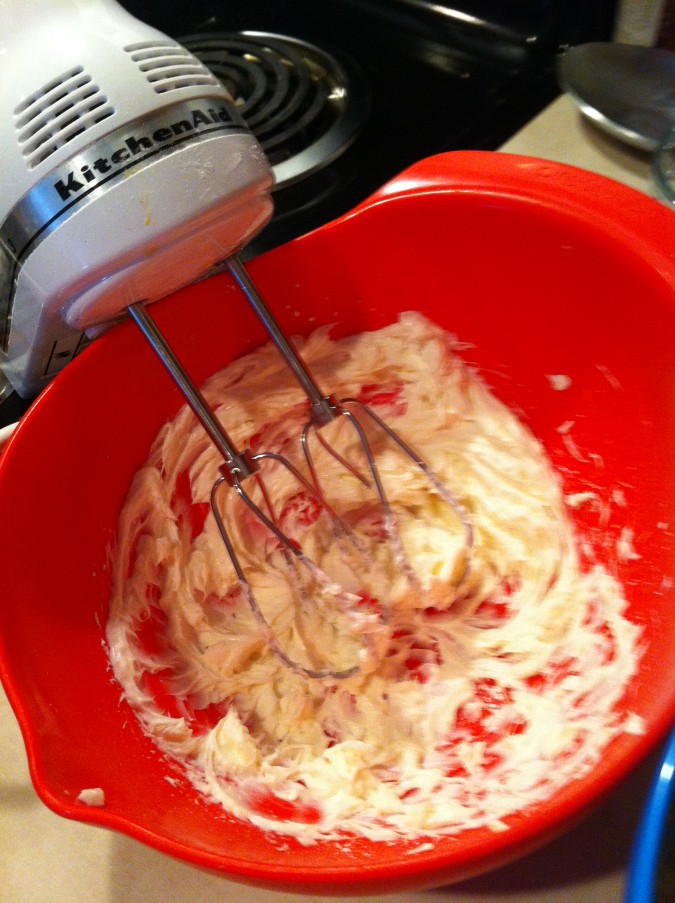 Then I mixed the dry ingredients together in one bowl and the wet ingredients together in another.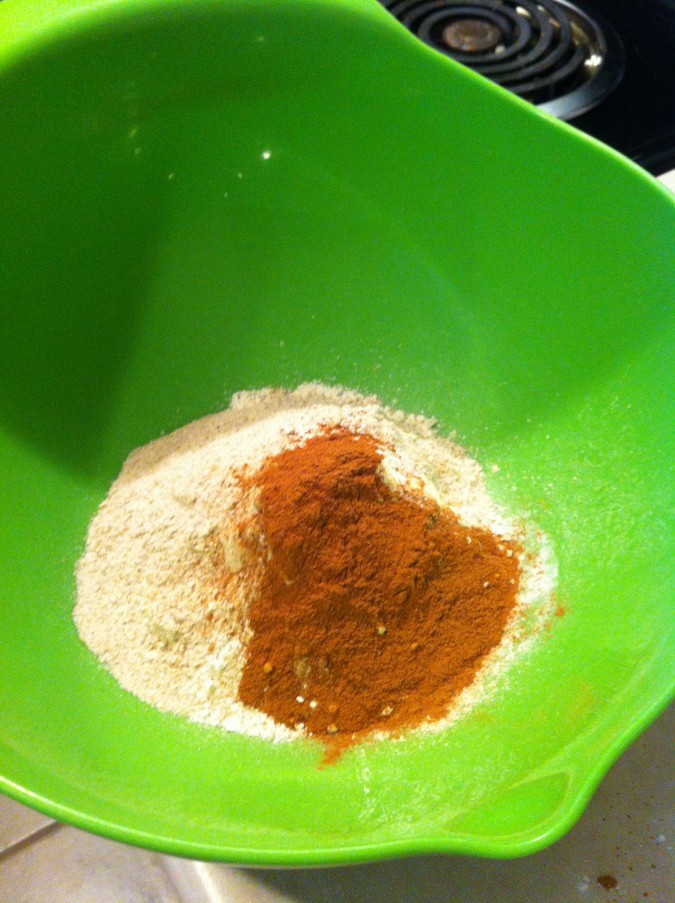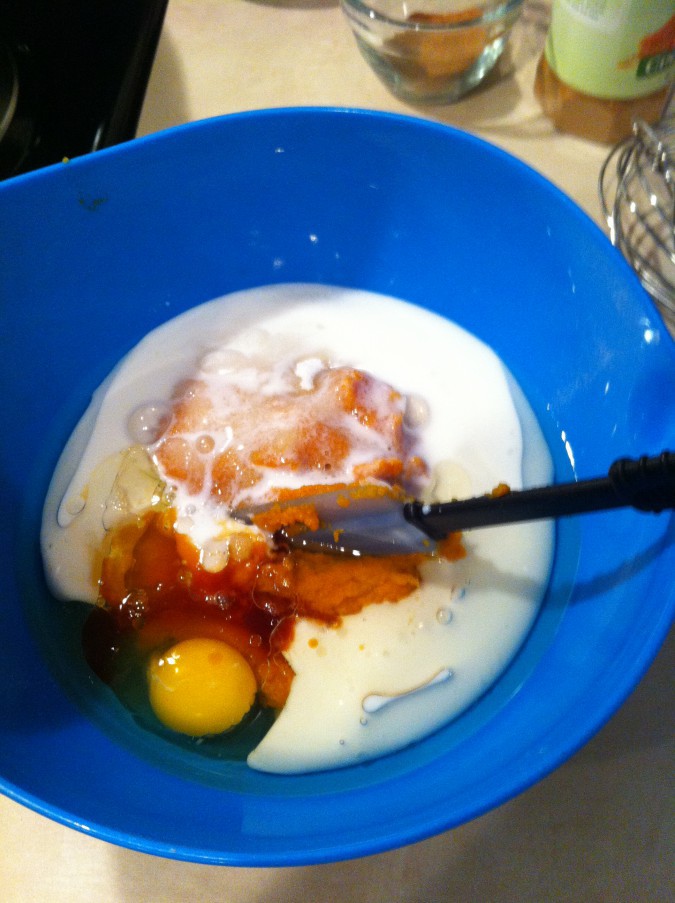 I didn't have pumpkin pie spice, but I knew I had most of the elements, so I mixed up a little on the fly. I used cinnamon, ground ginger, allspice, and nutmeg. I didn't have any ground cloves to add. The original recipe says to add the spice "to taste," but I never like tweaking recipes on my first go 'round, so I just used the listed amount.
Once the wet and dry ingredients came together, I had a beautiful orange batter: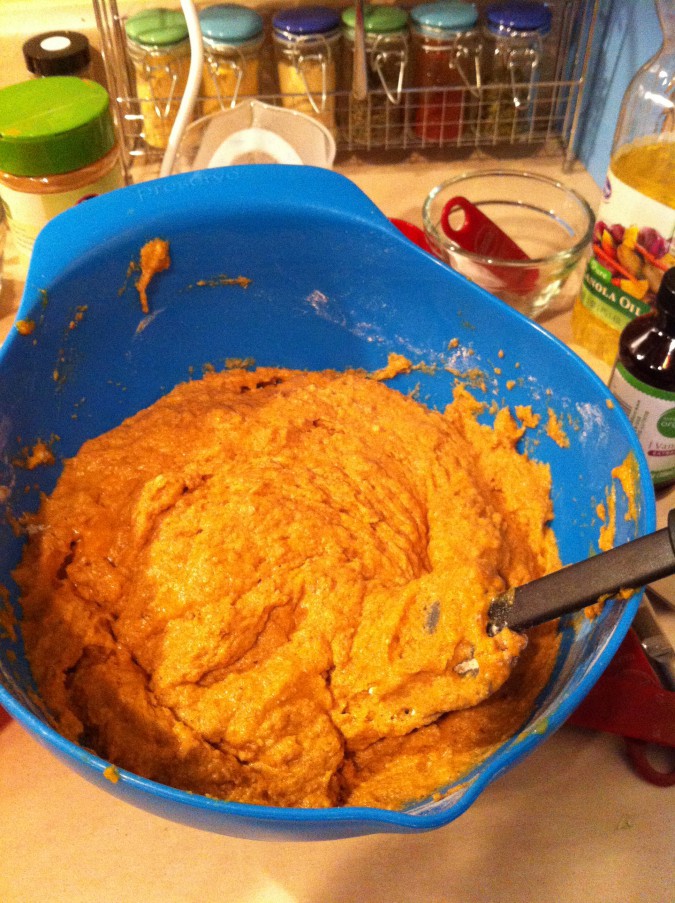 The instructions say to fill the muffin tins and then "place a dollop of the cream cheese mixture in the center of each muffin." Well, I don't know if it was because I didn't use the whipped cream cheese, but I had a little bit of trouble with those dollops! I also had more batter than my 12 muffin cups could hold, so I improvised and put the extra into 2 oven-safe ramekins.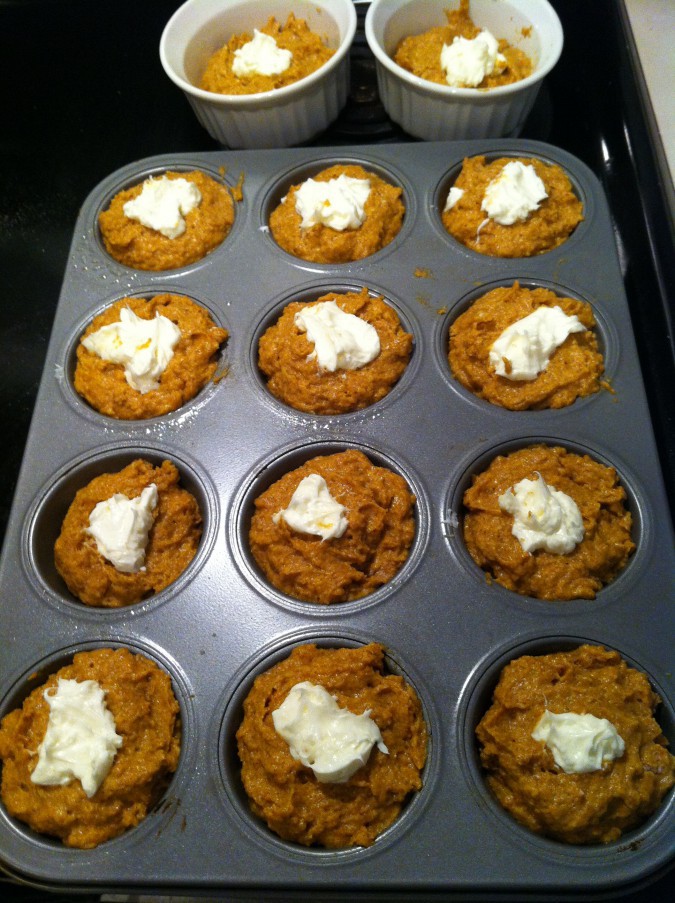 The muffins baked up and rose beautifully! However, the cream cheese didn't really integrate into the middle of the muffin to act as a filling. In fact, it puffed up and sort of looked like a toasted marshmallow on the top! I don't know exactly how the original chef got hers to come out so perfectly.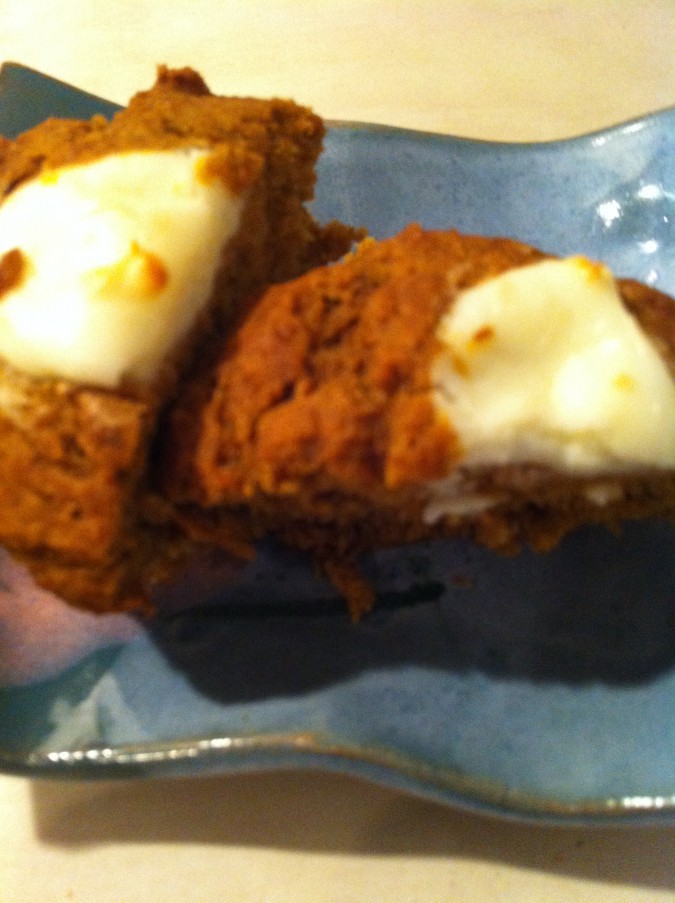 The consistency of the muffin was great! I probably could have mixed a bit less, as it was a tiny bit dense, but it was a pleasant muffin consistency. However, I thought they needed to be sweeter or more heavily spiced. Next time, I will take the advice of the original recipe and add more spice! I feel like the spices bring out the pumpkin flavor, and that was a bit lacking to me in the final product. However, for being only one of the few times I've made muffins from scratch, I was pleased with the outcome! This may not be my ultimate pumpkin go-to recipe, but it made for a pretty tasty muffin.
---
---