October 19th, 2012
When fall comes around, I go pumpkin crazy. I've always loved the pumpkin pie at Thanksgiving, but I'm not sure I ever thought about enjoying pumpkin outside of that one day a year until Starbucks pumpkin spice lattes came into my life. Now, I'm one of those people who gets excited when it's featured on their menu again every year (though one of my coworkers reminded me that you can get whatever flavor drink you want at Starbucks all year round). Even though we don't usually get much of a fall in the South, once the calendar hits September, I have pumpkin on the brain. When I realized I had a preposterous number of pumpkin recipes pinned, I decided to share them here. This is the fifth of 10 different pumpkin recipes for your gustatory pleasure!
I have a love/hate relationship with oatmeal. Well, if I'm honest, it is mostly hate. I want to like oatmeal, because it seems so wholesome and warming for a cool morning. But in reality, the texture almost always turns me off. Yet I keep trying it and trying it...so of course when I saw this pumpkin version from Peak 313 Fitness, I knew I'd eventually give it a try. I had a partial can of pumpkin left after making my pumpkin smoothie recently, and as most baked goods call for the entire can, I was excited to find a recipe that would use some of it up.
The ingredients:
1/2 cup rolled oats
1/4 cup almond or skim milk
(Mine was vanilla almond milk)
1/2 cup water
1/4 teaspoon cinnamon
1/4 teaspoon nutmug
(I used 1 tsp of my home-mixed pumpkin pie spice.)
1/4 cup canned pumpkin puree
1/2 tablespoon ground flax seed
(I didn't have this, so I left it out.)
1 tablespoon chopped nuts (walnuts, pecans, or almonds)
(I used pecans.)
I didn't take a picture of them all assembled like I usually do, because I stumbled out of bed one Saturday and decided to make this on a whim. But I think you know what all of those things look like.
First you put the oats, milk, and water into a small saucepan and bring to a boil: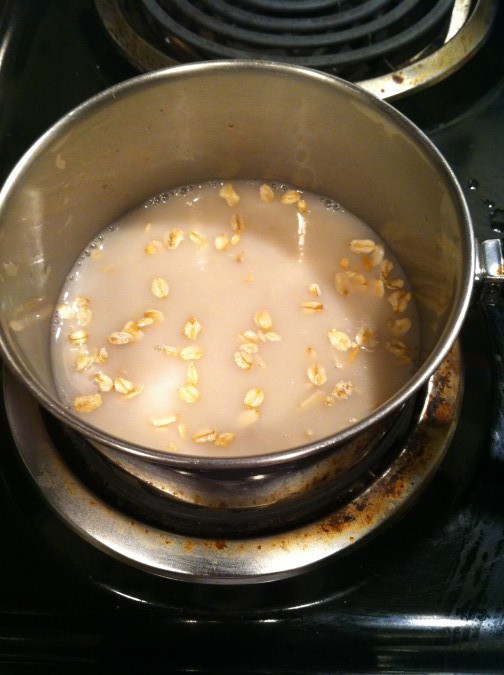 Doesn't look so good yet!
Once it comes to a boil, stir in the pumpkin, spices, and pecans.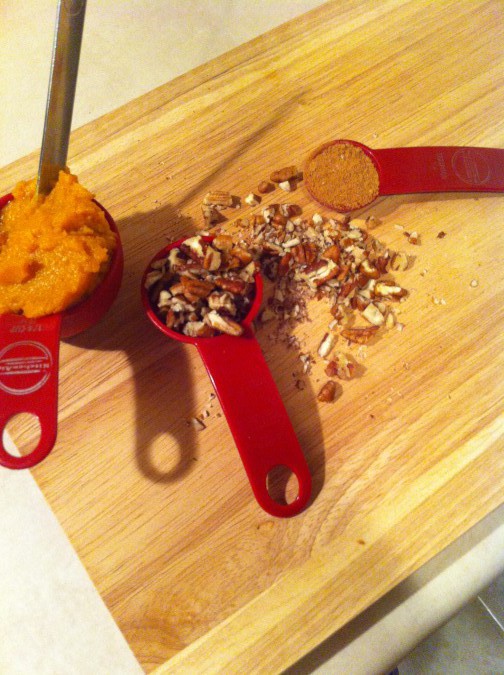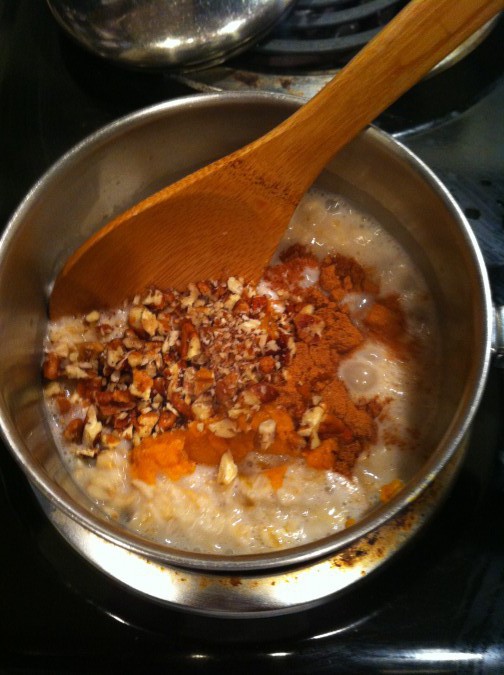 Simmer for another 2-3 minutes or until the oatmeal is done.
As all the pumpkin things I've tried so far, this comes out to be a beautiful color! If nothing else, pumpkin is good for a color. Plus, I considered the pumpkin to be the fruit part of my balanced fall breakfast.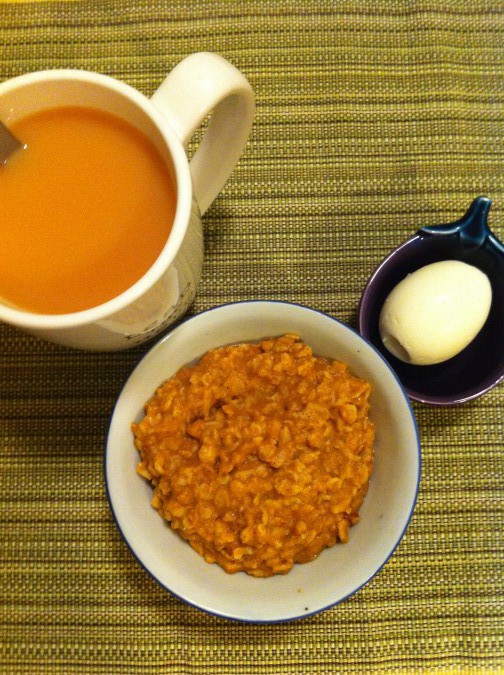 I probably cooked this a bit too long, as I honestly mostly ignored it while I fixed my tea and peeled my egg. But actually, the more solid consistency helped me get over some of my oatmeal squeamishness. This didn't have a TON of flavor, and I thought it could have been sweeter, but it was warm and satisfying as I had hoped. I saved about half in a bowl and reheated it the next morning with an added splash of almond milk. I think I might have liked it even better that way! It was creamier and sweeter, and I liked how the almond milk made it a little squishy. Plus the spices seemed to have intensified overnight. Maybe I'm weird, but I'd recommend making this and then eating it the next day!
I'm not an oatmeal convert, but I'd throw this into my fall breakfast rotation in years to come.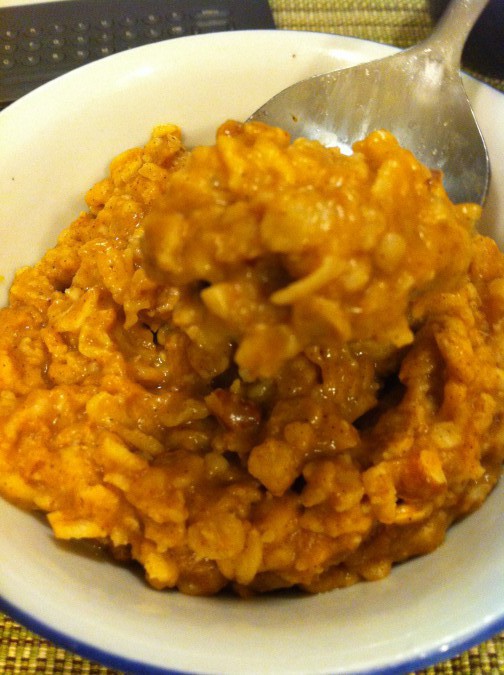 Here's a bite for you!
How do you like your oatmeal (or do you sort of hate it like I do)?
---
---