February 7th, 2016
Way back when I posted that I had made a delicious Whole 30 dinner of zoodle ramen and I promised you the recipe. I made it again last night and took better pictures, so if you're planning this week's meals and want a low-carb comfort food, you're in luck!
I used a couple of ingredients that are not Whole 30 compliant, but you can easily make some tweaks from this as it's written to make it so. In fact, even if you're not doing a Whole 30, this recipe is super customizable to include your favorite flavors.
INGREDIENTS
Serves 2
3-4 thin, boneless pork chops (sometimes sold as "Breakfast Pork Chops")
4 cups of broth (any flavor) or 4 cups water + 4 tsp Better Than Bouillon paste
2 medium zucchini
8 oz mushrooms (button, baby bella, or whatever strikes your fancy)
2 eggs
Black Bean Garlic paste, soy sauce, fish sauce, or other umami flavor of your choice
kosher salt
freshly ground black pepper
red pepper flakes
Wash your mushrooms and zuchinni and go ahead and do your mise en place: chop the mushrooms and spiralize your zoodles. (Everything cooks up fast once you get started.)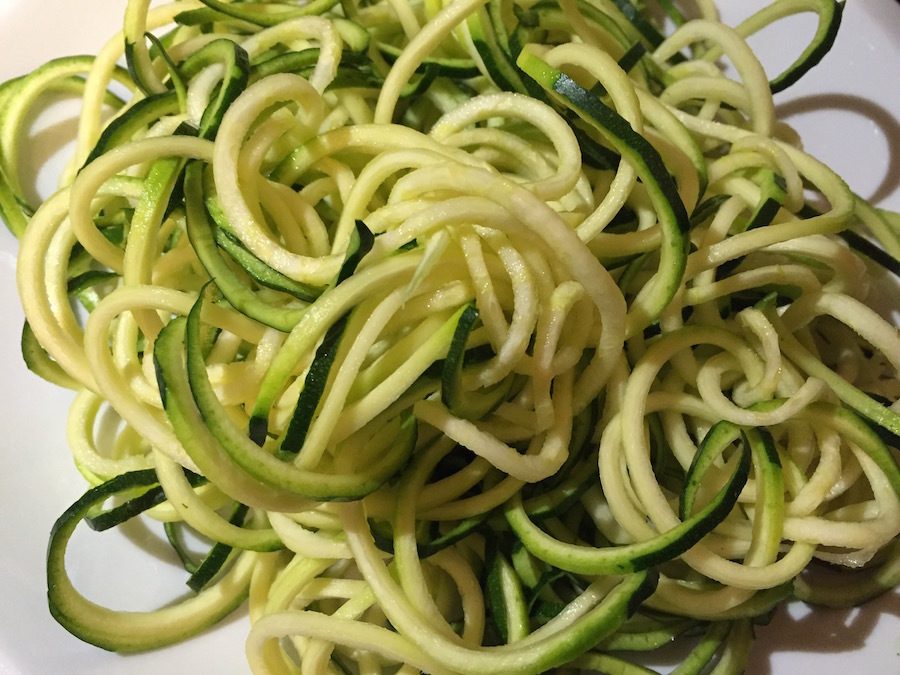 Start hard-boiling your eggs. I followed this tutorial wherein you actually steam the eggs. I've done it twice now and I love it. Make sure you do put them into an ice bath at the end, though. Last night we didn't have any ice in our ice maker, so I could only do cold water, and they definitely cooked a bit more than I would have liked.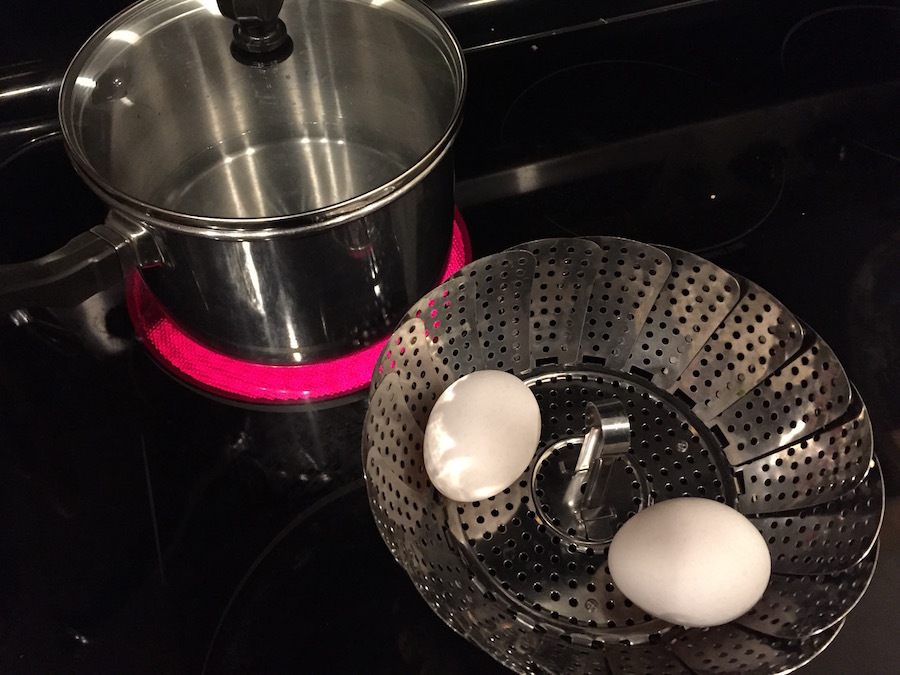 While the eggs are cooking, sprinkle both sides of your pork chops with kosher salt, freshly ground black pepper, and a few shakes of crushed red pepper flakes. Heat a drizzle of olive oil in a dutch oven and sear the chops.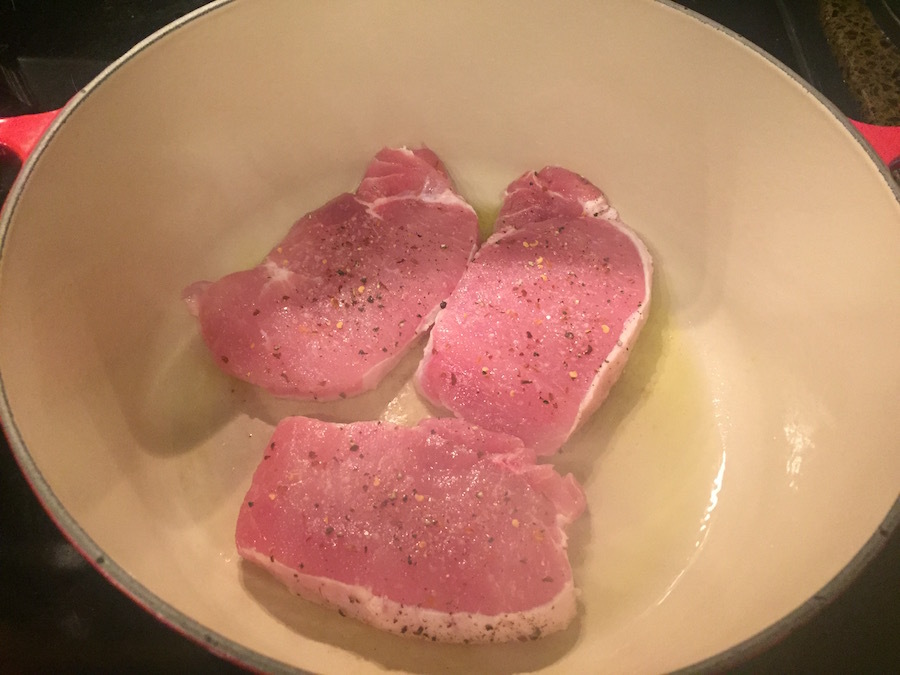 Flip them after 2-3 minutes and let cook 2-3 minutes on the other side. The chops should be up to temperature right around when your timer is going off for the eggs (if not even sooner).
Take your eggs out of the steamer basket and place into an ice bath to stop them cooking and to cool them enough for you to peel in a few minutes. Remove the pork from the Dutch oven and set aside.
Add your water or broth to the same Dutch oven. Whisk in two healthy spoonfuls of Black Bean Garlic paste or your flavoring of choice, scraping up the yummy browned bits from the seared pork.
Once it comes to a boil, drop in the mushrooms and set a timer for 5 minutes. With 3 minutes remaining, add the zoodles.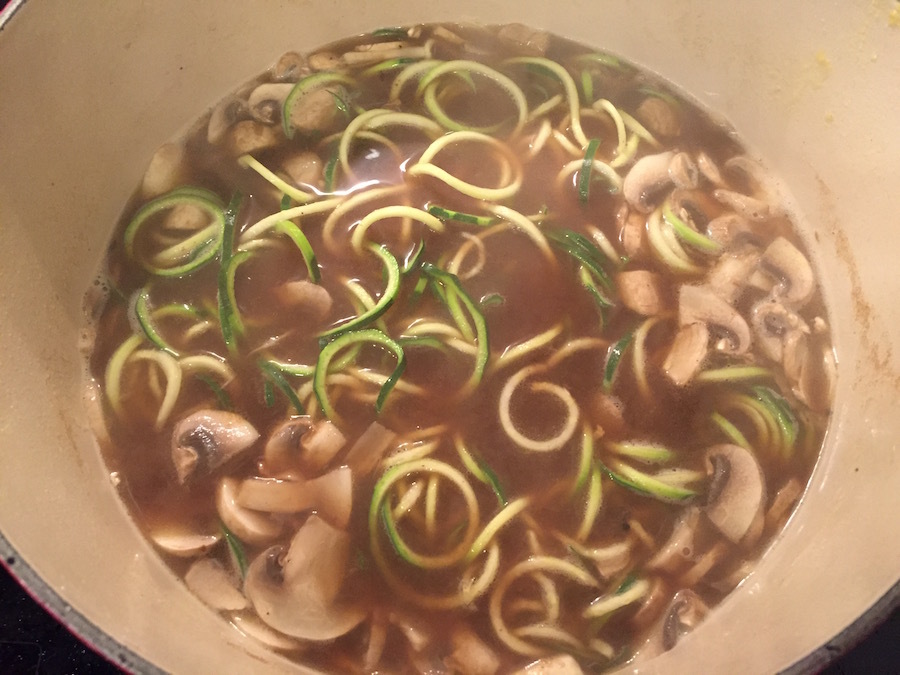 Slice up the pork you set aside earlier into thin slices, against its grain.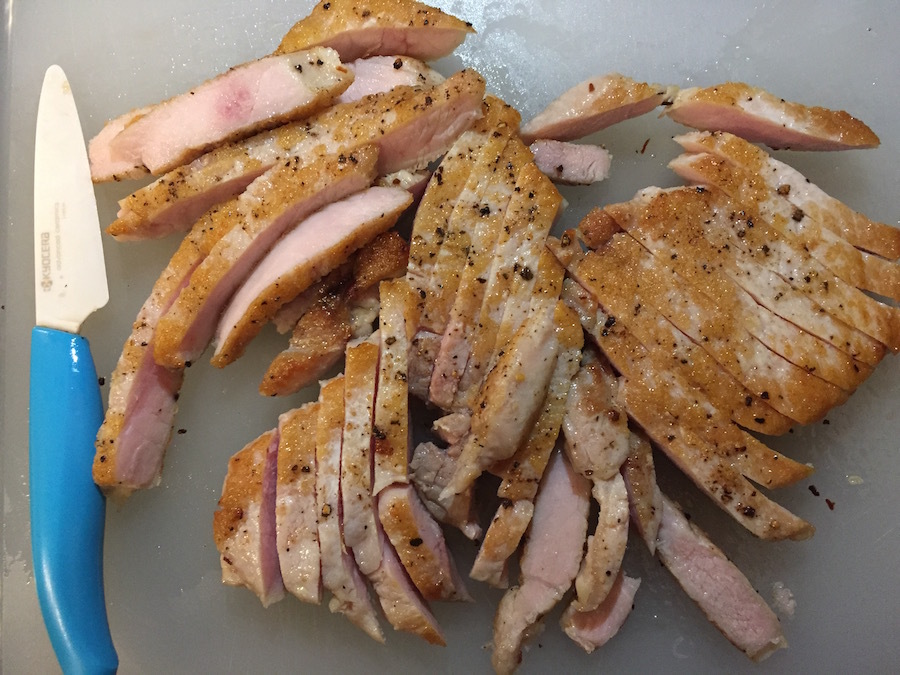 Once the veggies are softened, use tongs to divide the zoodles evenly between two bowls. Ladle broth and mushrooms over them, and layer half of the pork slices on top. Peel your soft-boiled eggs (carefully, so as not to break the yolks!) and drop one into each bowl.
Voila!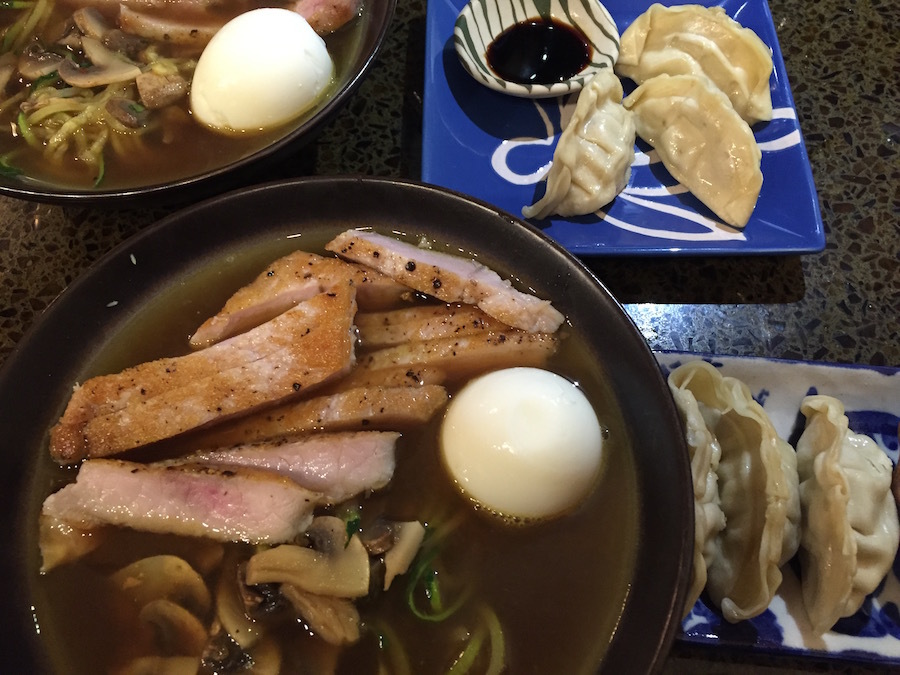 I served with pre-packaged frozen dumplings on the side (yum!), but you could go healthier and serve with steamed edamame, seaweed salad from the grocery store sushi bar, etc. The options here are endless! You could use shrimp instead of the pork chops. You could toss in shredded carrots instead of, or in addition to, the mushrooms. You could spice it up with some srirachi. Whatever you choose, this hearty and healthy bowl is hard to mess up.
---
---