November 4th, 2011
Kroger has occasional sales known as "Mega Events." On those weeks, there are certain items on which you get an additional $0.50 off when you buy 10 participating items. Usually Kroger marks down the price to begin with on these items, and THEN you get the $0.50 off, too. So if you can pair this sale with a coupon, you can score some amazing deals!
I've shopped numerous mega events at Kroger, but I've never actually tracked my savings on just those items. I will admit, sometimes I've bought things that I wouldn't ordinarily buy just to get to my 10 items. (They're usually still a pretty good deal, though one could argue that it's not a good deal at all if it's money I wouldn't have spent otherwise.) This past Sunday is the first time I've ever bought TWENTY items, meaning I saved an automatic $10! There were some great matchups…though I did buy 3 boxes of Kleenex without coupons in order to make the second 10. BUT, it's not like they'll go bad, and they were still under my personal price point of what I like to pay for tissues. So I don't feel too bad (though the boxes aren't as cute as the Kroger store brand ones!).
Here's my haul: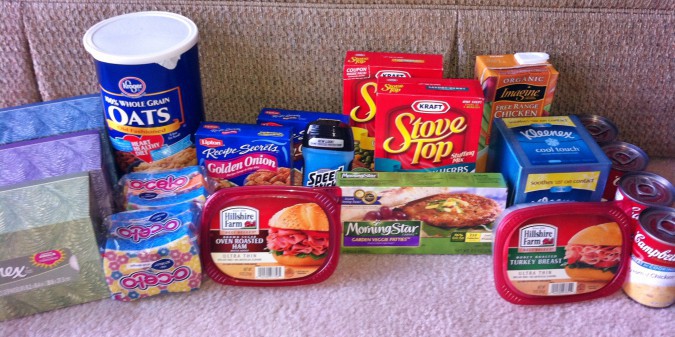 (Keep in mind this is not my entire grocery trip. For some people it would be, but I also bought a bunch of produce and some things I needed for meals I made this week.)
Total Spent (Mega Event): $22.78 Total Value of Items: $52.10 Total Saved: $29.32 or 56%!
I had made a list of 10 items before I went but was surprised to notice several things included that had not been marked in the weekly ad, so that's what led me to put together the second 10. A. needed oatmeal and then it randomly turned out that Kroger brand oats (which is what I buy!) were participating. I also had a coupon for Ocelo sponges that was about to expire, so I made myself a note to check on their price and was surprised to find them marked as a mega event item. I only had one coupon for the lunch meat, but since it doubled with a Kroger bonus coupon, it sort of seems like I had one for each package. :-) I also used coupons on the Campbell's Great for Cooking soup, the Stovetop Stuffing, and the Lipton's Recipe Secret Dry Soup mixes. All of those are often in casserole recipes and I never seem to have them on hand…so now I will!
My 3 shining stars of this haul were the Cool Touch Kleenex, which was $0.99 after mega event savings and for which I had a $1.00 off coupon (read: FREE), the Organic Imagine Broth which I got for $0.99 after my coupon, and the Morningstar Farms veggie patties. On Saturday, A. and I went on a wild goose chase for some pumpkin beer and ended up at not our usual Kroger. We didn't find the pumpkin beer but bought a different kind, and the cash register printed me a coupon for $2.00 off one Morningstar Farms entree! Since it was in the mega event for $3.29, I got this healthy, tasty item for only $1.29. So, it's a good thing I got a wild penchant to try and find pumpkin beer.
Any good bargains in your neck of the woods this week? October was a tough month grocery budget-wise because it had 5 weekends, which is when I shop, but at least I got the thrill of the hunt with this mega event.
---
---