December 6th, 2011
When I was growing up, the sweet potato casserole at Thanksgiving did not have marshmallows on it. Instead, it had a crusty layer of buttery, brown sugary pecans and was sweet and salty and good underneath. The recipe came from Miz Lyla, who I think used to be my parents' aerobics teacher of all things, and was read every year from a classic recipe index card that was stained and worn from years of enjoyment.
This year we were with A.'s family for Thanksgiving and had a different type of sweet potato casserole, so I decided to give Miz Lyla's a try last night with some pork chops! My dad sent it to me in an email with the tweaks he's made over the years.
Here's the original:
3 cups mashed sweet potatoes ½ teaspoon salt 1 cup white sugar 2 beaten eggs ½ stick butter ½ cup milk ½ teaspoon vanilla
Combine all ingredients and pour into greased 2-3 qt. casserole dish.
Topping:
1 cup brown sugar; 1/3 cup flour; 1 cup chopped nuts (almost always pecans, but could be anything on hand); 1/3 stick butter
Combine these ingredients to form a coarse "sandy" mixture.  Sprinkle evenly on casserole mixture.
Bake at 350 deg F for  30 – 40 minutes.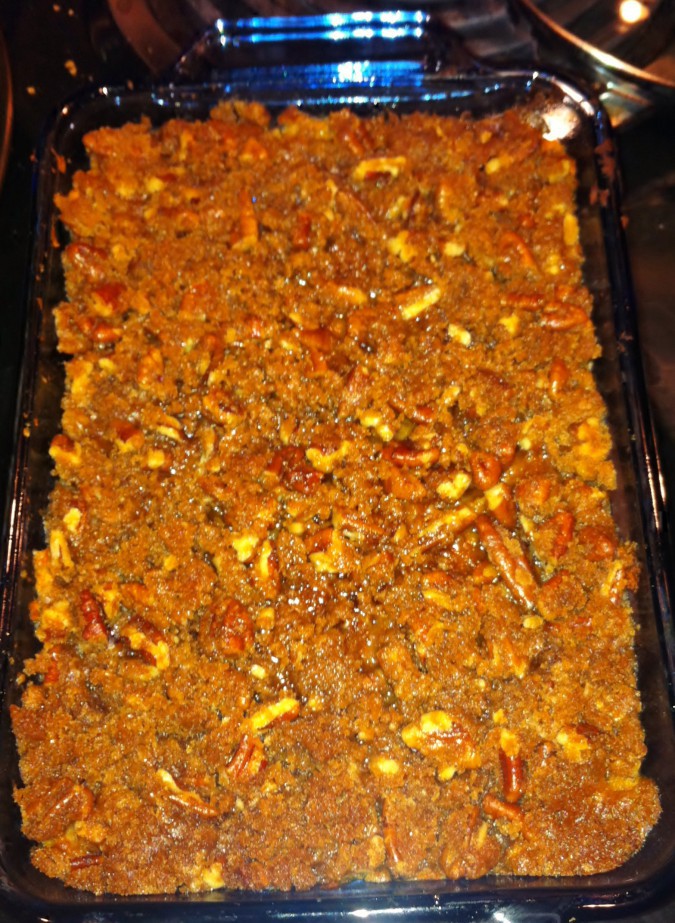 My dad commented: "As you might guess, the above is pretty ridiculously sweet.  As it evolved, and to mollify your mom so I could serve it at all, I eventually cut it down to just mashed sweet potatoes with a little salt.  For a while I did a version with only one beaten egg, milk, and some butter.  That was pretty good – creamier."
Since I happened to have milk and eggs on hand (somewhat of a rarity, especially the milk), I decided to go for the creamy version. I baked the sweet potatoes on Sunday afternoon, since that's the part that takes forever, and I bought some pecans last week. (Side note: have you noticed the price of nuts lately? It seems exorbitant to me, but then again, maybe they are always that expensive and I'm just not usually buying nuts. Or maybe they bump up the price knowing everyone is buying them for holiday baking.) I don't know if I've been buying defective sweet potatoes or what, but the two times I've tried to bake them they haven't seemed to want to to get soft. Anyway, after about an hour and a half I deemed them done.
I was having a domestic fail day yesterday where everything I touched seemed to spill or otherwise turn into a disaster. I didn't know exactly how to peel a baked sweet potato, so I dug in with my fingernails. I guess it worked, but if anyone has suggestions on the real way, let me know!  In spite all my other disasters, I think the casserole turned out well. I liked the texture of the sweet potatoes with the egg and milk, though I think I might add a bit of salt or sugar or something to them next time. And, as always, the topping is the best part. :-)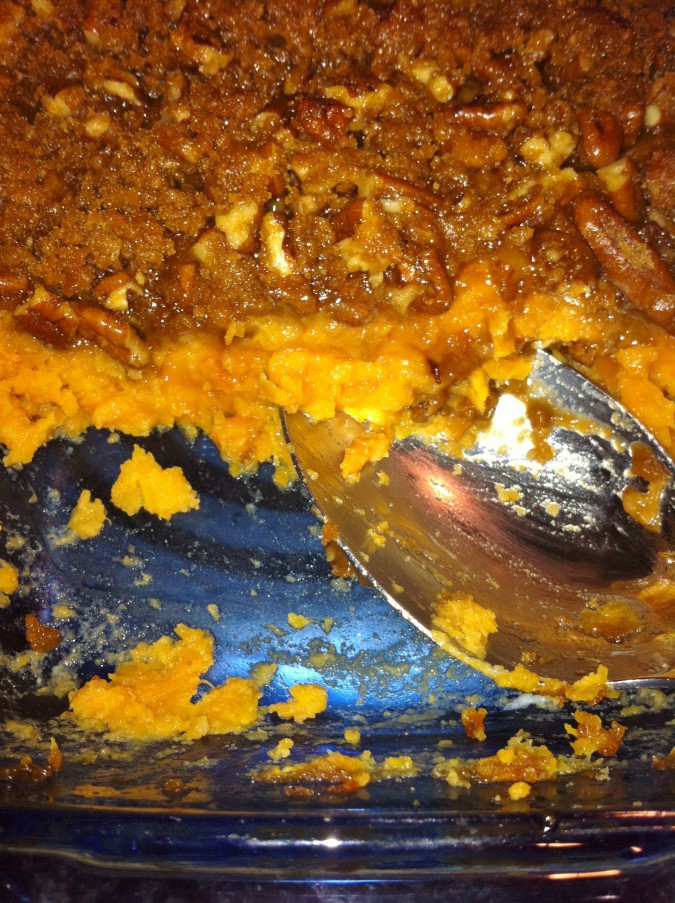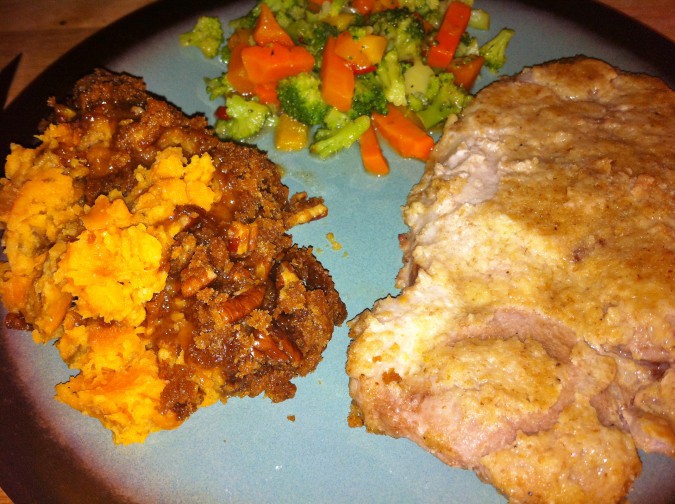 (P.S. The baked pork chops were pretty good too. At the last minute I randomly Google and used this recipe. I used bread crumbs instead of Ritz crackers and no parmesan cheese. They didn't take nearly as long as the recipe claimed–maybe 35 minutes total. They stayed really tender and had good flavor! I would make these again, though perhaps with a bit more forethought and planning.)
Do you have any foods that are traditional to your family? Have you tried your hand at any of them?
---
---