September 30th, 2011
I stopped by CVS on my way to work Monday. Here's what I got: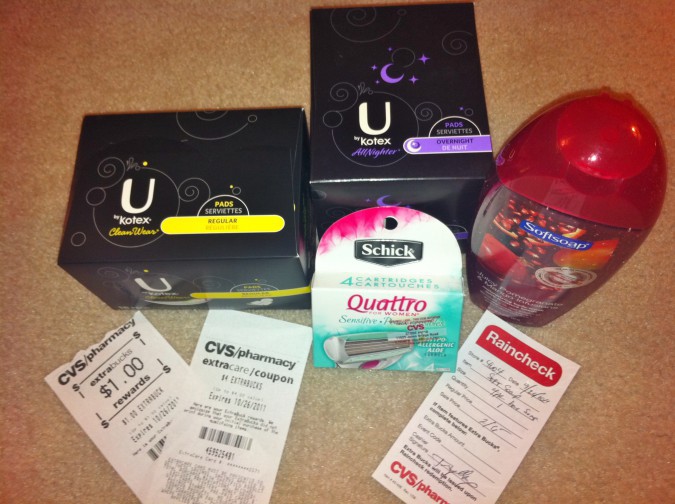 Total Value: $18.99 ($20.51 with tax) Total Spent: $7.51 (including tax) Total Saved:  $13.00 or 63%
This was definitely my best CVS trip yet, thanks in large part to some awesome coupons. I used 1 $5/1 Schick Quattro Razor or Cartridge to get 4 cartridges for only $3.99 (sale price $8.99, regular price even higher). I was so excited to see this sale, because this is actually the kind of razor I use, and I usually just pay full price for cartridges when I need them! This transaction printed me $4 ECBs.
My plan had been to buy 1 SoftSoap body wash and 1 4-pack of SoftSoap soap at 2/$6, using 1 $0.75/1 body wash coupon and 1 $0.50/1 soap coupon and receiving $ECBs from the transaction. HOWEVER, I couldn't find the soap anywhere! I asked a manager where it might be and she nonchalantly replied, "Oh, we won't get that in until next week." I calmly pointed to it in the ad and asked if I could still get it for that price. She immediately wrote me a rain check–my first!–and finagled the register to still print my $4 ECBs for taking advantage of that deal. I used $1.25 ECBs from last week on that transaction, and then used the $4 SoftSoap ECBs on my last transaction, which was the U by Kotex products.
I came out with $5 ECBs to use next week, plus I pledged not to be a money trasher and received $2 more! I'm planning to call next week and hopefully they'll have the soap in. That way I can go pick it up for FREE and still have some ECBs left to spend. I'm working on putting together some boxes for Operation Christmas Child (yes, already, explanation post coming soon!), and I think I'll use the extras to pick up a few things for those.
I was a little flustered during this trip because it was more ambitious than I've tried to be before, but it worked out well in the end. I used my ECBs in a bit of a different order than I meant to, and the cashier only scanned my green bag tag on one of the 3 transactions, but I still came out spending far less than normal. I sat in the car for a minute to collect myself and to look over my receipts and re-organize my coupons and ECBs before I headed to work, and ultimately I was pleased. Hopefully this bodes well for future CVS trips!
---
---