September 8th, 2014
There's a cool store near where I live that offers weekly family meal plans. For a set price, you get 3 entrees with a corresponding side, an additional side dish, bread, and a dessert. It's $89 + tax for a plan for two, which is extremely reasonable when you break it down! It's more than you might spend on making the meals from scratch, but certainly less than you'd spend eating out (and I'd imagine it's healthier, too).
You don't get to choose what goes in it. They change up the menu every week, and you get whatever they're offering. So, it wouldn't work well if you're on a special diet or have allergies or sensitivities. They're totally aware of this, but they can only do so much!
I decided to give the meal plan a shot one week when I knew I'd be out of pocket for several evenings. I figured Andy could "cook" the meals at dinner time and then we could both enjoy the leftovers for lunch. I put in my order the week before and gave a credit card over the phone, so when I picked it up they literally just pulled a box for me from the back! I wasn't sure how exactly it would be set up, but it was really nicely packaged and organized.
Everything came in individual to-go containers in one big box: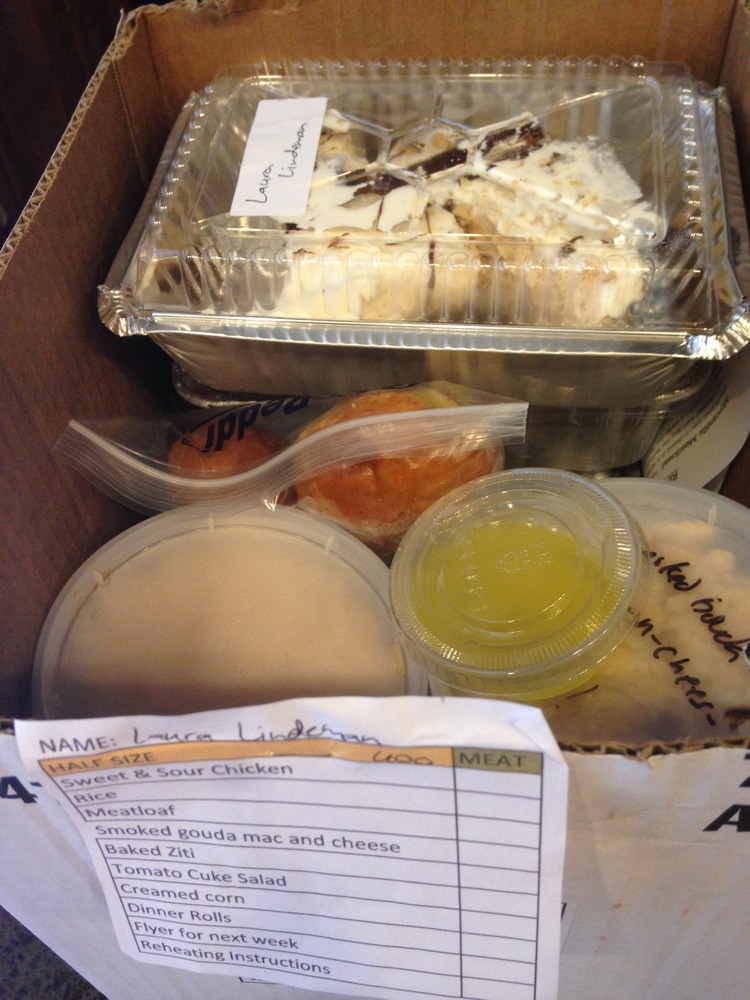 That's peanut butter chocolate pie on the top there. Let's just say Andy never got to eat that particular dish…
The reheating instructions are included and incredibly simple.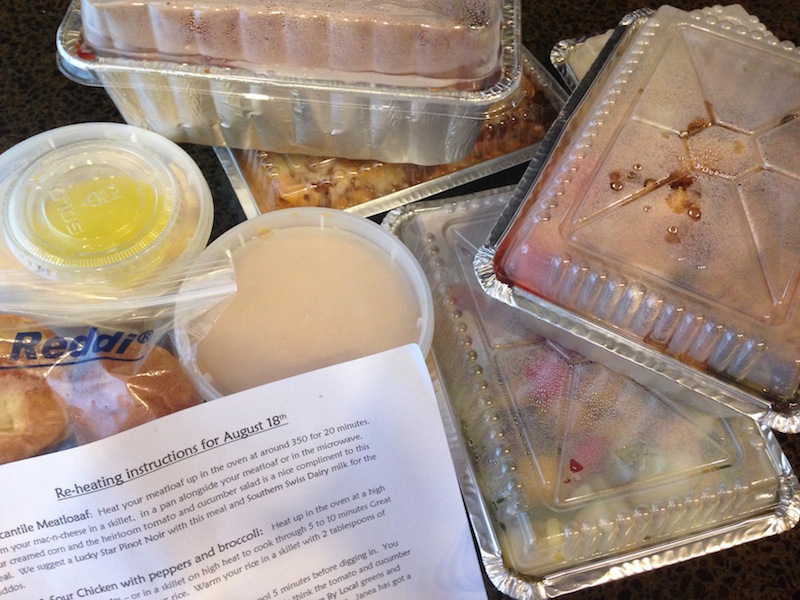 It helped to have the instructions because that also served as the identifier for what everything was!
Unfortunately for our meal plan, Andy ended up being out several nights that week, too, and so not everything got prepared in a timely manner. I'd say we ended up eating the majority of it, but it wasn't quite the stress-reducer and time-saver I'd hoped it would be. Honestly, I'd enjoy it more if I were home every night! I might try it again if another menu strikes my fancy, but it definitely won't become a regular thing for me. It's a bit of a bummer that you can't customize at all. One of the sides the week we ordered was a cucumber and heirloom tomato salad–but neither of us likes tomatoes! Womp womp. So it's worth keeping an eye on the menus and only ordering when you like a majority of the week's offerings.
I'm completely enamored of the store for other reasons, though, so they'll get plenty of business from me. They have a great selection of affordable wines, delicious prepared chicken salad you can buy containers of, and countless other cute and local delicacies. And I can walk to it, which is always a positive in my book!
Have you ever tried a meal service? Do any stores around you offer something like this?
If you live in Atlanta and would like to check out the particular store I'm talking about, check out the family meal plan page here!
---
---