September 27th, 2013
I was recently at Whole Foods, the mecca of all things "granola," and decided that I wanted to splurge on a nice botanical body lotion. So imagine my surprise when I strolled onto the personal care aisle and discovered an extensive display of 365 Everyday Value (Whole Foods' house brand) lotions, body washes, and shampoos for only $2.99!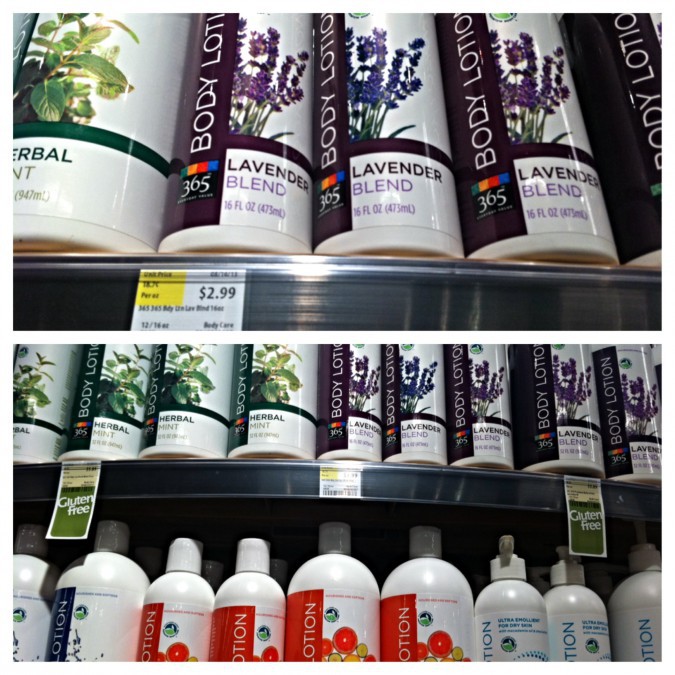 So much for my splurge! There was a wide array of scents available, and the ingredients list made the same claims as the much more expensive Kiss My Face brand (which cost $11.99). I was sold, and also curious: were there other items that are bargain priced at Whole Foods? I always think of Whole Foods as expensive, but this discovery got me wondering. So I did what any self-respecting blogger would do and headed back with my trusty notebook and iPhone camera to investigate.
What I found was that there is not a 365 brand option for every item available–BUT, for items where there was an option, it tended to be a very reasonable price. My theory is that Whole Foods chose to focus on producing only those items they knew they could do well and for a fair price.
I've been impressed lately with Kroger's natural, organic line, Simple Truth, so I made a few price comparisons. Again, I did not find a Simple Truth brand option for everything, so I compared the next most reasonable option.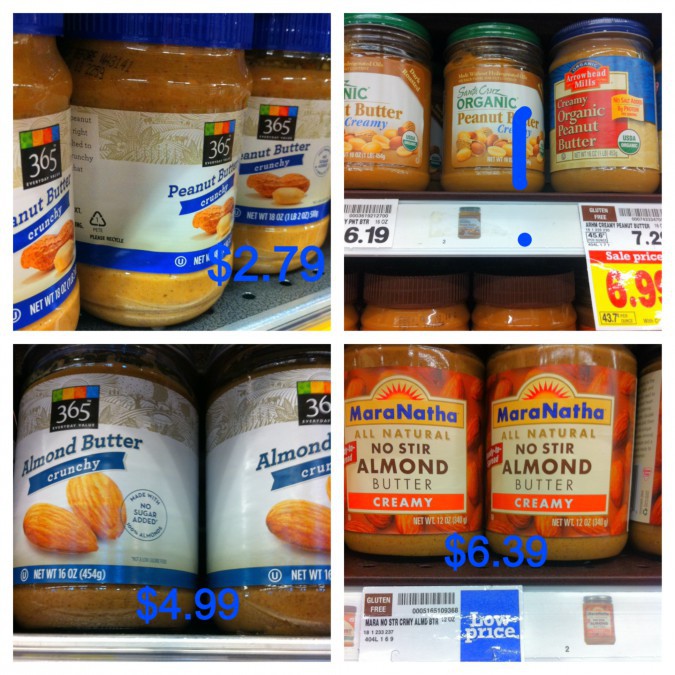 Whole Foods clearly wins the nut butter price wars. Neither the peanut butter nor the almond butter is organic, but they each list only nuts and salt on the ingredient list, which is pretty darn good in my book.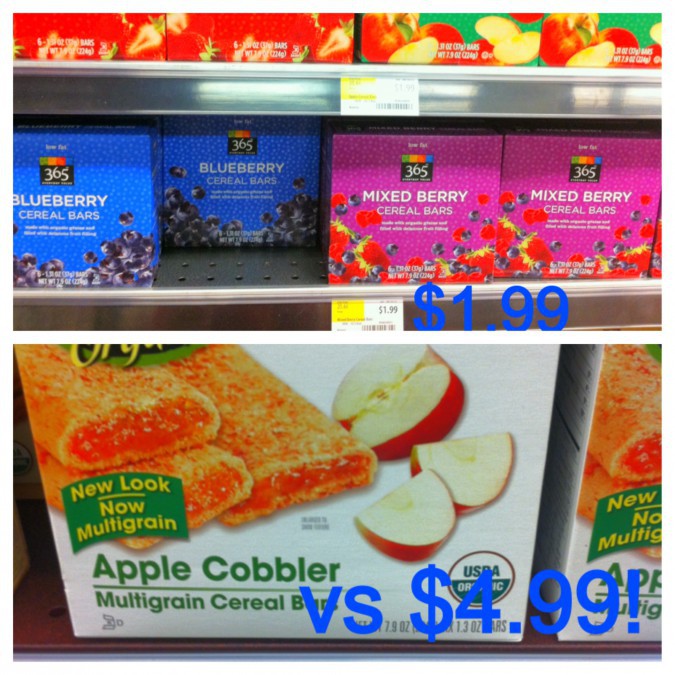 Whole Foods also wins in the Nutrigrain-esque bar category…by a whopping $3.00! (Now, granted, my buy-price with coupons for this type of bar is much lower, but I was trying to compare like with like. The brands I tend to buy are not this good for you. :-))
Similar differential on quinoa, the health food wonder-grain of the moment. Wow!
The price for organic olive oil at Kroger blew my mind (there was not a store brand):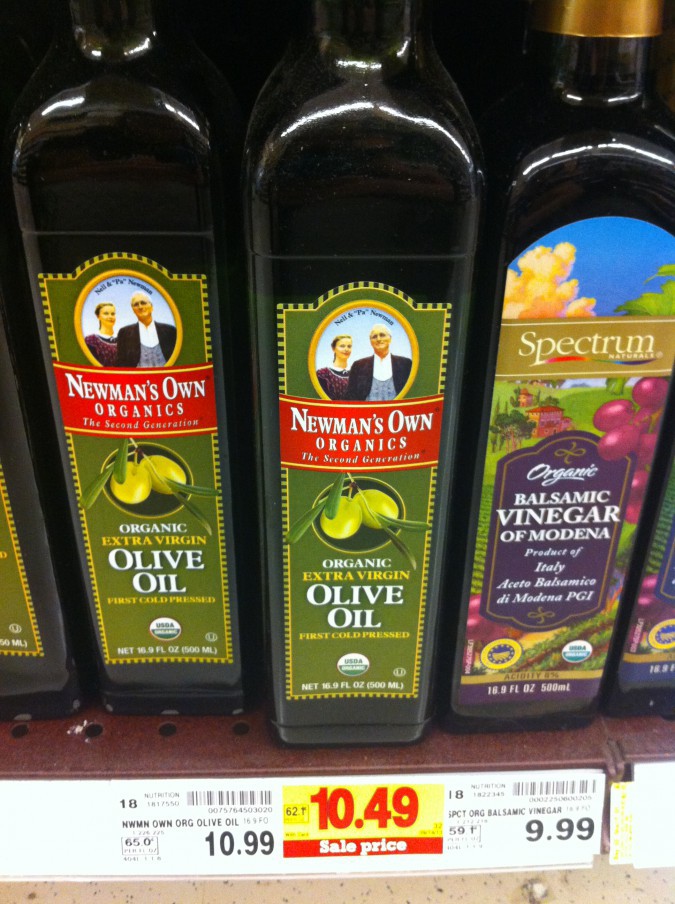 I had to read the sign multiple times to believe my eyes, but unless my notes deceive me, a 33.8 fl oz bottle of 365 brand organic olive oil is only $5.99…twice the amount for half the price!
Other good deals of note at Whole Foods: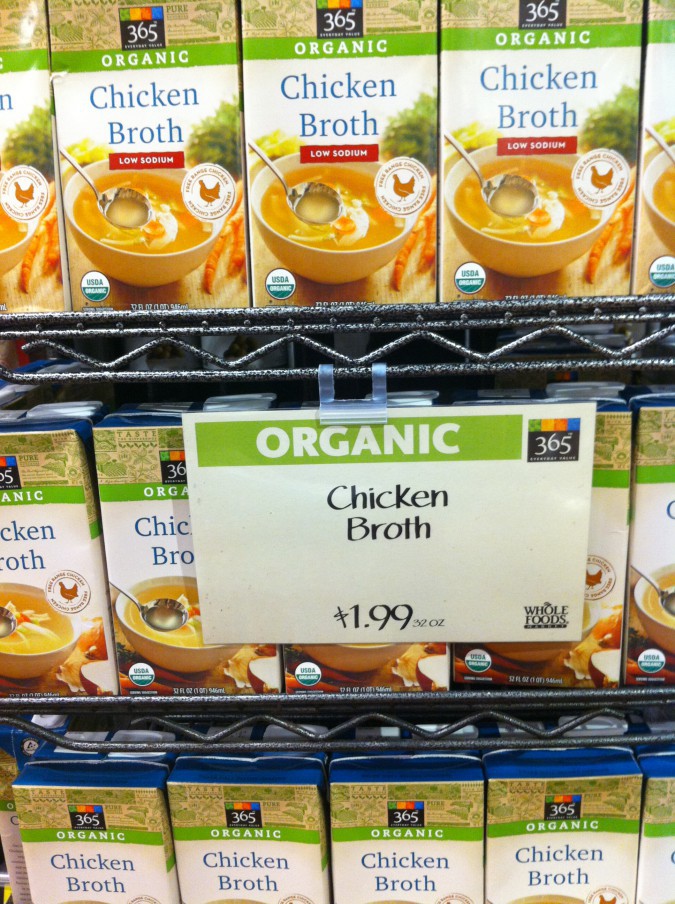 (The Simple Truth brand of organic chicken broth occasionally goes on sale for this price, but is not consistently this inexpensive.)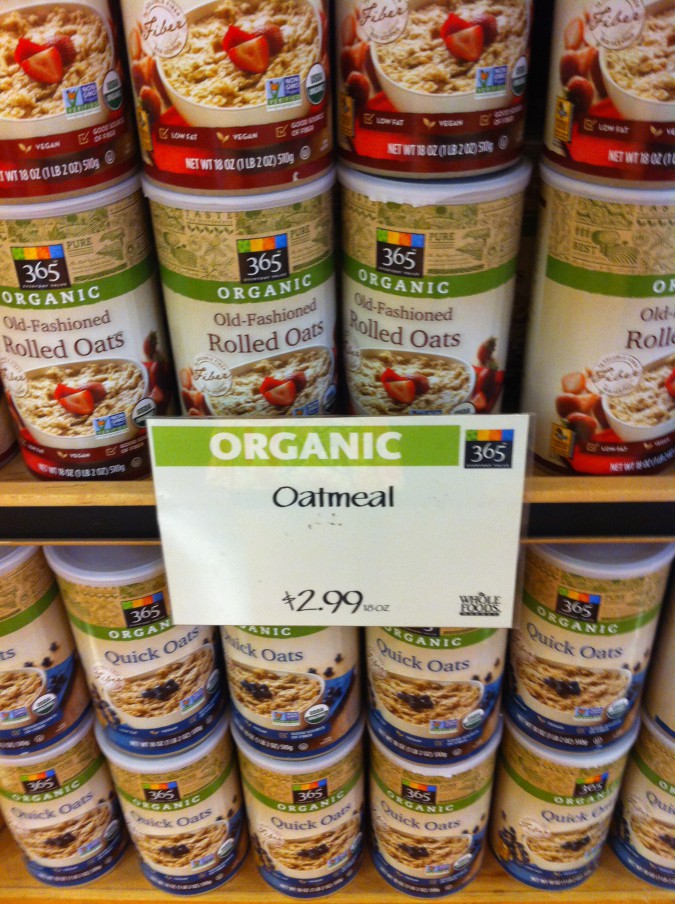 (I'm pretty sure even the regular Kroger brand oatmeal is usually over $3.00, so this price is a real coup!)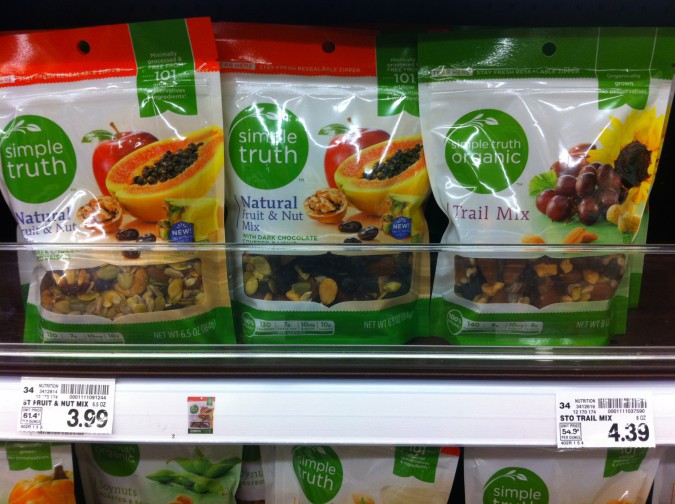 Notice the $3.99 price tag? That's for 6.5 oz. 365 trail mix ranged from $4.89 to $7.99 a pound!
There was a 365 brand of coffee that was a great price at $10.99 for 24 ounces, but I couldn't find any language on the package convincing me that it was fair-trade or shade grown, so as a self-proclaimed coffee snob I'd stay away.
At least my local Whole Foods does sell a packaged version of the coffee from my favorite local coffee source, Java Vino. The parents of the husband/wife team that owns it run a coffee plantation in Nicaragua, so you know that coffee is well-sourced! Not sure if this is nationally available, but I'd highly recommend it if so. (And its price isn't bad either.)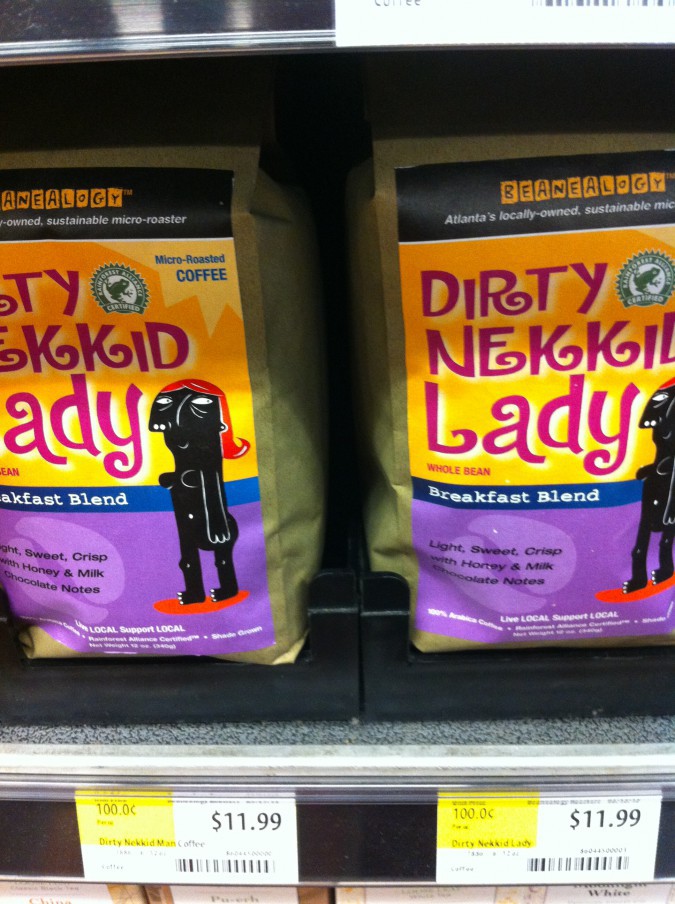 Finally, rotisserie chickens were on sale for $5.00 the day I explored Whole Foods, down from their normal price of $7.99. $5.00 is a GREAT deal on any chicken–I think the ones at Kroger are normally $7.99, as well, but they are not "quality" chicken. The ones at Whole Foods are antibiotic free, etc, etc. At $5.00, I probably should have snapped a few up!
I'm a pretty committed Kroger girl, and I love using coupons, so you won't find me switching all my grocery shopping to Whole Foods. But based on my survey of 365 brand prices, I'd say they live up to the brand's claim that you can "fill your pantry without emptying your pocketbook." If eating organic products is important to you, or if you already do a lot of shopping at Whole Foods, the 365 Everyday Value brand is a great option! And if I ever need to stock up on any of these particular items, the multiple-dollar savings could just be worth a quick trip over to the Whole Foods.
Have you found any grocery bargains in a surprising place? What's your favorite thing to buy at Whole Foods?
***This post was in no way sponsored or endorsed by Whole Foods. They have no idea I even wrote it! I just wanted to share a frugal option that I I was pleasantly surprised to discover.
---
---