December 5th, 2012
Have you heard of AmazonBasics? I hadn't either until gadgets from it started showing up in my apartment! Often the little auxiliary bits that go along with various technologies are the most frustrating. Phone chargers are so easily left behind in hotel rooms, etc. I remember one time I stepped on my phone charger and my mom was so frustrated with me because we had to buy yet another one! Every time I've gotten a new phone, I've been left with any array of chargers and phone chargers that aren't compatible with my new device and are worthless to anyone else unless they happen to have that precise thing.
According to their website, "AmazonBasics are high-quality electronics products that deliver the best price on reliable, state-of-the-art electronics." So what that means is that you can find accessories for your name-brand electronics at non-name-brand prices. And they work! We bought me an AmazonBasics iPhone charging cable because my Apple-branded one was fraying near the USB plug, and it's holding up great.
So far, the AmazonBasics items we use include:
This is totally not an ad (though the links above are my Amazon Affiliate links). I just think it's really cool that there's a more affordable option for things that we all need. Sometimes you really just do need the BASIC version of fill-in-the-blank, and you don't need it to be pretty or stylish. These are all things that get a lot of wear and tear, and it's great that by purchasing this version you can worry less about beating things up.
Have you discovered any surprising sources that make necessary objects more affordable?
I'm linking up to Works for Me Wednesday at WeAreThatFamily.com!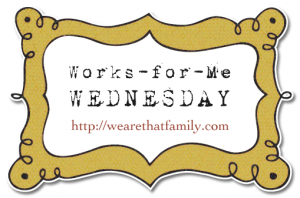 ---
---