January 30th, 2013
I've been on an epic re-organizing kick lately. We've been in our apartment for just about 2 years now, and it's easy to get comfortable in that time period. You know, the stuff we moved in that was so nicely culled and organized has expanded, and the places where things live are slightly less defined. We're not moving this year (yay! less hassle!), but I sort of mentally wanted to act like we were moving and sort through all of our stuff and get it into configurations that work well for every day use. Because, while being in one place for awhile can leave your stuff feeling cluttered, it also affords you the advantage of having time to figure out what your stuff-related needs are and what layouts work well for you.
I found a definition of clutter from Unclutterer that I think is apt: "Stuff that sits around serving no purpose is clutter." It ties in nicely the household mantra I picked up from Gretchen Rubin's Happiness Project:
Img source: http://lovechicliving.co.uk/design-quote-william-morris/
The "useful" part is easy. I have a pile right now to take to the thrift store that includes a blender, our George Foreman grill that I used to love but have since decided doesn't do anything I can't do on a skillet, an electric kettle that was made redundant by one of Andy's Christmas gifts, 3 shirts, a lamp that was taking up space but never got used, and a rolling plastic cart with drawers. For an 830 square foot apartment, those are relatively big ticket items! We got a new stand for our printer, so it's off the floor, and the stand ties in so nicely with our desk and book shelf! I was amazed at how nice I find that area now, and also amazed at how big a difference the small open space on the floor made in the feel of our living room. I stacked our games neatly out in the open in a Gretchen Rubin-esque shrine to fun and games (from her book Happier at Home). I'm also in the process of getting rid of the unused bike and bike rack that takes up a big stretch of wall right when you walk into the apartment and replacing it with some sort of bar or liquor cabinet. That will allow me to rearrange glassware storage and make better use of some of the cabinets we already have. Plus, I think it could be beautiful if I choose wisely! I'm not  through purging yet, and I have some thoughts on organizing the cabinet that I recently said was the bane of my existence that I haven't carried out yet, but I'm off to a good start.
I'm working on the "beautiful" part of the mantra. So far I've been thinking about this in terms of added bits of whimsy. When you live in a small space, much of what you have has to be useful, so it's hard to think of having things just for beauty's sake. But little touches, like a bright ribbon tied around the bedside lamp or a candle lit in the bathroom, can make a big difference. So I'm keeping an eye out for places to infuse my utility with color, which is a big part of beauty for me.
I'm not 100% there yet, but I've found a household mantra that works for me!
I'm linking up to Works for Me Wednesday at WeAreThatFamily.com!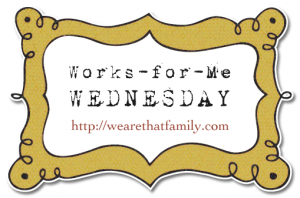 ---
---