October 31st, 2012
Until recently, I've always thought of my crockpot as a weekday timesaver. I've been using it at least once a week lately to have a great dinner ready when I get home from work with little to no fuss on my part. But I recently signed up for a volunteer role at church on Sundays that keeps me at church until about 1:00 on the days I do it. Couple that with doing a weekly Bible study at 7 PM on Sundays, and the day often gets away from me! It struck me one week that I could set the crockpot up before I headed to church and then I could grocery shop and do all my regular Sunday afternoon activities and STILL have dinner on the table in time for us to eat together at 6 before I needed to leave! (Though, funny story, the first Sunday I tried this I got home from church and FREAKED OUT because I couldn't figure out why the apartment smelled like something was cooking. Oh right! It's because something WAS cooking! It was Brunswick stew, to be precise.)
You might be thinking, "DUH!" but it was a bit of a revelation for me. It's also nice if you have some activities keeping you out of the house on a Saturday but still want to have a fun dinner to eat while watching a football game or movie. I always feel this compulsion to make weekend dinners "special," but there's honestly often not much more time to cook on the weekend than there is during the week! Plus if I'm in the middle of other things, it's not always fun to have to drop everything and get immersed in cooking. So AS I TYPE THIS (it's Saturday), I have these crockpot enchiladas going to accompany our football watching this evening!
Crockpots also tend to get a bad rap for only allowing you to cook unhealthy things, but they're really quite versatile. Sure, Velveeta Rotel dip is delicious, but you can also make things like this healthy black bean soup or another one of our favorites, lentils and sausage.
Here are a few of my favorite game-watching, crowd-pleasing, weekend-worthy crockpot recipes:
And a few that I'm looking forward to trying:
I'm so glad I realized how nice it can be to use the crockpot as a conduit to having a tasty meal on the table even on the weekend! It makes my leisure time feel much more enjoyable, and leaves me time to make pumpkin scones if I happen to feel like it…(more on that later in the week).
Do you have any time-saving weekend trick? How do you use your slow cooker most often?
  I'm linking up to Works for Me Wednesday at WeAreThatFamily.com!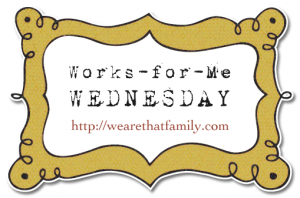 ---
---