March 20th, 2012
I found a boneless baked quarter ham on sale at Kroger awhile back and decided to defrost it for St. Patrick's Day. But Andy and I barely made a dent in it! So I started thinking, "What could I make with leftover ham?" And one of the first things that came to my mind was croque madames! I don't know what made me think of them.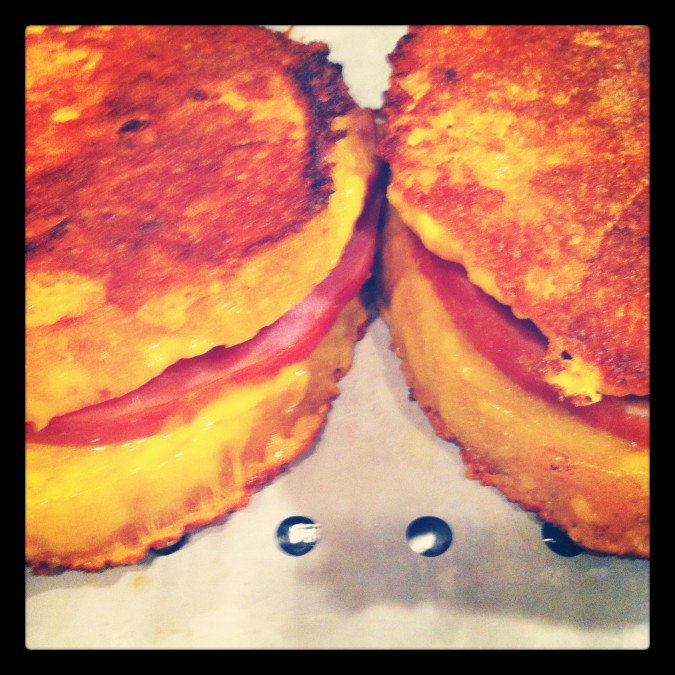 "Croque," as far as I know, is like a French grilled ham and cheese sandwich. A "croque monsieur" has no egg, while a "croque madame" comes with the addition of a fried egg. They can be found on the menu of every little cafe in Paris and many French bistros here, too.
I used a recipe from All Recipes that I found on a quick search of their app. I probably could've looked for a more authentic on, but this one looked good to me. It called for thick slices of white bread, 2 tablespoons of butter, 2 cups of cheese (I used colby), thick slices of ham, and 2 eggs. Simple! I found 2 French "boules" on Manager's Special at Kroger for $0.49, so I snatched those up and cut good-sized slices from them.
First, melt the butter in a pan and add the cheese. Let the cheese melt. In order to keep it from becoming a glob, I whisked steadily and added a splash of half and half to thin it out. Just for funsies, I also sprinkled in some dried mustard powder and garlic powder for flavor. Dip the bread in this mixture so that both sides are coated. I was nervous about this step, but it worked like a charm! Put the bread into a separate heated skillet and add the ham and the other slice of bread on top to form the sandwich. Someone in the All Recipe comments suggested cooking the eggs first (to your yolk preference–hard, runny, etc.), which I had done, so I added them to the sandwich at this point, too. Then just cook away liked a normal grilled cheese sandwich, flipping as desired, until the cheese is browned and slightly crusty.
This made a BIG sandwich, but I ate the whole thing! It was a really simple process that yielded a pretty impressive looking and yummy result. I would definitely make these again!
---
---