March 17th, 2012
Sometimes I go through phases where I feel like I'm just buying things all the time! Yesterday I bought a Groupon deal to renew my Thursday/Sunday newspaper subscription (woohoo!), a Living Social voucher for a tea tasting for two, ordered a new swimsuit, and ordered a pair of nude patent leather flats. Whew! Of course, I got great deals on all of them, and shopped through Ebates, and they were all good things that I put thought into…but it's still crazy to think about!
Then today I bought another Groupon deal (a walking tour for two of Historic Oakland Cemetery at 50% off) and found a great deal on some jeans for Andy! I had been keeping an eye out for that, so I was pleased.
It's a beautiful day, so we walked to Publix together to pick up some of the BOGO and sale items.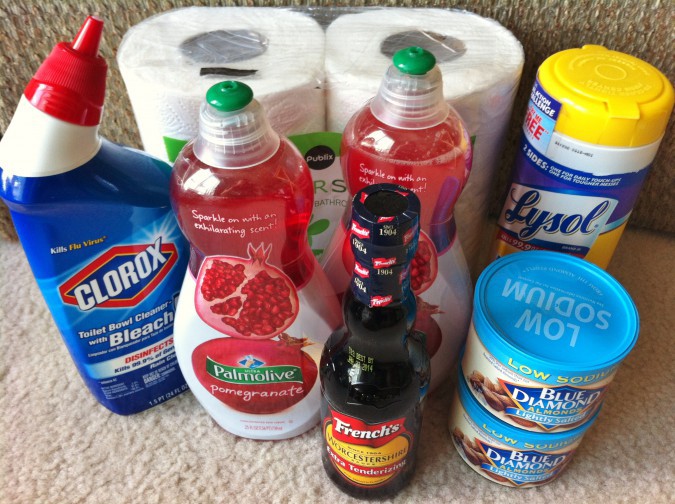 Clorox Toilet Bowl Cleaner $1.67 used $0.50/1 coupon from Clorox Latino; doubled to $1.00 off $0.67 total
Palmolive Dish Detergent BOGO at $3.49 used 2 $0.50/1 coupons; doubled to $1.00 off each $0.75 each
French's Worcestechire Sauce $0.99 used 1 $0.40/1 coupon; doubled to $0.80 off $0.19 total
Blue Diamond Almonds BOGO at $3.19 used 2 $1.00/1 coupons $0.60 each
I was planning to pick up a Cottonelle toilet paper 12-pack at $6.49 and use a $1.00 off coupon, but I stupidly forgot to bring that coupon! Lesson learned: always bring all your coupons! I grabbed a small pack of the Publix brand (which was only $2.19) to tide us over and I will pick up a better deal at another time.
The Lysol Dual Action Wipes have a "try me free" rebate going on, so that $2.99 will be reimbursed after I submit the form.
I also picked up a package of London Broil for $5.07. It was on sale for $4.49/lb, so this package is a little over a pound. I thought it would be a good size to feed Andy and me, and five bucks didn't intimidate me. I can't wait to try Jen's recipe from Balancing Beauty and Bedlam!
It's hard to say exactly how much I spent/saved because we also picked up some, uh, "necessities" to celebrate St. Patrick's Day tonight: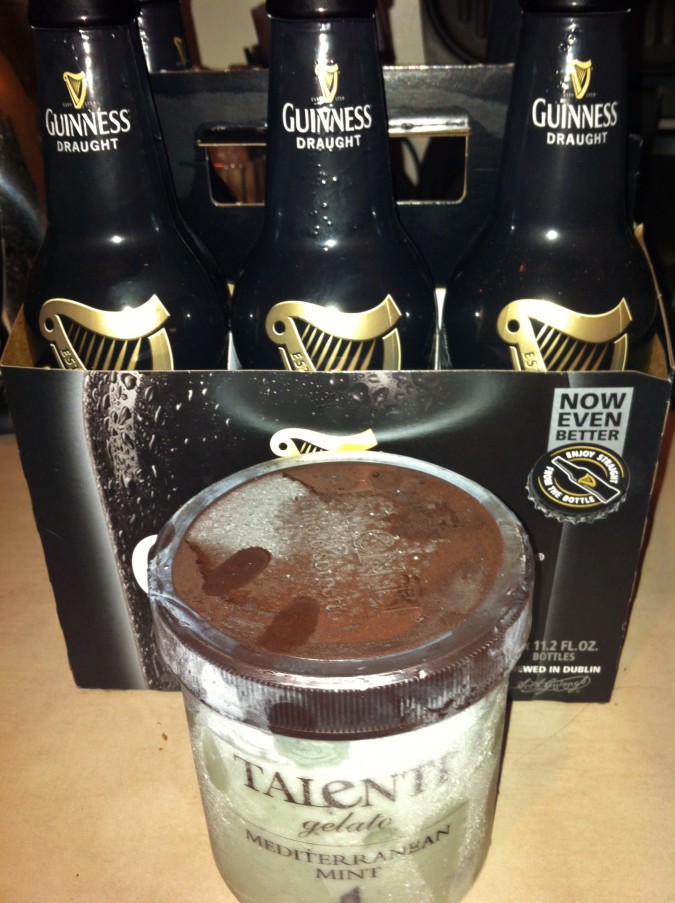 The gelato was a whopping $4.99!! But I went against all my frugal intuitions because I don't really want to have ice cream around, so I felt like it was worth paying the premium for a smaller container. Plus, I wanted it to be green for the holiday, and some of the brands' mint chocolate chip were not! So it was a splurge, for sure.
After a nice long walk to Grant Park this morning enjoying the beautiful weather, we're staying in with our Guinness and gelato tonight and watching Michael Collins. I'm fixing ham, roasted cabbage, and Irish brown bread for dinner! Are you doing anything fun for St. Patrick's Day?
---
---