January 3rd, 2015
Men have a tendency to be hard to shop for, amiright? I know at least my husband, my dad, and my father-in-law all typically buy themselves things as soon as they want them, leaving the gift-giving pickin's pretty slim when gift-giving times come around. My husband also tends not to like stuff that will take up space or go obsolete. His preferred gifts to give are consumables. So in trying to get creative with a Christmas gift for him this year, I came up with and packaged a year of dates.
I can't take full credit for the idea. I found all kinds of inspiration from the results of a quick Google search and mostly drew from Lauren's post at The Thinking Closet. We don't have a color printer, though, so I was a little underwhelmed at the prospect of using her printables, cute though they may have been, because they would have just been plain and black and white. Instead, I crafted a set of twelve of my mini envelope and notecard sets, wrote out the dates, and packaged them up in a little box. If a woman had opened this gift she would have thought she was getting jewelry! (I'm not sure what my husband thought.) Simple enough!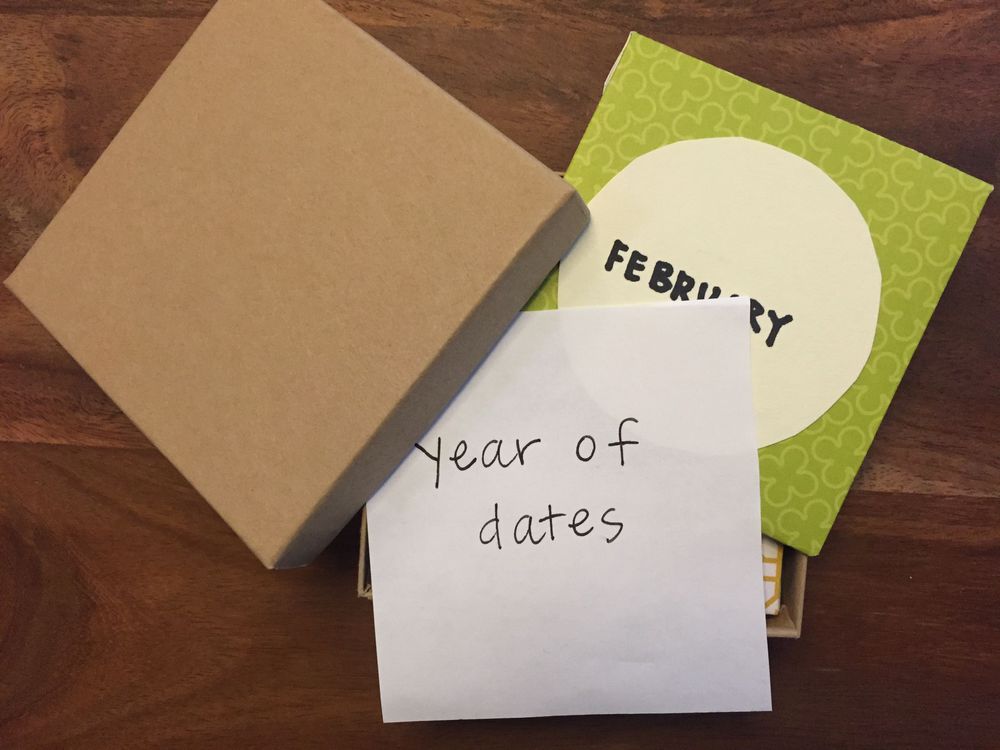 The most fun part was coming up with the date ideas. My husband and I don't really go on dates that often. We were long-distance for most of our pre-marriage relationship, so every time we saw each other carried a lot of weight. And often, we were getting together for a specific reason. So we did a lot of hanging out but not a whole lot of going on dates. I'm usually the planner-of-things in our marriage, so it felt natural to come up with ideas. I know a lot of folks encourage dating your spouse every week, and maybe we'll get there. But these monthly outings seem like a good start. We'll plan for them specifically every month when we're drafting our budget, which is a natural time when we're already together and thinking about the weeks ahead.
I tried to strike a balance with the dates between Big Deal Outings and smaller events, between going out and staying put, and between spending money and not. Obviously these are specific to Atlanta, but if you live somewhere else I bet you could tweak the concept.
It's obviously only January, and Date 1 is still yet to happen! I'll post the list here for reference and then link each date to a specific post after it's been completed. Pictures and details of course to be included.
January: Tourists in Our Own Town
Ride the SkyView ferris wheel together, check out the CNN Center gift shop (who needs to spend an hour on a tour?), and grab a drink at the revolving Sun Dial restaurant!

February: Freezin' in February
Turn up the heat, it's ice cream night! Whatever flavors and toppings we want. Enjoy during game night at home—no devices tonight!

March: Donut Date
Morning walk to Revolution Donuts. We're allowed to have two if we want!!

April: Say cheese!
Walk to The Mercantile for a bottle of wine and some nibblies, and we'll sit on the rooftop deck at sunset to enjoy them.

May: May's for Mason Mill
Explore the trails at South Peachtree Creek. Last time I was there I saw a heron, watched a train from a pedestrian bridge, and found the happiest graffiti.

June: Leavin' on a Jet Plane
…or watching them, anyway, from Sunday brunch at the 57th Fighter Group restaurant at Peachtree-Dekalb Airport.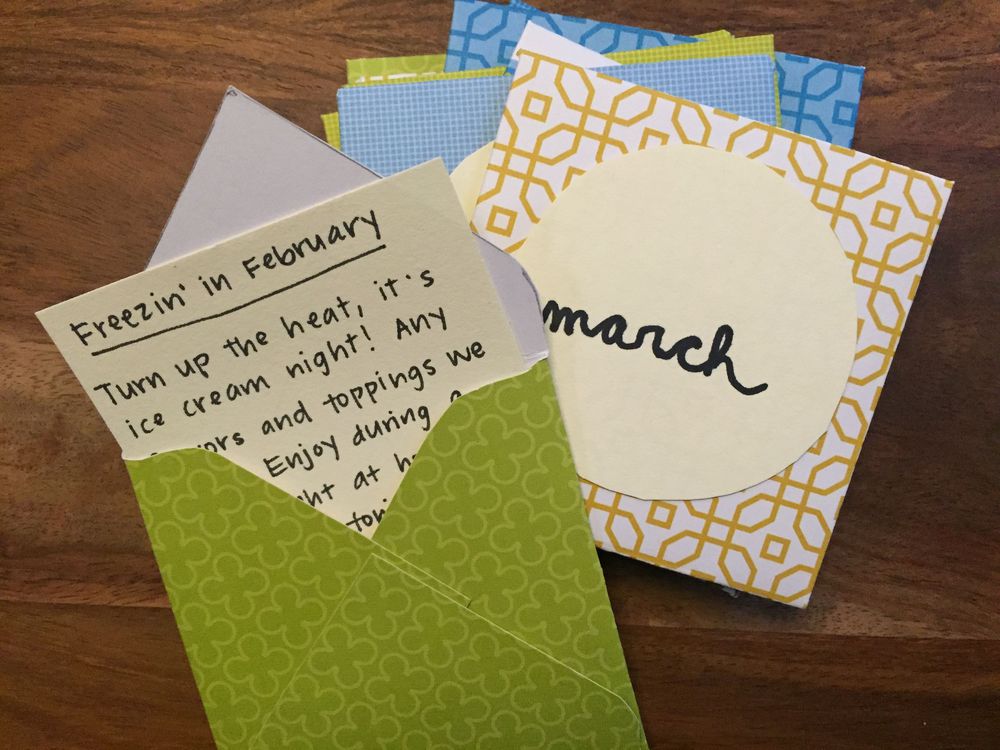 July: Farmer's Market Find
Pick a weird vegetable or meat. We'll find it at YDFM and then figure out what to do with it!

August: Whiskey Wednesday
Time to try some cocktails! We can experiment at home or go for half price at the Pinewood.

September: Decatur Day
Clue Town scavenger hunt in downtown Decatur. Who knows what we'll find!

October: Pumpkin Pickin' and Moonshine Drinkin'
Day trip to Dawsonville to pick a pumpkin from Burt's Farm and check out a tour of the moonshine distillery.

November: Festive Fall Colors
Let's take a walk to find the best tree in Candler Park!

December: Spotify Hospitality Playlist
Holidays are times for having people over. Let's assemble an epic, eclectic, Andy&Laura playlist to set the mood!
What's the best date you've ever been on? Do you have a standing date time with your spouse or significant other?
---
---