January 2nd, 2015
I live in a books bubble that makes me feel like I don't read enough. Me, of the book club, of the Kindle-always-in-my-purse, not reading enough! I never really thought about tracking my books count until I entered the blogosphere. It's mostly Book Riot's fault, and Money Saving Mom does it too. I've used Good Reads intermittently to track my books, and thanks to their "Your Year in Books" feature I am now intimately acquainted with the number of books I've read. I knew it would be coming, and so I actually spent several hours on New Year's Eve day finishing the last 28% of a book so that I could count it toward 2014.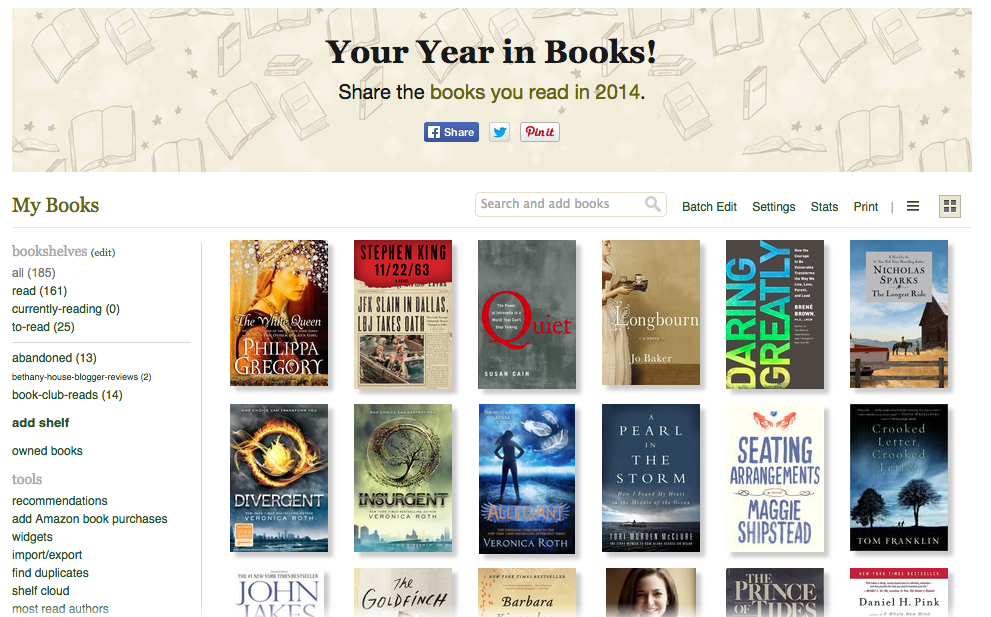 But do I really care about the number of books I read? It sort of gets at the fundamental question of why I read in the first place, which is a good one that I've mused around periodically here before. I read for enjoyment. I read to escape. I read to broaden my horizons. So mostly I don't think I do care. I have a pretty epic books wishlist on Amazon that I may or may not ever get to the end of. I mostly select my next books on whims–sometimes I'm in the mood for fluffy fiction, others headier nonfiction. I just go with it. And I think that's fine.
But just for fun, this year I'm going to participate in Book Riot's Read Harder Challenge. It's not a challenge based on the numbers. It works out to 2 books per month, which is more than I read some months this past year, but not an inordinate number. Rather, it's more about the content of what you're reading. The tasks aren't time-bound, and you don't even have to do them in any particular order.
Without further ado, the tasks and my picks:
A book written by someone when they were under the age of 25
The Heart is a Lonely Hunter by Carson McCullers

A book written by someone when they were over the age of 65
Every Third Thought by John Barth

A collection of short stories (either by one person or an anthology by many people)
A Good Man is Hard to Find by Flannery O' Connor (has been on my TBR for ages)

A book published by an indie press

A book by or about someone that identifies as LGBTQ
Two Boys Kissing by David Levithan (I've loved the other things I've read by him.)

A book by a person whose gender is different from your own
The Remains of the Day by Kazuo Ishiguro (It was already on my wishlist and it fit the category, so shrug.)

A book that takes place in Asia
Snow Flower and the Secret Fan by Lisa See

A book by an author from Africa
Half of a Yellow Sun by Chimamanda Ngozi Adichie

A book that is by or about someone from an indigenous culture (Native Americans, Aboriginals, etc.)
The Round House by Louise Erdrich

A microhistory
The Emperor of All Maladies: A Biography of Cancer by Siddhartha Mukherjee
and/or
The Search for God and Guinness: A Biography of the Beer that Changed the World by Stephen Mansfield

A YA novel
The Tragedy Paper by Elzabeth Laban

A sci-fi novel
The Ocean at the End of the Lane by Neil Gaiman
and/or
Station Eleven by Emily St. John Mandel

A romance novel
The Rescue by Nicholas Sparks (I don't think I've read this one.)

A National Book Award, Man Booker Prize or Pulitzer Prize winner from the last decade
The Luminaries by Eleanor Catton

A book that is a retelling of a classic story (fairytale, Shakespearian play, classic novel, etc.)
Wicked by Gregory Maguire

An audiobook
Harry Potter and the Sorcerer's Stone

A collection of poetry
Head Off & Split by Nikky Finney (I got it for Christmas one year but have never read the whole thing.)

A book that someone else has recommended to you

A book that was originally published in another language
My Brilliant Friend by Elena Ferrante (originally written in Italian)

A graphic novel, a graphic memoir or a collection of comics of any kind
Maus II: A Survivor's Tale: And Here My Trouble's Began by Art Spiegelman (I read Maus I in college and it was great!)

A book that you would consider a guilty pleasure
50 Shades of Grey by E. L. James (Yep, Ima go there.)

A book published before 1850
The Last of the Mohicans by James Fenimore Cooper

A book published this year (this year being 2014, when the tasks were published)
Landline by Rainbow Rowell
and/or
Delicious! by Ruth Reichl

A self-improvement book
All the Money in the World: What the Happiest People Know About Wealth by Laura Vanderkam (one of my favorite bloggers!)
and/or
The 4-Hour Workweek by Timothy Ferris
and/or
The Seven Habits of Highly Effective People by Stephen Covey
Some of these will be NBD for me…a YA novel? Twist my arm, why dontcha?! A guilty pleasure? Woohoo! Others will be a little bit more, well, challenging, which is the whole point! An audiobook, a graphic novel–those are further outside my comfort zone. But it should be fun. There's a Goodreads group for inspiration and accountability, though I haven't copied anyone's list suggestions verbatim.
I reserve the right to change my mind on any of these, but this is a starting point. I'm also open to recommendations (and, hello, Task #18: Recommended by Someone Else), especially in the audiobook and indie press categories. If I get really motivated I may even read multiples in some of the categories.
Half the fun of reading to me is picking whatever suits my fancy, so I'm a little nervous about embarking on such a structured list. But hey, since I'm not "working" full-time right now, I guess I should have more time to read!
Keep an eye out for periodic updates on my progress! I'll be tweeting with the hashtag #ReadHarder, as will the other participants. Join us?
all links are Amazon affiliate links…any purchases help support my blogging habit
---
---