October 9th, 2012
When I went up to Asheville for the Becoming Conference a couple of weeks ago, I had a chance to hear Jen Schmidt's talk on Ten Minute Dinners. I've been reading her blog for several years now, so most of the concepts were not new to me. But as she talked about feeding a group of thirty in a mountain cabin by setting up "assemble your own" bars for various foods, I found myself brainstorming, and I wrote in my notebook, "Baked potatoes in the crockpot?"
I got home and Googled it, and of course I was not the first to wonder if you could do this. Various sources told me to wrap the potatoes tightly in foil before placing them in the crockpot. Others told me to oil and salt the outsides of the potatoes and puncture them before cooking. Still others said to do nothing, not even poke them, that they would cook just fine.
My original plan was to do a few in foil and a few "naked" as an experiment, but, uh, we ran out of foil the night before I made these. So naked potatoes in the crockpot it was!
I rubbed the skins with some olive oil and kosher salt for flavor and popped those suckers in for the day: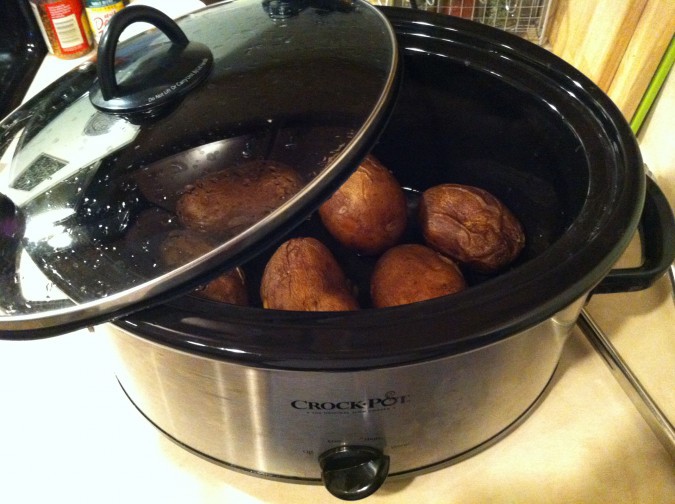 I left them on low while I was at work and came home to cooked potatoes! A few caveats: the skins don't get crispy, and the flesh is a little yellower than a normal baked potato. But don't let those turn you off! They tasted great (and this is coming from the girl who doesn't even like potatoes that much).
I had picked up a can of turkey chili at the grocery store, so our topping options were chili and cheese or broccoli, cheese, and yogurt (in place of sour cream).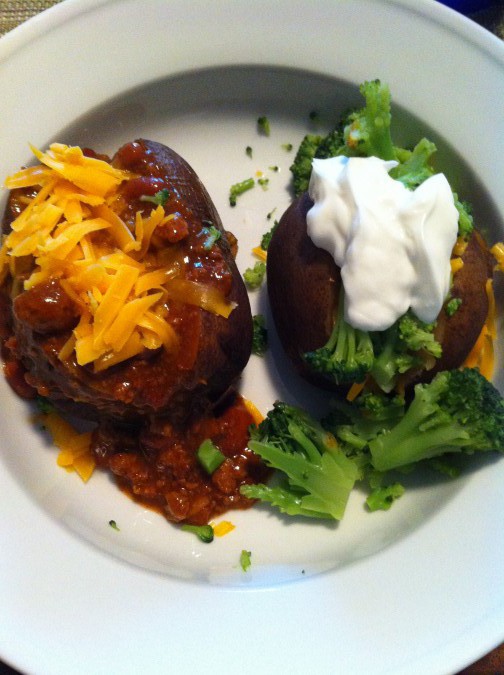 Along with some cut up fruit, this was a warm and satisfying meal! This would be great for a crowd, because I think you could pile the potatoes into the crockpot with no dire effects. The potatoes produce a bit of moisture, so it's almost like they're steamed rather than baked. And you could go crazy with the toppings! Another one we had in our fridge that was tempting to me was some shredded chicken with cheese and barbecue sauce.
What would you put on your crockpot baked potatoes? Have you used your crockpot for anything new lately?
I'm linking up to the Tasty Tuesday Parade of Foods at BeautyandBedlam.com!
---
---