December 4th, 2013
Well, the fall CSA box season is over, and I don't think I'll purchase a box again. I love the idea of participating in Community Supported Agriculture and was really excited when my apartment complex let us know that a farm had coordinated with them to be a pickup location. It was a bit of a splurge, but I used some "fun money" to try it as an experiment, rather than counting it in our grocery budget. The way it worked was, for a set price paid upfront, I got to pick up a box of fruits and vegetables every other week.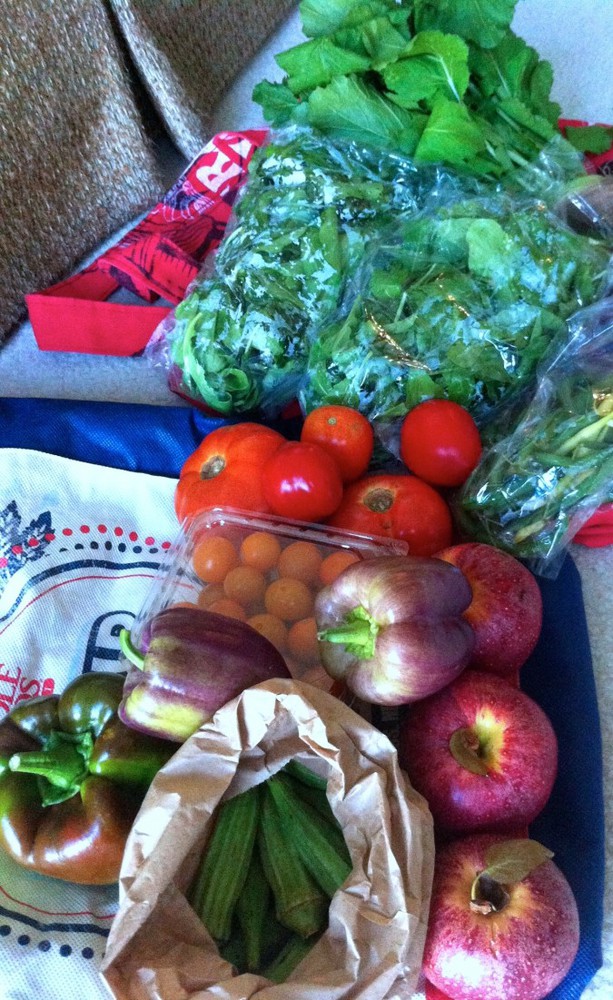 The main problem for me is that the pickup was on Wednesday, and I didn't find out what would be in a particular box until Monday or Tuesday of that week. As you can tell if you read this blog at all, I'm, well, a little bit of a control freak. I make my meal plan and grocery list on Saturday or Sunday, and shop on Sunday or Monday, so by the time I knew what would be in my CSA box it was too late to incorporate those items into my planning. I had been really excited about meeting some new fruits and vegetables and figuring out cool recipes to try them in, but the reality of it was that I didn't have the time or energy to do so on the box's schedule. My CSA farmer sent great emails every week explaining what everything in the box was and even including a few recipes and tips, but it was just not good timing for me.
Another problem was that a lot of the vegetables were so foreign that I didn't know how to store them and, unfortunately, they ended up withering away in the refrigerator! Or, they were big bunches of greens that barely FIT in my fridge, especially since I had already shopped for the week and not budgeted space for them since I didn't know they were coming. I think I threw away more food from my CSA box than I have ever thrown away on a regular basis, which is really unfortunate.
Although Andy and I aren't picky eaters per se, we have several foods that neither of us likes, namely tomatoes. And at the beginning of the CSA box season, boy did we get tomatoes. Every week. I had grand plans of making and freezing marinara sauce, but I only actually got around to it once. So the rest of the tomatoes went, you guessed it, into the trash. Same with okra. We got LOTS of okra. I made gumbo once, and it was okay. I pickled some one week, and it was okay (but the partially eaten jars are still hanging out in the fridge…I wonder if they're any good?). But I would not normally spend my grocery money on okra, and so it was too bad to have so much of it. Andy is also not really a big fan of cooked greens, and we received many different varieties of greens. I incorporated a few into recipes, and they were fine, but again, their size and volume were somewhat overwhelming for the way I cook.
And I hate to say it, but I couldn't really detect a difference in the taste or quality of most of the items. In fact, the heads of lettuce we got were actually kind of tough and not that good. We got sweet potatoes several weeks, but they were white when I peeled them and just didn't taste how I expected them to. We got peppers a few times, but one week the farm fire-roasted them, and I would have rather just had the raw pepper! These are all definitely first-world problems, but I spent a lot of money for what ended up being not a lot of useful-for-me food.
I guess an obvious solution, if I'm really committed to the idea of supporting a local CSA, would be to find one with a pickup time that corresponds better to my meal planning schedule. Or, to sign up for something like Nature's Garden, where you get to select what goes into the box. That way I could get more of the things that were really good (like the locally grown apples we received!) and none of the stuff I wouldn't want to use. I have my grocery list routine down to a science though, and I'm not sure I see much value added for me to work that much harder.
Ultimately, CSA box, it's not you, it's me. I'm not as adventurous or spontaneous as I thought I was. I might be back in a few years, but for now, Kroger will do.
Have you ever participated in a farm-share or CSA? What was your experience like?
---
---