January 24th, 2012
When I began following different coupon and frugal living blogs a couple of years ago, I often saw them posting links to sign up for "freebies." I excitedly signed up for a couple only to be disappointed when the item came and it was tiny–travel sized or even smaller. For the way I use toiletries, that wasn't really helpful toward saving me money. If the package was more than a single use, I was never sure how to store it, and several of my freebies ended up getting thrown away. Once I figured this out, I stopped signing up for them at all.
Fast forward to last August when I started working for a non-profit that gives out clothing, food, and–you got it!–toiletries to homeless and needy families, and I finally saw some value in signing up for freebies. I began signing up for every one I saw, knowing that regardless of the size it could go to a good cause and be put to use by someone who really did need it. I'm keeping a bag in the closet where I can just toss them as they come in. The bag is just about full now, so I'm going to take it to work with me and drop it off in the food pantry!
Here's what I've collected: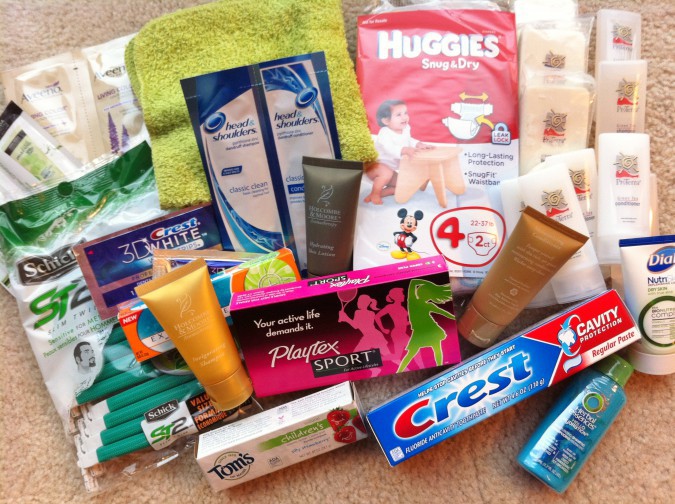 The washcloths are extras from Operation Christmas child. The full-sized toothpaste was a freebie coupon-sale matchup at Kroger, and the razors were a BOGO deal that were practically free with a coupon. A. saved hotel soap and shampoo from his last couple of trips, so those are in here too. Everything else was a mail order freebie! This isn't the most stuff in the world, but every little bit will count, and it's amazing to think I've gotten all of this together just by filling out some forms online. I'm going to keep at it and fill the bag again and again, because I feel like it's such a simple way to bring a small blessing to someone's day.
---
---