May 18th, 2012
It's May, and it's hot outside, and no one is thinking about Christmas right now.
…except for me, because I picked up some deals for my Operation Christmas Child boxes this week!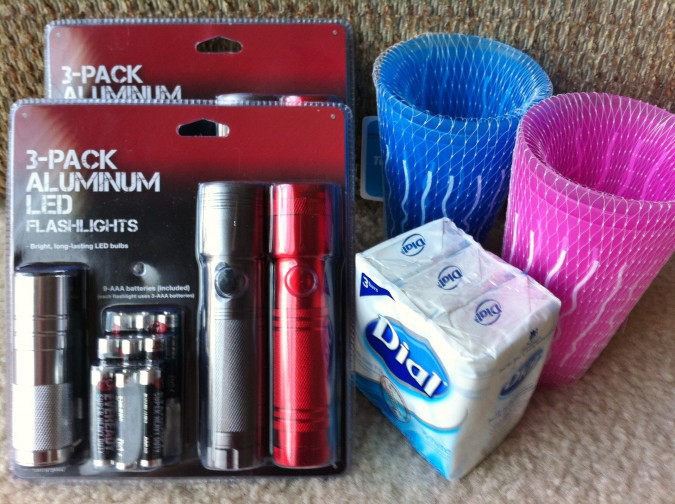 The flashlights were on sale at Office Depot for $4.00 per 3-pack, down from $13.98. Plus they come with batteries!
The soap and cups I got at CVS for a total of $3.19. I had $1.00 Extra Bucks that I needed to use by May 16, and the soap was on sale for $1.88 and printed $1.00 ECBs. The cups were somewhat of an impulse purchase–I've never included anything like that in my boxes, but I thought the bright colors would be fun! They were $1.00 for 3 cups.
Believe it or not, I've also already collected some notebooks that I got at Staples in their "Dollar Days" sale and some pens that I got for free at Target with a coupon.
I've set a goal for myself of putting together 10 boxes for $100.00 this year.
The 6 boxes I did last year were pretty easy, and I would be well on my way to having 6 this year. As you can see above, a lot of things come in three's, so I'm worried that getting to 10 will be difficult! I guess if I end up with 9 that would be okay, too.
Items I'll be looking out for deals on in the next months include:
socks
soap
toothbrushes
toothpaste
batteries (they ask that you provide extras if you include electronics)
travel packs of Kleenex
multi-packs of washcloths (clearance at TJ Maxx, etc?)
hard candy
Ziploc bags
I'm looking forward to seeing what all I can get for free or almost free during the back-to-school sales at the end of summer, and I'll be budgeting at least $10.00 to spend on (10) small toys at the dollar store, like jump ropes and balls. I also know that if I don't find good toothbrush and toothpaste deals I can get a neat travel pouch combo at Target for $1.00 like I did last year, but that would require another $10.00 out of my $100! So if I can find sales and coupons that would be great.
I don't necessarily expect that anyone else is thinking about Christmas yet, but doing it this way will really help me put the best items in the boxes for the least money!
Did you find any good deals this week?
---
---