November 9th, 2012
When fall comes around, I go pumpkin crazy. I've always loved the pumpkin pie at Thanksgiving, but I'm not sure I ever thought about enjoying pumpkin outside of that one day a year until Starbucks pumpkin spice lattes came into my life. Now, I'm one of those people who gets excited when it's featured on their menu again every year (though one of my coworkers reminded me that you can get whatever flavor drink you want at Starbucks all year round). Even though we don't usually get much of a fall in the South, once the calendar hits September, I have pumpkin on the brain. When I realized I had a preposterous number of pumpkin recipes pinned, I decided to share them here. Here's the 8th of 10 different pumpkin recipes for your gustatory pleasure!
This week's recipe is a savory change from all the sweets and baked goods I've featured lately. Pumpkin soup was one of the things I made a few falls ago when Andy and I cut up a pumpkin to cook with, but it was a strange recipe and I wasn't a fan of the final product. But I decided to give it a try with another recipe: Rachael Ray's Sausage, Pumpkin, and Arborio Soup.
The object lesson from this week's recipe is not to be intimidated by ingredients you don't have or don't know. I hardly used any of the specific things that were actually called for in this recipe! I didn't want to spend $6 on a tub of arborio rice to get the 3/4 cup I needed for this recipe, so I decided to use regular white rice. Kroger was out of bulk Italian sausage except for the "hot" flavor when I shopped this week, so I bought mild Italian sausages and removed the casings (which was so weird, by the way, but easily doable!). I didn't have the called-for sage, and my sausage didn't have fennel in it, and I used ground nutmeg instead of fresh. I didn't know what Tuscan kale was, nor did I see it at the store, so I just bought kale. But gasp most surprising of all, I actually made the recipe with the alternative of butternut squash instead of pumpkin because there were none at the store! I guess now that Halloween was over they were all rotten or sold. So, this week's In Pursuit of Pumpkin recipe doesn't actually have pumpkin in it, but it could, so I'm counting it.
The ingredients look pretty different from previous weeks!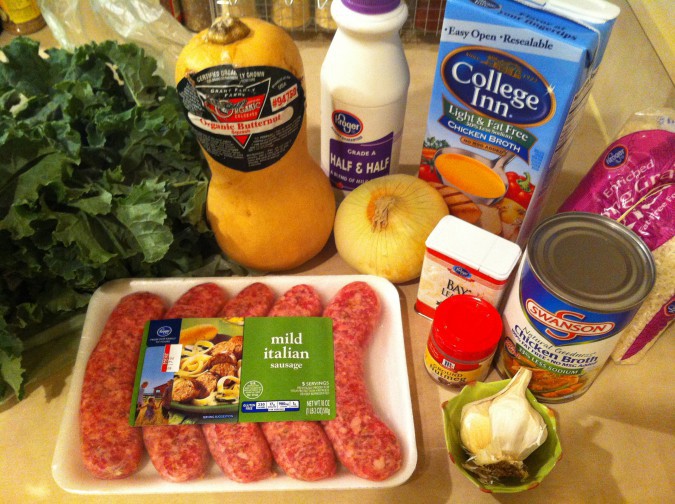 2 tablespoons EVOO, plus more for drizzling
1 pound bulk Italian sweet sausage with fennel
3 to 4 cloves garlic, chopped
1 onion, chopped
1 large bay leaf
1 butternut squash or small pumpkin (2 pounds), peeled and cut into 3/4-inch dice
Kosher salt and freshly ground pepper
Freshly grated nutmeg
6 cups chicken stock
2 cups half-and-half
1 small bunch Tuscan kale, stemmed and chopped
3/4 cup Arborio rice
A few fresh sage leaves, torn
Shaved Parmigiano-Reggiano, for serving
I chopped up the onion and garlic, wrestled the butternut squash into something resembling cubes (those things are hard…literally!), and peeled off the sausage casings.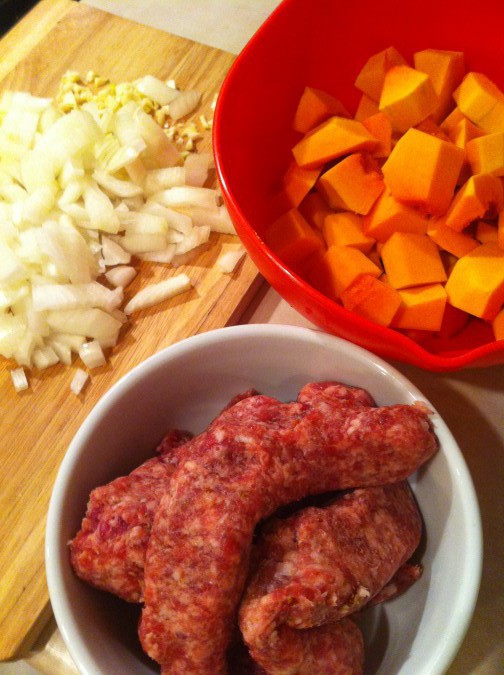 Then I browned the sausage in a little bit of EVOO, as Rachael calls it, adding the onion and garlic once it was fully brown. Those cooked together for 5 minutes.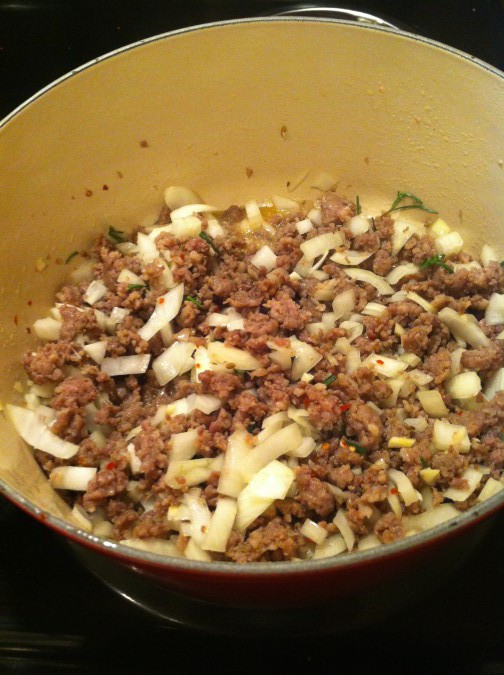 I chopped the kale while this was simmering. I had a giant bunch, so I only used a portion of it to approximate the "small bunch of Tuscan kale."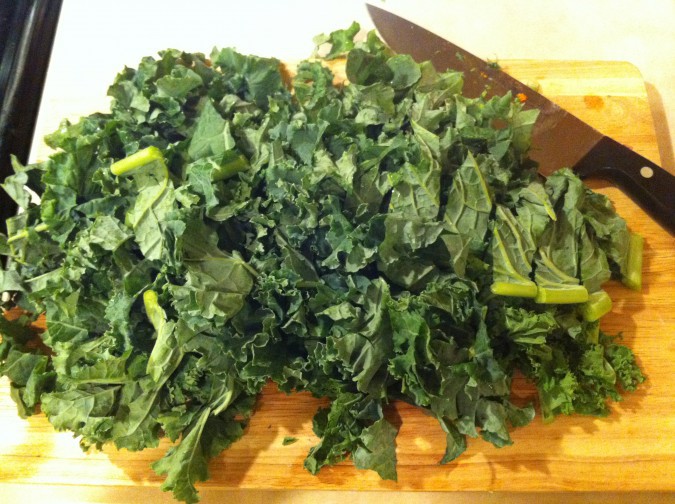 Next, add the squash to your pot and season with salt, pepper, and nutmeg.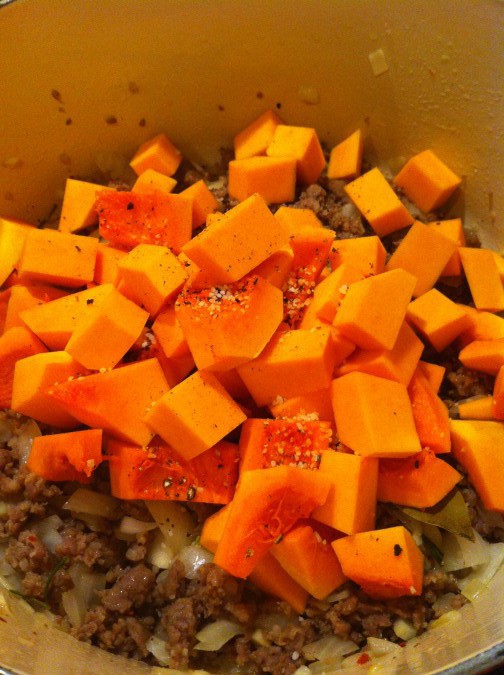 Finally, pour in the chicken stock (I used broth) and half-and-half and bring to a boil. It starts looking pretty weird at this point!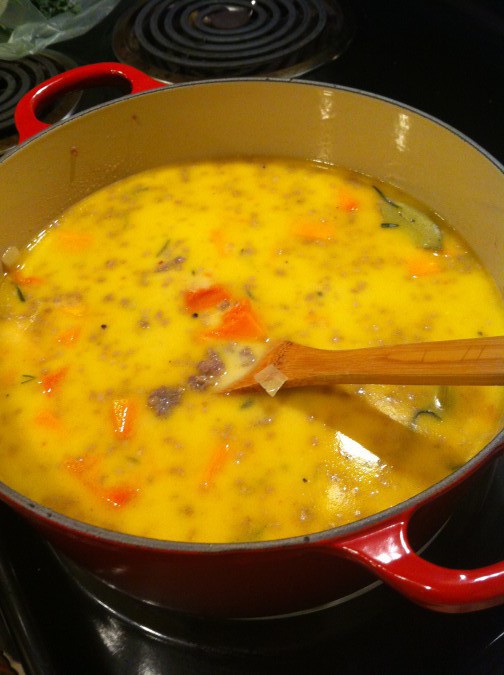 Stir in the kale and reduce heat to low, simmering for 20 minutes or until the squash is tender.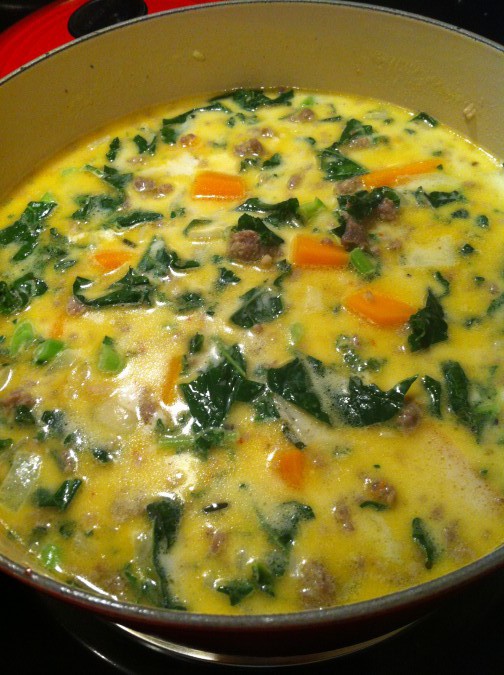 Somehow it looked much more appealing to me once the kale was thrown in the mix. The  liquid looked pretty weird while it was boiling, but otherwise it seemed to do what it was supposed to do. If you're serving it right away, you would add the rice at the end of the 20 minutes and simmer another 18-20 minutes, or until the rice is tender. I prepared this a day ahead minus the rice as the recipe says you can, and when I pulled it out of the fridge the next night was able to skim off a layer of sausage fat from the top. Yum. But if you're wanting to make a not health-conscious recipe slightly healthier that might be a way to do it. :-)
This soup sounds fancy and looks pretty nice, but it really couldn't have been much easier! It has good flavors and is a nice colorful addition to your fall dinner table.
---
---