November 8th, 2012
After purchasing items for my shoeboxes to send out through Samaritan's Purse all year, the time to pack and deliver the boxes has finally arrived! National collection week is November 12-19, so you still have time this weekend to collect your gifts if you'd like to participate.
I set a goal for myself this year of packing 10 boxes for $100 or less. I met my goal, but it was not a cakewalk! I literally have kept an eye out for deals pretty much since I sent off my boxes last year. As I am wont to do, I got a bit obsessive about it as a project. But I had a heart check last week when I was at Target maniacally debating over spending my last $12 on some extra little trinkets. I was looking at this as a shopping challenge, and I found it very satisfying to get great deals. I had to remind myself that the end product is not about me. It's about the children who will receive my boxes, and who will hopefully receive joy from the items inside. It's about sending the Christmas spirit to someone who likely has little else in the world. And so what if I didn't get the absolute best deal on toothpaste that I could have? Once I realized that, it became fun again: I pictured the kids and wondered what country they live in. I thought about the girls putting on the stretchy plastic bracelets I bought them and the boys trading the bouncing balls. I said a little prayer for them all and tried to be mindful as I finally packed the boxes. That's what this is all about.
But given how caught up in it all I got, I'm not sure I'll pack boxes again next year, at least not on this level. I couldn't afford to do 10 boxes if I didn't find deals, so it was a great experiment to try that allowed me to potentially bless more children than I could have otherwise, but I didn't go about it in the right mindset. I might try to find a local ministry that does something similar and perhaps volunteer with them, so that I'd get to spend time with some kids and be reminded of the bigger picture. We'll see. But for now, the boxes!
I came in right under budget at $98.50.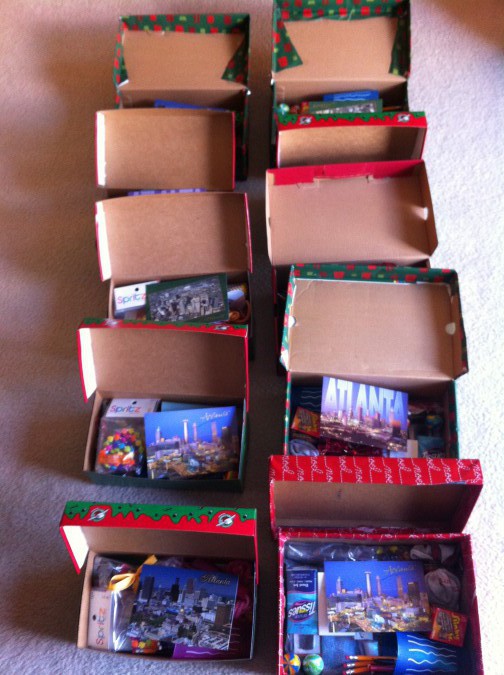 I didn't buy the plastic shoeboxes at Target this year, in order to save those $10. I found 3 shoeboxes in our closet, and then conveniently, Andy and I both got new running shoes recently, so I snagged those as well! I as able to pick up 5 pre-printed, foldable boxes at the Becoming Conference to round out my 10.
I packed 5 girl boxes and 5 boy boxes for the oldest age group, 10-14.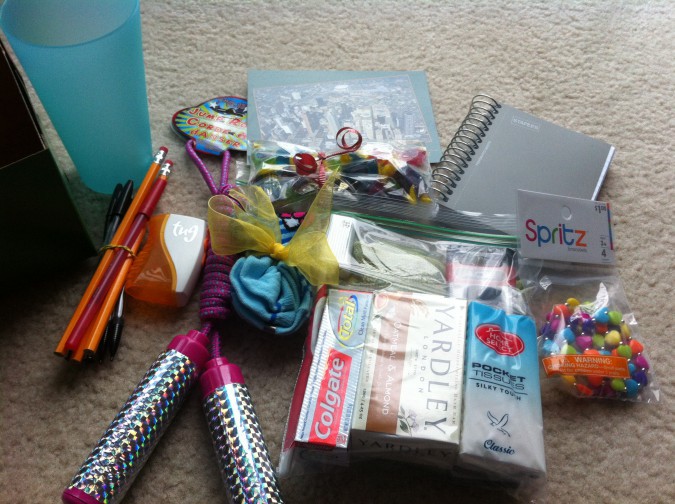 There's a fair amount of overlap, though the girls got jump ropes and bracelets while the boys got slinkies and bouncy balls. Both got socks, but I found Hello Kitty socks on clearance for the girls. I tried a different tactic this year and wrapped some of the shoeboxes (which, sidenote, was HARD!), along with tying things inside with ribbon to make it more festive!
Each child will also get an Atlanta postcard with a note from me.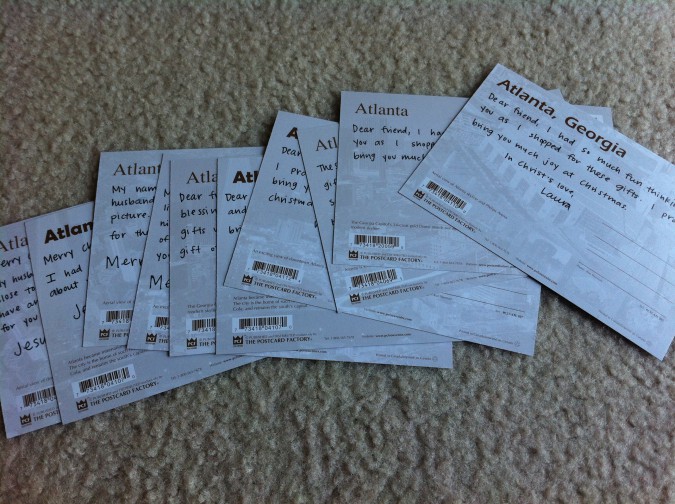 I love picturing the kids' faces when they see the picture of all the big skyscrapers downtown. It was a bit difficult to know what to write. I tried to keep the language simple, imagining that they might be only fledgling English readers (if even that). I mostly just said Merry Christmas and that I hope they enjoy the gifts, but I varied it from card to card. This is something I haven't done before but that Samaritan's Purse recommends as a nice touch!
Here they are all ready to go: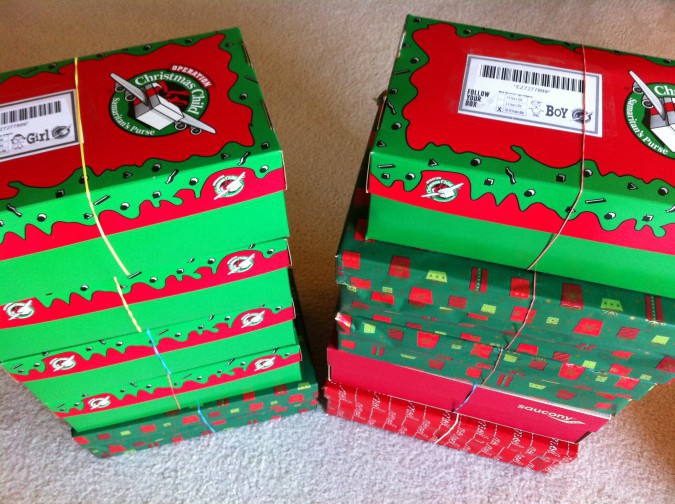 I used the relatively new feature that Samaritan's Purse offers of making your donation (they suggest $7 per box to cover shipping) online. Then, the labels you print have a personalized barcode so that they can track your boxes and send you an email letting you know where they go! This would be particularly cool if you have kids, because you could turn it into a mini-geography and culture lesson. (Though, not gonna lie, I find that pretty fascinating, too.) So soon enough I'll know what country my humble little boxes end up in!
Samaritan's Purse offers helpful guidelines for packing boxes, and you can follow along with the things I've bought and check out last year's boxes in these posts:
Jenny at Southern Savers is a big supporter of this ministry, too, and she usually posts some last minute deals, so click on over to her site if you're planning on doing some shopping this weekend!
It seems so early to be getting in the Christmas spirit, but I'm sending these boxes out into the world with a hearty dose of love and cheer.
---
---