June 22nd, 2012
Not every week is a red letter week when it comes to coupons. In fact, more weeks than not are just pretty ho-hum, and I go do the grocery shopping and spend a reasonable amount by shopping sales and generic brands, rather than by using a dramatic coupon on every item. This week was one of those. Andy and I were backpacking this past weekend, so I wasn't able to spend any time getting my list organized and my coupons in order. I ended up being more rushed than I had anticipated on Monday afternoon when I finally got around to it, and I felt pretty frazzled and unorganized at the store. In fact, I bought 2 bags of baby carrots at $1.00 each because I thought I was using a $0.50/2 store coupon, but since I just found that coupon in my coupon bin, I'm guessing it didn't get used!! Haha. That's how it goes sometimes. And we still had food to eat this week, so that's what matters.
I did purchase the required 5 items in Kroger's current mega event in order to get the $5.00 savings but (GASP!) I only actually used a coupon on one of the items. I decided they were all at or under my buy price anyway and I was just going to do it. I did, however find a nice surprise on the manager's clearance shelf!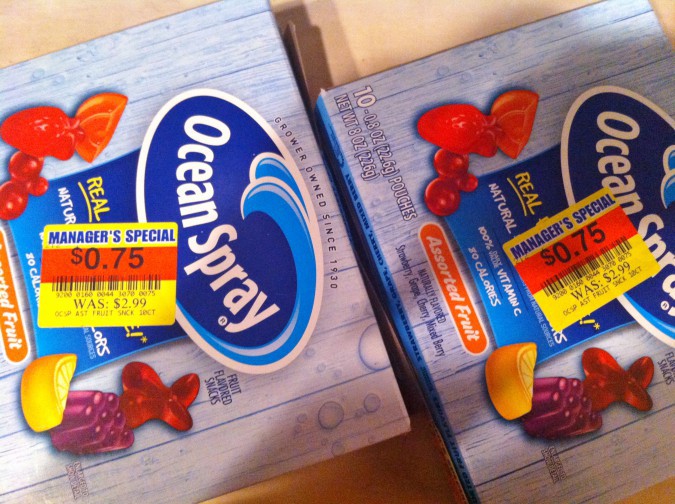 Have you ever come across this shelf? At my Kroger, it's tucked back by an emergency exit at the end of the "frozen novelties" aisle, just past all the milk. It's a random mishmosh of things, many of which are strange brands or damaged items (hairspray that has leaked, anyone?). But every now and then you can find a treasure like this. (I've also found expensive brands of healthy/organic granola bars and cereals back there.) The tag on these says "Was $2.99," but you can see they're marked down to $0.75. There's nothing discernibly wrong with them, and the expiration date isn't until January 2013 (that's always the first thing I check on clearance items, in case a short sell-by date is the reason for the markdown). My guess is they overbought, or brought in a new brand and needed more space on the shelf. So, I snatched them up! How cool would it have been if I had also had a coupon for these oh well.
Unfortunately I realized as I was looking at my receipt later that one of them got rung up at its full price. Boo. I guess I wasn't really paying attention as the cashier was checking me out. But if I got the 2 of these, sans coupons, for $1.87 each, that's still a pretty significant savings.
Are there any sections of the store where you tend to find good deals? Have you found any treasures on the clearance shelf lately?
---
---