July 27th, 2012
I visited both CVS and Target this past week for some deals that were too good to pass up. I read on Passion for Savings about free Yardley soap, which I planned to go pick up for my Operation Christmas Child boxes. But thanks to some lucky coupon printing and a friendly store manager who decided to accept my expired ExtraBucks, I was able to snag the 2 bars of soap, a bottle of body wash, and a pencil sharpener for free!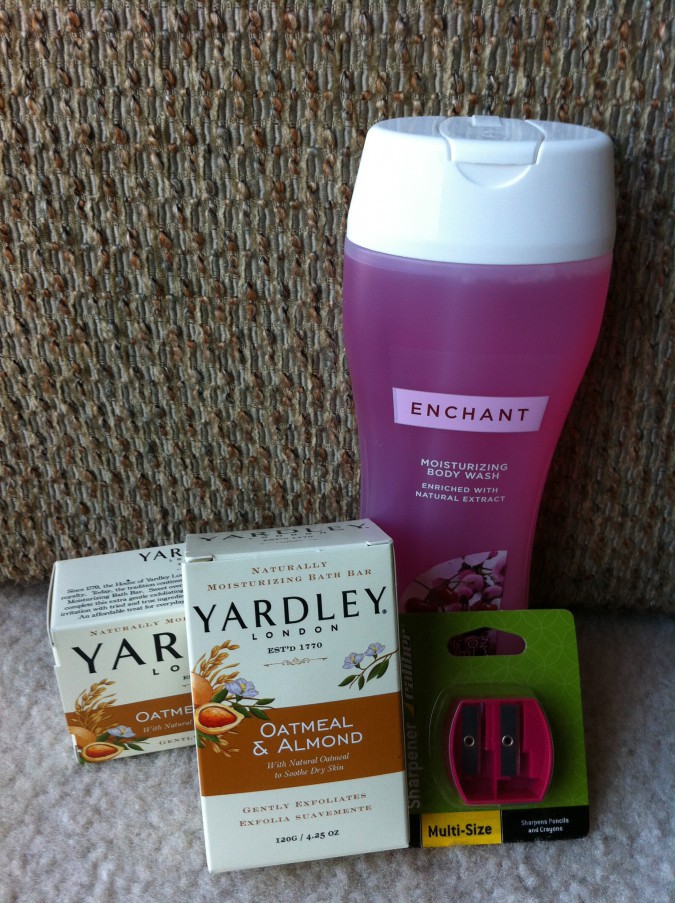 Bought 2 Yardley Soap at $0.69 Used 1 $2/2 any soap or body wash coupon from CVS Coupon Center =FREE + $0.62 overage
Bought 1 CVS brand body wash at $2.37 Used 1 $2/1 CVS brand body wash =$0.37, but overage applied to make it free
Bought 1 manual pencil sharpener at $0.99 Used $1 ECB =FREE + $0.01 overage
I ended up at -$0.12, which I could have used toward another purchase, but I let it slide and got the items "just" for free. The pencil sharpener was a really fortuitous find because I was only able to pick up 9 of them at $0.10 from Office Depot last week, and I want to make 10 shoeboxes this year!
I headed to Target for cheap Ortega taco seasoning and free Papermate pens but ended up with another treasure for my shoeboxes: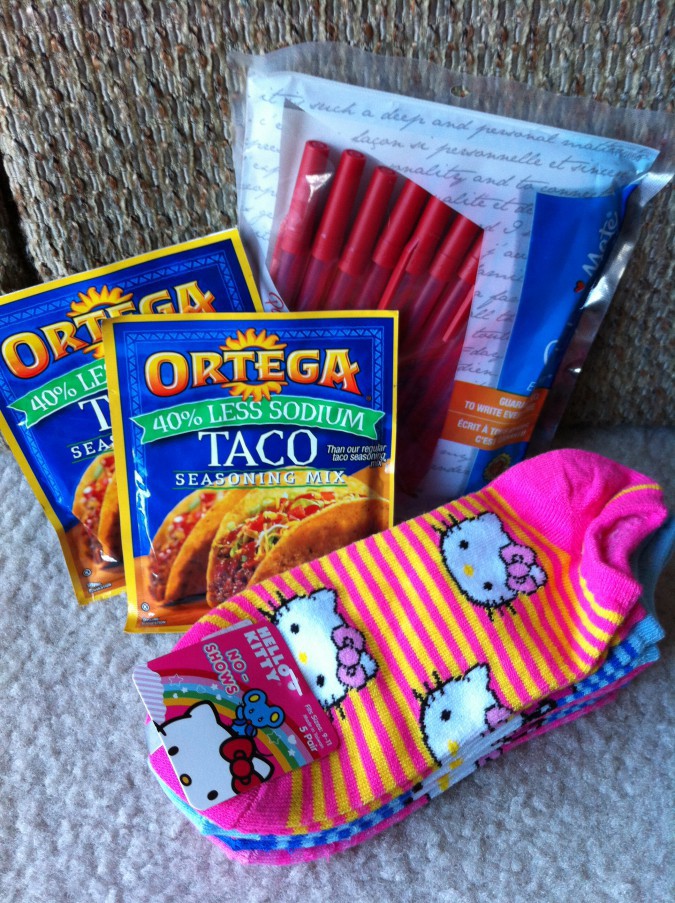 The taco seasoning was supposed to be on sale for $0.67, but at my store it was still a whopping $0.77. I decided to use my $1.00/2 Ortega products coupon anyway to get 2 packets for $0.27 each.
The pens were marked $1.00 on the bin where I picked them up but unfortunately rang up at their normal price of $1.27, which I didn't notice until I got home. :-( But with my $1.00/1 Papermate writing instrument coupon from Target's website, I only shelled out $0.27. Not bad, but since I already had pens for my boxes I'm a little disappointed they didn't turn out to be free like they were supposed to.
But the find of the day was the 5-pack of Hello Kitty socks on clearance for $2.38! I've been keeping an eye out for a good deal on socks for the shoeboxes and had just about settled on getting a 6-pack from Marshall's for $4.99 but was wavering because I really only needed 5 pairs. It's become habit for me to peruse the clearance sock bins at Target and today I happened upon these! They're a little silly, but I think they'll be a fun addition to the boxes for a young teenage girl somewhere in the world to get for Christmas.
My total at Target after sales and coupons was $3.41. I can't complain too much about that.
---
---