July 31st, 2012
On Sunday, Andy and I were invited over to a new friend's place to watch the Olympics. She asked if I would bring a salad or some type of fruit/veggie side. I've spent so much time on Pinterest lately that of course I had to try and do something Olympics themed! I wanted it to be pretty quick and easy and not a dessert, so my options were somewhat limited. I went to the grocery store with only the colors of the rings written down and decided to just see what foods in those colors struck my fancy.
Here's what I ended up with: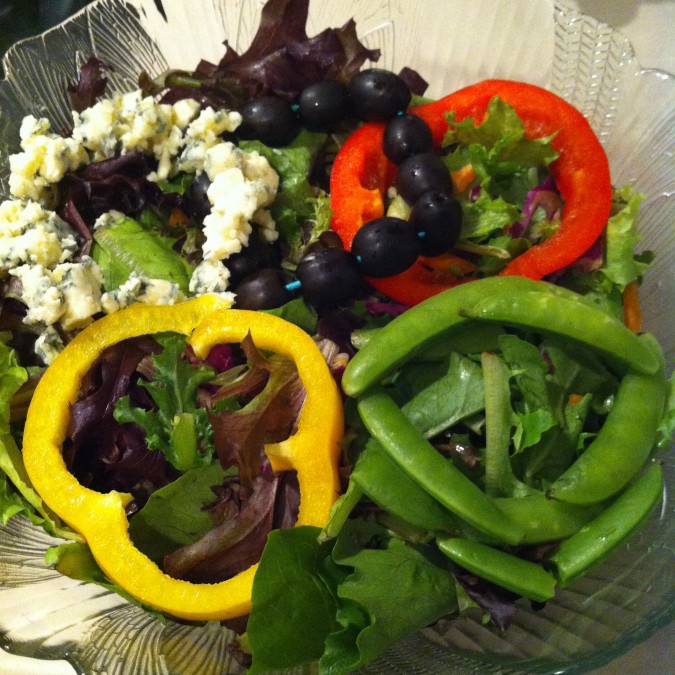 An Olympic rings salad!
The snap peas came in the salad kit I bought, and the red and yellow rings are bell peppers that I simply cored and then cut into rings. The black ring is made up of olives on toothpicks--that one was the most difficult, between getting them to stay on the toothpicks and then getting the straight toothpicks to somehow form a circle! The blue ring was a stretch. I thought blueberries would have been weird in a savory salad, so I used blue cheese. I know, I know, it's more white than blue, but it's the thought that counts, right?
I jostled it as I was getting it out of the fridge to take to your get-together, but luckily I had snapped this picture earlier! And I think it still got the point across. Simple, healthful, tasty, and fun.
Have you been watching the Olympics obsessively like I have? What food would you bring to an Olympics-themed event?
I'm linked up to Balancing Beauty and Bedlam's
Tasty Tuesday Parade of Foods!

---
---