October 6th, 2011
Have you heard of Operation Christmas Child? It's an annual program run by Samaritan's Purse through which people like you and me pack shoeboxes with fun and useful things for kids. The boxes then get sent all around the world and given to children who might not have a Christmas present otherwise. There's also an element of evangelism involved, letting the kids know the motivation behind the people who sent the boxes and letting them know about Christmas, the birth of Jesus.
(Source)
I first got involved with Operation Christmas Child in Jackson, Mississippi in 2003. My church youth group took charge of sorting all the boxes dropped off at our church, and we also helped at our citywide drop-off center. (There was a fabulous picture of us in the paper from that outing, but I can't find it online. Boo.) This involved grouping the boxes by the age and gender they were specified for and then opening each box to make sure there was nothing inappropriate and filling in with miscellaneous small items if it seemed lacking. I had such a great time doing this, and I've been filling shoeboxes ever since. I'm usually all about donating my money where I live and supporting causes in my own community, but this cause continually inspires me to send it a little further.
This year, I was so excited to see a post from my blog-friend Stephanie about a challenge she and her husband are taking on! They are going to be packing 50 BOXES...incredible! I've decided to join them and pack a much less ambitious 6 (which is still more than I've ever done). Packing a box is a blast, but working out the logistics of multiples is definitely a challenge. In the past, I've easily spent $20+ on a single box, because I've usually only been packing one or two. But since A. and I are doing 6 this year, I'm trying to really plan ahead and think out how I can be the most frugal with our money while still giving the kids a great treat. One thing I'm doing is looking at coupon matchups on things like candy, gum, soap, and school supplies, which are all suggestions that Samaritan's Purse makes of items to include. Another is buying multi-packs of things that I can split among the boxes. And A. and I are also planning a trip to a dollar store to see if we can find any of the items on my Shoebox Wish List. I obviously don't want to scrimp just for the sake of scrimping; I want the kids to have quality items that will show they are cared for. But I also want to find good deals so that I can include more items!
Here's what my collection looks like so far: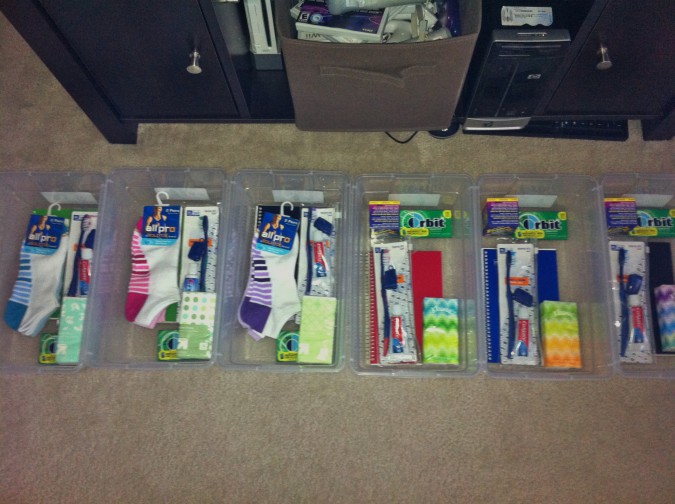 (Kind of ironic that the picture of these modest gifts was taken in front of our Wii and media center pc....man.)
I've decided to make 3 boxes for girls and 3 for boys, all in the oldest age group included, which is 10-14. All those years ago when I first packed boxes I was told this is the hardest age to collect for, so I've stuck with it since then. I don't know whether that's still true or not, but it's enough motivation for me. Also, you'll notice that these are not your typical shoeboxes. You can definitely use those, and wrap them if you want, but I always like to use the plastic type of shoebox so that then the box itself is like a re-usable gift as well. I lucked out and found these for $1.07 at Target!
Included so far are:
socks for the girls (on clearance at Target)
mini-slinkies for the boys (in the Target dollar section)
a pack of gum (bought on sale and with a coupon)
mini spiral-bound notebooks (2 3-packs, on sale at Staples)
pouch with toothbrush+cap and toothpaste ($0.99 at Target)
travel pack of Kleenex
Still on the list to find are:
baseball caps for the boys
jump ropes for the girls
hard candy/mints
soap - 1 bar per box
washcloths
pens/pencils (Just printed this coupon for Bic Mark-It!)
pencil pouches - 1 per box
I'm confident that I can find coupons and/or good sales for the soap, candy, and pencils, and I'm looking forward to shopping for the rest! (If I had REALLY planned ahead, I could have capitalized on so many great back-to-school sales for these boxes...kicking myself for that, but I had no idea back in August that I'd be doing this project.) If you have any suggestions of places to look for the others, I'd love to hear them.
So after all of this, my question is: will you join us? Will you join us in committing to pack a shoebox with small items that we take for granted? Will you join us in shipping joy to a child you may never meet? Will you join us? National shoebox drop-off week is November 14-21, so you've got plenty of time! I'm planning to check back in here occasionally, especially if I find any great deals that y'all could benefit from, too. If you'd like to jump in, feel free to comment here, and please go visit Stephanie's page as well. I know she and her husband will appreciate your support as they stretch themselves for this great cause!
---
---