October 7th, 2011
I had a great trip to Publix this past weekend that I mentioned in my Save to Spend post on Tuesday.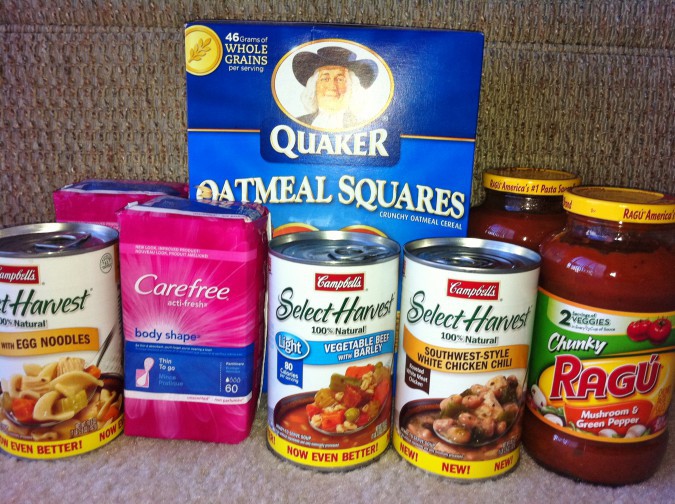 Total Spent: $7.17 (including tax) Total Value:  $22.36 (plus tax) Total Saved: $15.19, or 68%
This sure was a heavy bag to carry on my walk home, but I'd say it was worth it!
I also had some fun at CVS. I got 2 bags of Werther's Originals, 1 bottle of Fillipo Berrio olive oil, and one small sized Dawn dish detergent for $0.13. But that's because I used $7.00 ECBs. Tricked you! So it wasn't a super coupon day (though one on each item), and I'm hoping I won't regret having spent all my Extra Bucks when I see this week's ad.
I went to Target yesterday to poke around for some more Operation Christmas Child items and to use my $3/1 Merona women's top coupon. I found this cardigan on clearance for $6.24, down from an original price of $24.99. That means that with my coupon I got it for just $3.24!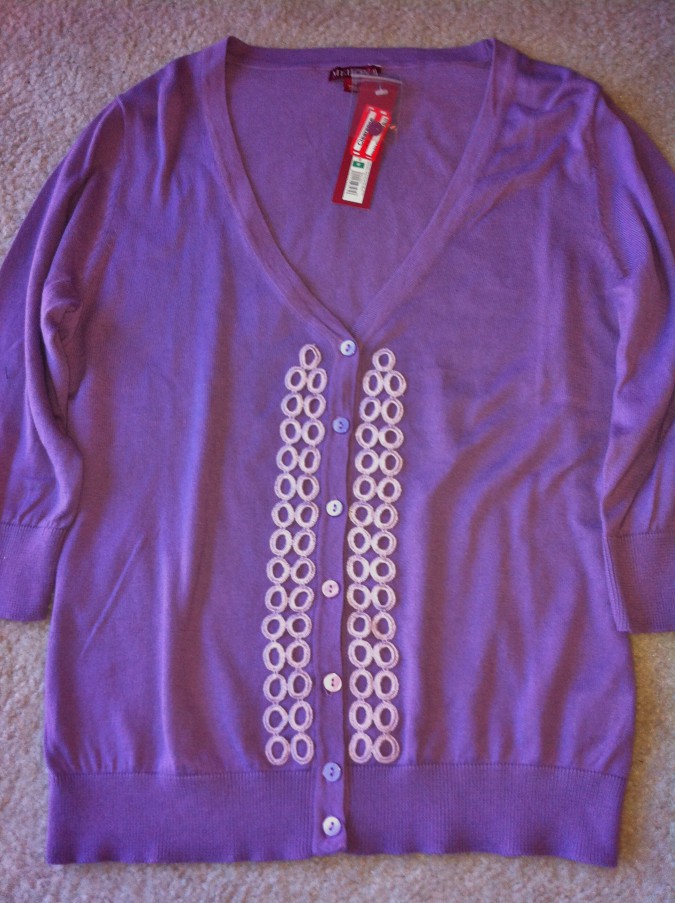 It looks really dumpy here, but I promise it's cute in person. I debated between this and some scoop neck long sleeved tees on sale for $8 (that I could have gotten for $5). One of those would have definitely been practical for under sweaters and such, but this was just so much more fun. I love the discovery of Target apparel item coupons. You definitely have to be willing to dig through the chaotic clearance racks if you want to find great deals, but you could also use them on regularly priced items to simply save yourself a few bucks. But sometimes, when I'm just in the mood to shop, digging through clearance racks is half the fun anyway, especially when you wind up with a gratifying "reward."
I did pick up some things for our shoeboxes, as well.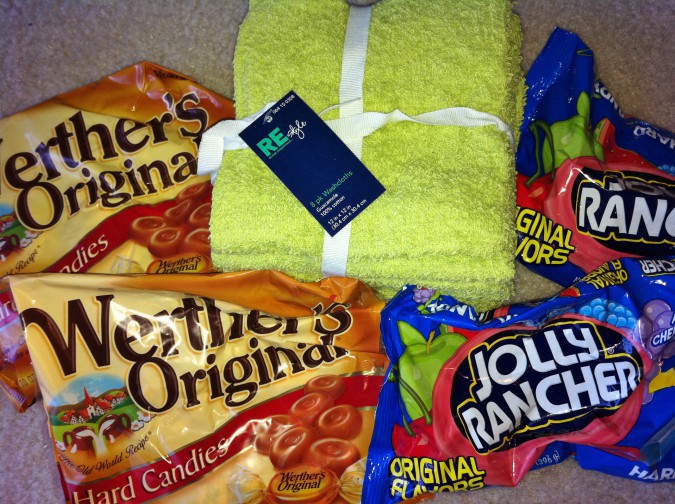 These washcloths were only $3.49 for 8! I thought the green was a happy color and gender-neutral enough to put one in all 6 boxes. This candy was on sale for 2/$4, and I used a $1/2 Werther's coupon (of which I used another at CVS). Interestingly enough, the bags of Werther's from Target were a much bigger size than the same-priced ones at CVS. Grrr. And I thought the Jolly Ranchers were a good enough price to just jump at them, since I knew it was a candy that would be good to include in the boxes. I'm going to make little baggies of each of these for each box and seal them with stickers.
While I was checking out at Target, I thought it seemed like a couple of my coupons didn't scan, but then the cashier noticed too and pushed a button that made the last one appear, so I thought it was sorted out. But as I was leaving I just had a gut feeling that something was off, so I stood in the parking lot and checked my receipt carefully. Sure enough, only 2 of my 5 coupons had scanned! On a normal trip I might not even have noticed this, sadly, but I had planned this trip very carefully around my coupons. I debated letting it slide but ultimately decided to go back in, and I'm so glad I did!
I found a manager and explained the situation. She got the coupons out of the drawer on the aisle where I had checked out and verified bar codes against my receipt. She also checked my bag to make sure I had the items I said I did. I wasn't sure if she was going to have to void my whole order and scan it again or what, but all she had to do was scan the bar code on the receipt to bring the transaction up. Then she scanned the 3 coupons that had been missed, and the cash drawer popped open to give me their value in cash! It seems like a really good system, and I really appreciate how helpful and patient the manager was. Plus, I was glad to have caught the problem and gotten the value of my coupons! So kudos to Target for having helpful employees and a well-designed system for rectifying mistakes.
That's all for this week. After my recent rash of extreme-for-me couponing I'm feeling a bit of coupon lethargy today. Sometimes it's fun, and then all of a sudden it'll just seem tiring! But I'm sure once my beloved Kroger ad comes out tomorrow morning I'll be allllll cured.
---
---