November 17th, 2011
Well,  the Operation Christmas Child boxes got packed up this past Sunday and are ready to be delivered! I have to figure out where exactly I am taking them (whether it will be my church or the local drop-off site), but national collection week is through Monday, so I'll take care of it this weekend. In fact, if you haven't made any boxes yet, you could still get involved and shop for one this weekend! However, I'm a firm believer now in making more than one. I think it's really cost effective because you can buy multi-packs of things, which often have a much lower unit price than just buying a single item.
Here's everything that went into the boxes, laid out ready to be packed:
 The total cost came to $65.98, which works out to $10.99 per box. (Really it's 10.996…so it would round up to 11, but it sounds crazy to say a decimal divided by 6 is a whole number. And plus, 10.99 sounds sooo much cheaper.) We had a budget of $60.00, so we went a little bit over. I must not have recorded something in a timely manner, because when we bought the last postcards I thought we were about $2 under. But, we still did pretty well.
The 3 boy boxes contained:
1 baseball cap (lemme tell you, I searched high and low for an inexpensive enough baseball cap to be able to buy 3 and stay within budget!)
1 mini Slinky
bar of soap and wash cloth
toothbrush (with a travel cap) and toothpaste, all in a zippered pouch
pack of Kleenex
pens, pencils, and a pencil sharpener (tied with animal rubber bands!)
mini spiral-bound notebook
pack of gum, Werther's Originals, and Jolly Ranchers
postcard of Atlanta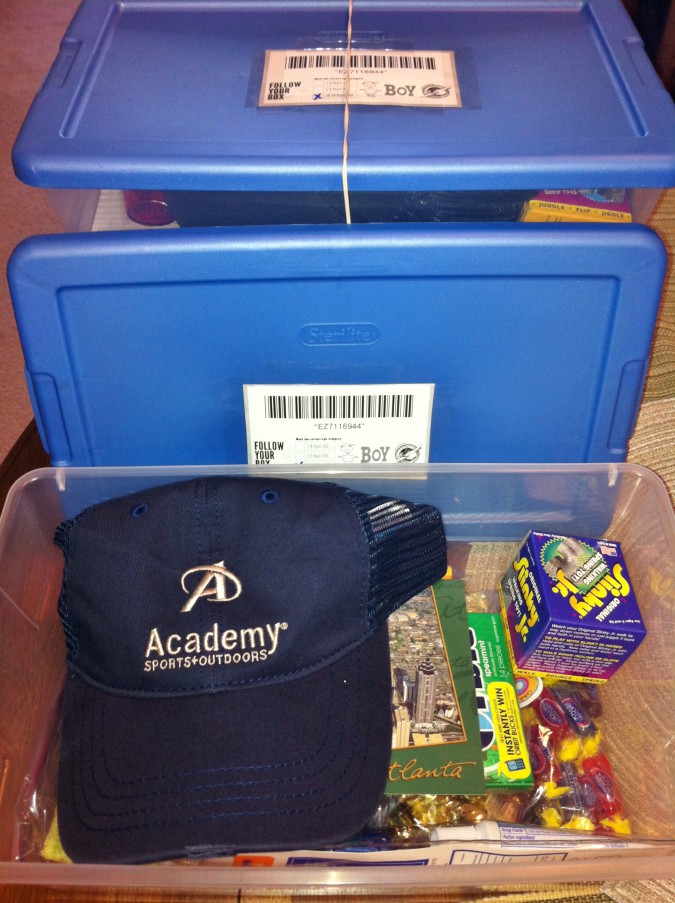 The girl boxes contained the same, except substitute socks for the baseball cap and a jump rope for the Slinky.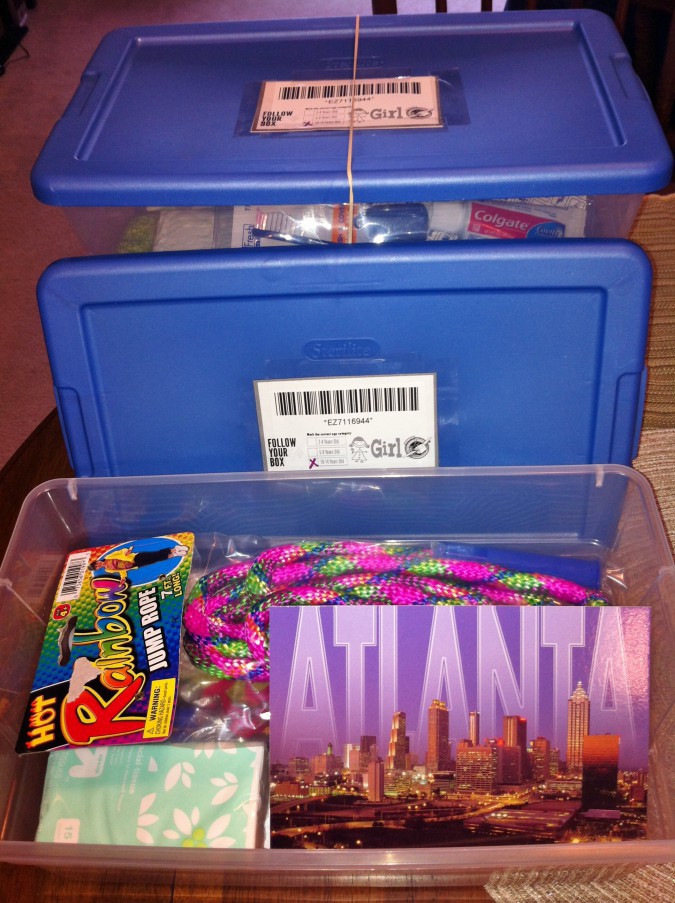 Here they are all packed up and ready to go! I had a lot of fun filling these with my dad up on the assembly line of my dining room table. Samaritan's Purse asks for a $7 donation per box to cover postage and various other things. Normally I just stick a check in one of the boxes, but this year I donated online to take advantage of their "track your box feature!" It will be neat to see what part of the world my boxes make it to…keep an eye out for a post telling you all about it.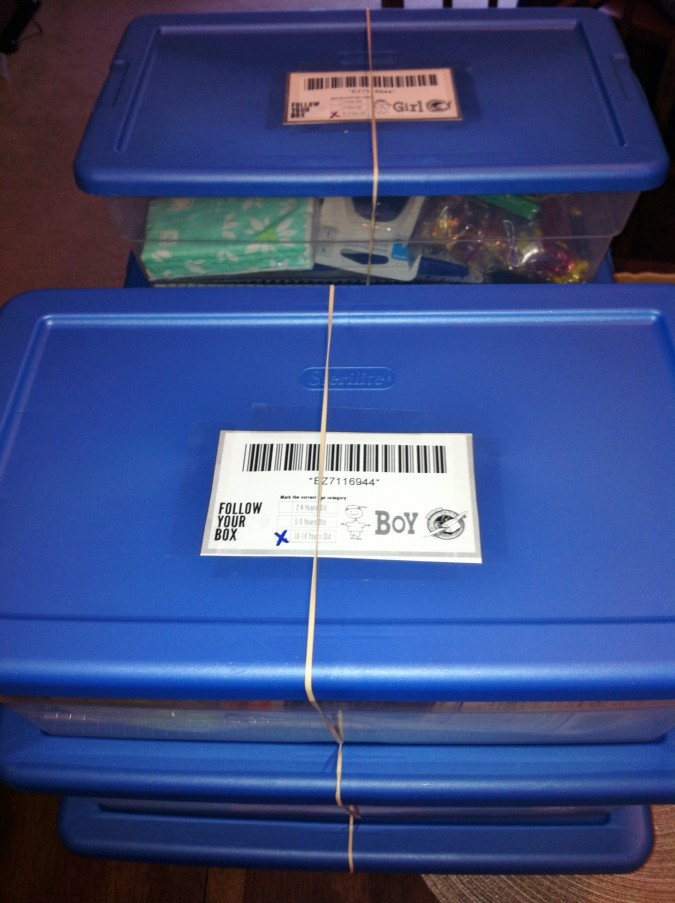 I think they ended up filled to a really good extent. They're not jam-packed, but the contents definitely look substantial.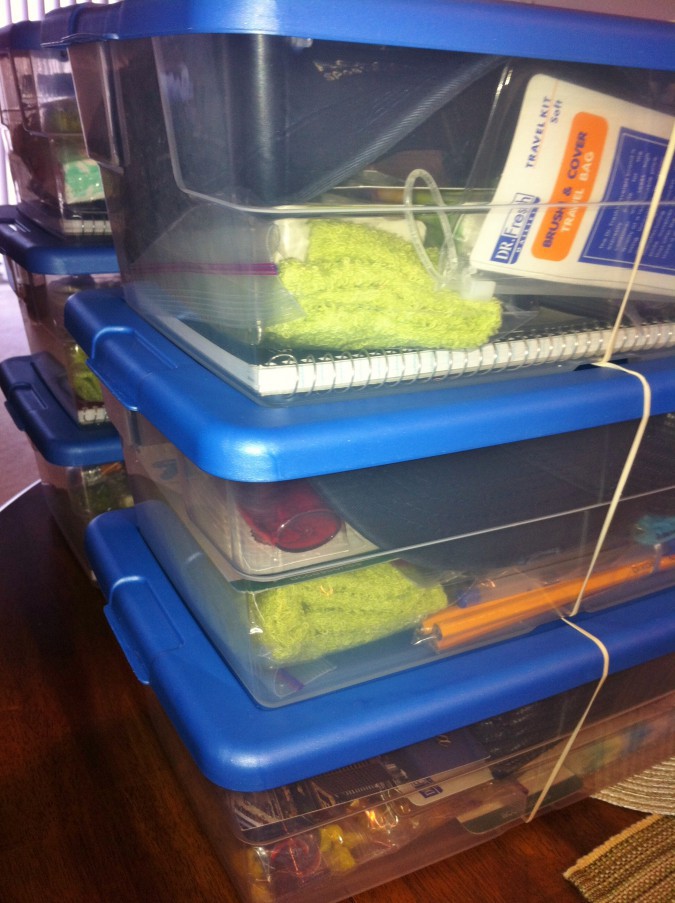 Next year I want to set a goal of maybe doing 10 boxes for around the same amount of money! I think if I catch back-to-school sales and plan farther ahead with coupons for the hygiene items I can definitely do it. I'm not being cheap; I want to provide quality items for these kids. But if I'm able to shop sales, use coupons, and economize, then I can stretch my dollar to bless even more children at Christmas. And that's a wonderful thing.
---
---