May 13th, 2015
I think every woman should own a solid pair of black pumps. They should have a sturdy heel and be relatively comfortable. The heel should be high, as high as you're comfortable with, and they should click and clack on the hard floor. They should make you stand up a little straighter, stride a little more confidently, and look like you have legs for miles.
Mine are by Naturalizer. Yours can be from Payless, or from Christian Louboutin. You should pull them out to wear to that wedding with the kick-ass dress. They should be your go-to for the interview and the nerve-wracking meeting at work. Your jeans look amazing with them when your husband takes you out on a date.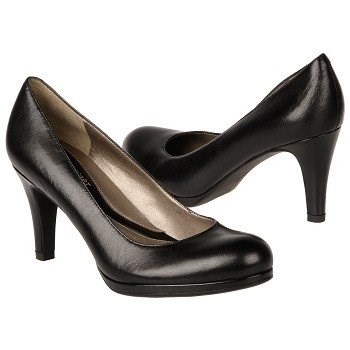 Maybe they're shiny. Maybe they're suede. Maybe they're stillettos, or maybe they're not.
Whatever they are, they should be yours. Your power pumps.
I hate the word "pumps." It sounds so dowdy and old-fashioned. And yet dowdy and old-fashioned are anything but how I feel in my shoes.
I hear ya if you hate wearing heels. Maybe your power pumps look more like ballet flats, or construction boots. It doesn't really matter what they look like. What matters is how you feel when you slip them on your feet.
I was tearing apart my closet last night trying to decide what to wear for an appointment today. I wanted to strike the balance of casual but put together. I didn't want to go business-y, but I didn't want to wear flip flops, either. I had the shirt and dark jeans. I even had the necklace and the earrings. But I couldn't get it quite right on the shoes.
Until I pulled out my trusty pumps. I forgot about them because I wasn't going for business wear. They were literally dusty from sitting on my shoe rack since whenever the last time I wore them was. I stepped into them and my head snapped up a little higher. I stood in front of the mirror and whispered to myself, "Nailed it."
I felt like a million bucks. And that–that's what the power pumps are for. They're not for making me taller, or for proving my femininity, or for fitting into a certain mold. I couldn't really care less what mold you put me in, as long as I'm comfortable in my skin. Call me whatever you want. I'll just be over here beaming with pride in my power pumps.
---
---