September 16th, 2011
I had a couple of good shopping trips this week, taking advantage of sales and promotions with good coupon matchups.
Kroger was having one of their Mega Events, which means if you buy 10 participating items, you'll save $5.00, or $0.50 per item. Several included items also had high value coupons out, leading to a few of my favorite finds:
Barbara's Cereal (which is healthy enough the Real Simple listed it as one of their "Healthy Snacks for Every Attack"): $2.49 after Mega Event savings; bought 2; used 2 $1.00 Barbara's product coupons; $1.49 each
Yoplait Yogurt 32 oz containers: $1.49 after Mega Event savings; bought 2; used 1 $1.00/2 coupon; $0.99 each (worth even though it's not the "lite" yogurt we usually buy)
Other good Kroger finds this week:
1/4 smoked, sliced ham: $1.99/lb; paid $4.92; saved $4.94
Campbell's Chunky Soup 4/$6.00 ($1.50 each): bought 6; used 1 $0.50/2 coupon and 1 $1.50/4; got 6 for $6.50 or $1.08 each
Old El Paso tortillas: $1.99; used 1 $0.50/1 coupon, doubled to $1.00; paid $0.99 for 8 tortillas
But enough with Kroger. Here's the exciting Target shopping trip that literally got my adrenaline pumping with how much I saved.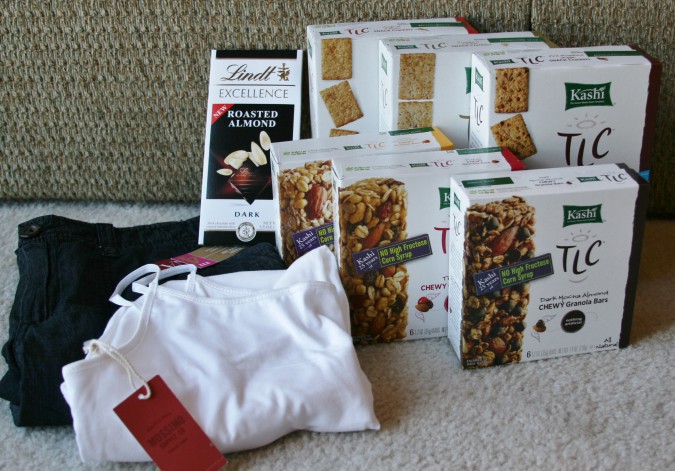 Total spent: $11.05
Target was running a special on Kashi products (buy 5, get one free), so my plethora of Kashi coupons from the first of the month paid off! The total value of these Kashi snacks at their sale price of $2.79-$2.99 was $17.34. After getting one box free and using manufacturer's coupons stacked with Target printable coupons, I paid just $7.55 for all 6 boxes, or $1.26 per box. The capris were on clearance for $5.48, and I used a $5/1 Merona bottom Target printable coupon to get them for just $0.48. The camisole was on sale for $6 and used a $5/1 Mossimo apparel item to get for $1.00. I wear white camisoles under just about everything, so this was a great find. And for the chocolate I used a $1/1 Lindt Excellence Bar that I found in a magazine. It wasn't a particularly great bargain, but it will be delicious.
I then hit up CVS, where I had more success than last week.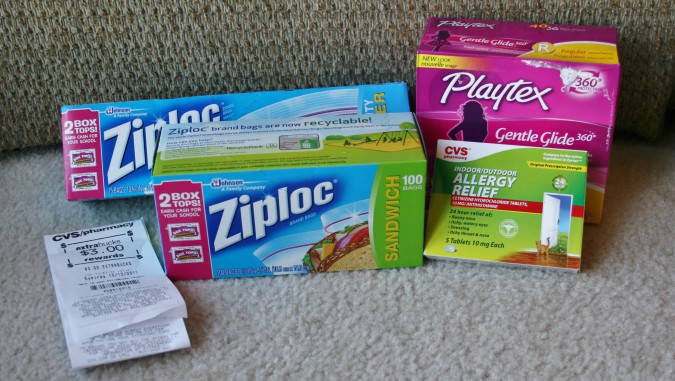 Total spent: $11.41
I paid $11.41 out of pocket  but saved a total of $11.57 over two transactions, PLUS came out with $3 Extra Care Bucks to use next time. They don't expire until October, so hopefully I'll be able to get some good freebies with their help. I'm excited that I found the specially marked Ziploc boxes that can earn me Recycle Bank points! If you count the coupons I can get from their, I saved even more than the $1 off coupon I used on these today.
I found out at lunch one day this week that one of my new co-workers also loves to coupon, and she sounds like a pro at CVS. I can't wait to swap tips and stories with her and maybe get even better at it myself!
What was your favorite frugal find of the week?
---
---