September 24th, 2012
I'm joining in with the Mercy Mondays linkup hosted by Jenn at Hang on Baby, We're Almost...Somewhere. This week's prompt is When Mercy is Pardon. This post is nitty-gritty and gospel-centered. I know that might make some of you uncomfortable. But I think grappling with things you don't understand and maybe don't even believe at the momemt is worthwhile work for a blog post. Read on to join me in asking some hard questions.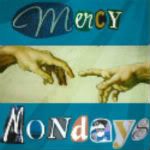 In the Catholic church, a common response to the prayers of the people is, "Lord, have mercy." His mercy is foundational to the Christian faith. I've come to think it's easy to believe in a God. The order of the universe, its majesty and beauty, all seem to point to a Creator. Even some prominent scientists feel that all of their studies can only lead to that one conclusion. And that God may very well be merciful. But what's radical, I think, is translating that belief in a God into belief in a God who sent His son to be mercy personified. Because mercy--that's what was spoken on the cross.
One common objection I hear to Christianity is that "I'm a good person! I haven't done anything wrong and therefore I don't need forgiveness." If I'm honest, I feel like that many days, too. I've never killed anyone. I haven't cheated on my spouse. I don't steal or tell big lies. But Jesus flips that notion on its head in Matthew 5 when he says that anyone who has anger in his heart has committed murder, and anyone who has looked at a person with lust has committed adultery. So apparently those 10 little Commandments weren't so simple after all! It could make you feel like God set us up; like we are trapped. Why would a merciful God design His law like that? I don't know the answer, and I wouldn't blame you if you got hung up the nuance--but I do know how He designed the outcome. I'm stubborn; I don't always like to ask for help, but that's exactly what mercy is. In fact, God designed mercy to give us a way out before we even thought to ask. And once you do ask, that way is yours.
On the cross Jesus said, "Forgive, them Father, for they know not what they do." (Luke 23:34)
Almost as if in response, Paul said, "I do not understand what I do. For what I want to do I do not do, but what I hate I do. And if I do what I do not want to do, I agree that the law is good. As it is, it is no longer I myself who do it, but it is sin living in me. I know that nothing good lives in me, that is, in my sinful nature. For I have the desire to do what is good, but I cannot carry it out. For what I do is not the good I want to do; no, the evil I do not want to do—this I keep on doing. Now if I do what I do not want to do, it is no longer I who do it, but it is sin living in me that does it. So I find this law at work: When I want to do good, evil is right there with me. For in my inner being I delight in God's law; but I see another law at work in the members of my body, waging war against the law of my mind and making me a prisoner of the law of sin at work within my members. What a wretched man I am! Who will rescue me from this body of death? Thanks be to God—through Jesus Christ our Lord!" (Romans 7:15-25)
For a long time I felt very convinced of the T in the T.U.L.I.P. of Calvinism: total depravity of man. By definition, this means that sin is in every part of one's being, including the mind and will, so that a man cannot save himself. I don't wake up and feel like a sinner, but I do wake up and choose not to go to the gym when I had told myself I would. I do wake up in bad moods that I can't shake. I wake up some days and want to shirk my duties. If I were in total control of myself, wouldn't I be better than that? I feel less strongly about depravity than I once did. I'm feeling tough on my faith right now and not feeling too strongly about anything that I believe. But I think just about every religion seeks to provide a way to be your best self, and the beautiful thing about Christianity is that the way is free. Maybe it doesn't look like I need forgiveness from the world, but maybe I need forgiveness from myself.
There is evil in this world. There are people who commit unspeakable acts for which there is truly no other word. Despicable things happen every day to people who did nothing to deserve them. I have no idea what mercy looks like for them. I can't wrap my mind around the horrors that God says He can forgive. I can't provide mercy for the world, by any means. All I can handle right now is mercy in the small. Small mercies. Mercy for my marriage. Mercy for the new day. Mercy to keep trying. Mercy to get up and go to work and try to help one person.
If mercy is pardon, it can't hurt to ask and see what being pardoned might look like. It can't hurt to ask and feel what the lifting of old burdens might feel like. It can't hurt to ask and be released from the chains of legalism. Maybe that step of asking for mercy looks just a little bit like belief. If mercy is pardon, then Kýrie, eléison, indeed.
---
---