January 17th, 2016
Well, I'm sitting on the downhill side of halfway finished with this Whole 30! I had a couple of days lately of food boredom, and it was pure stubbornness that kept me going. Honestly, though, at this point it is feeling pretty much like a habit to cook, eat, and meal plan this way. Here's how Week 2 went down.
Day 8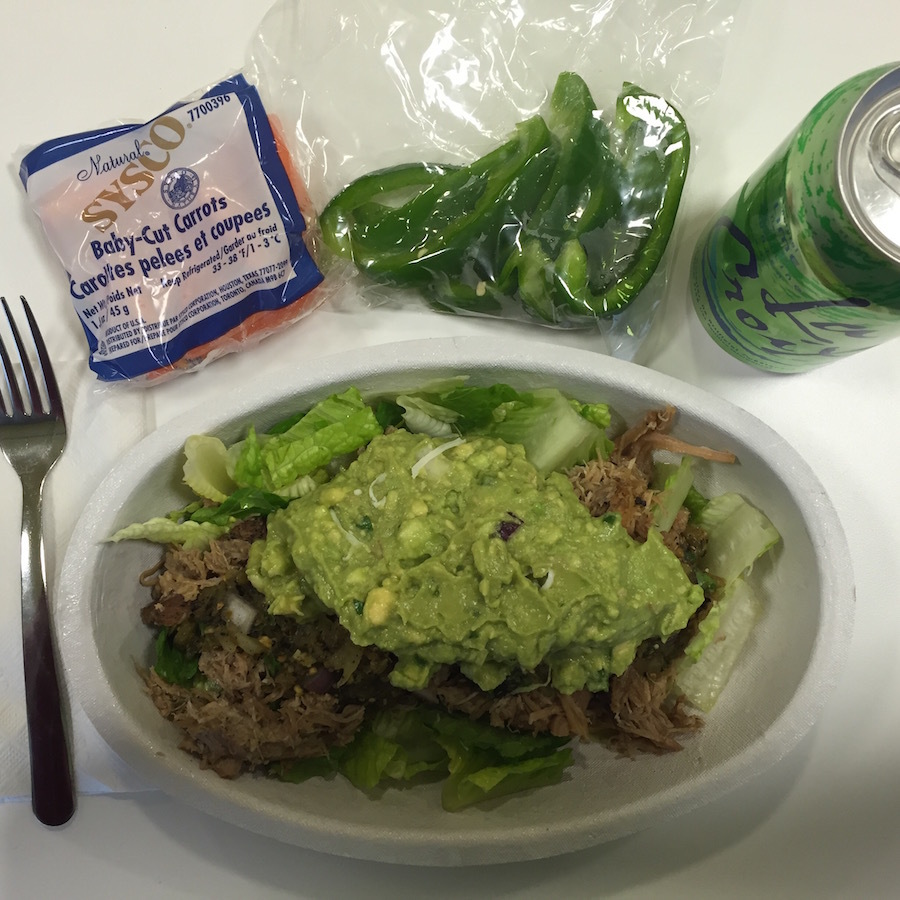 Breakfast: leftover baked eggs and mushrooms, leftover roasted cabbage (yep, I've become that peson who doesn't mind eating weird stuff for breakfast), 1 mandarin
Snack: banana with almond butter (ther serving of eggs + mushrooms was pretty small)
Lunch: Carnitas salad from Chipotle with salsa and guacamole (I needed a dang break), baby carrots, green bell pepper slices, La Croix
Snack: 1/4 cup mixed nuts
Dinner: Salsa verde chicken tenders, coconut oil roasted carrots, green beans, 1/2 an avocado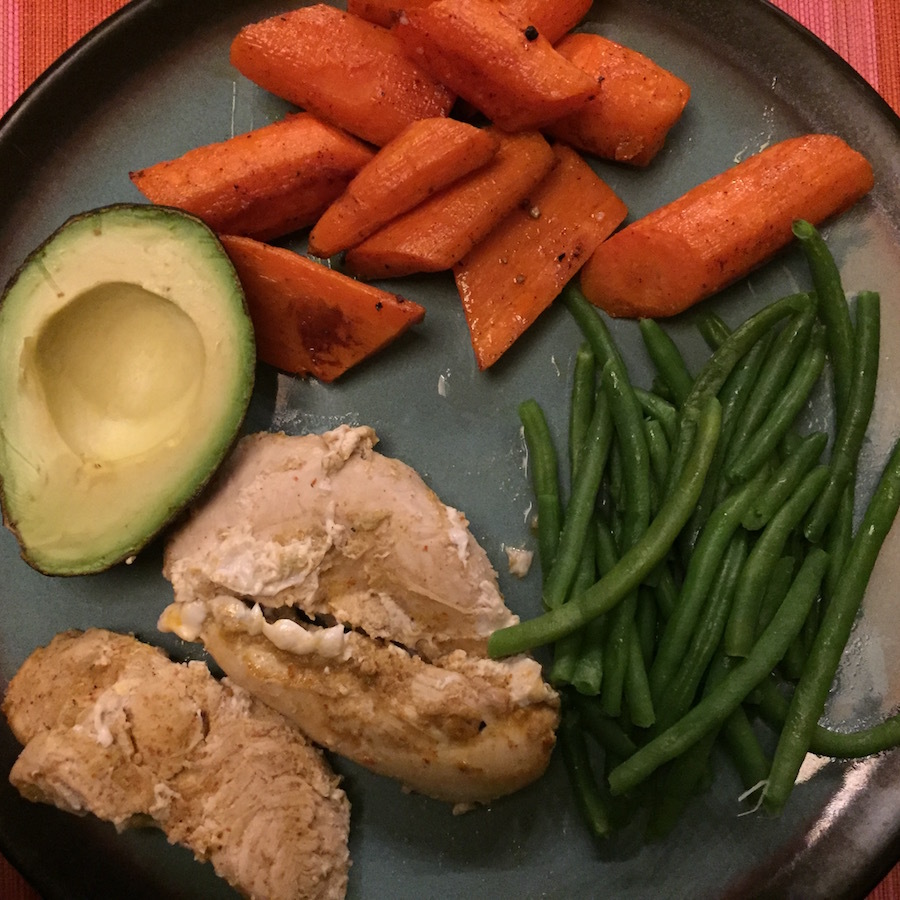 I felt a little guilty for spending $10 on lunch out when I literally could have made the same salad with stuff I had at home, but it was a nice breather. (Heads up, if you're going to Chipotle the carnitas are the only meat option not cooked in a non-compliant oil.) The roasted carrots I threw together for dinner were FANTASTIC and I've actually made them again since then. We met some friends at a bar for a birthday, and I enjoyed a couple of glasses of club soda.
Day 9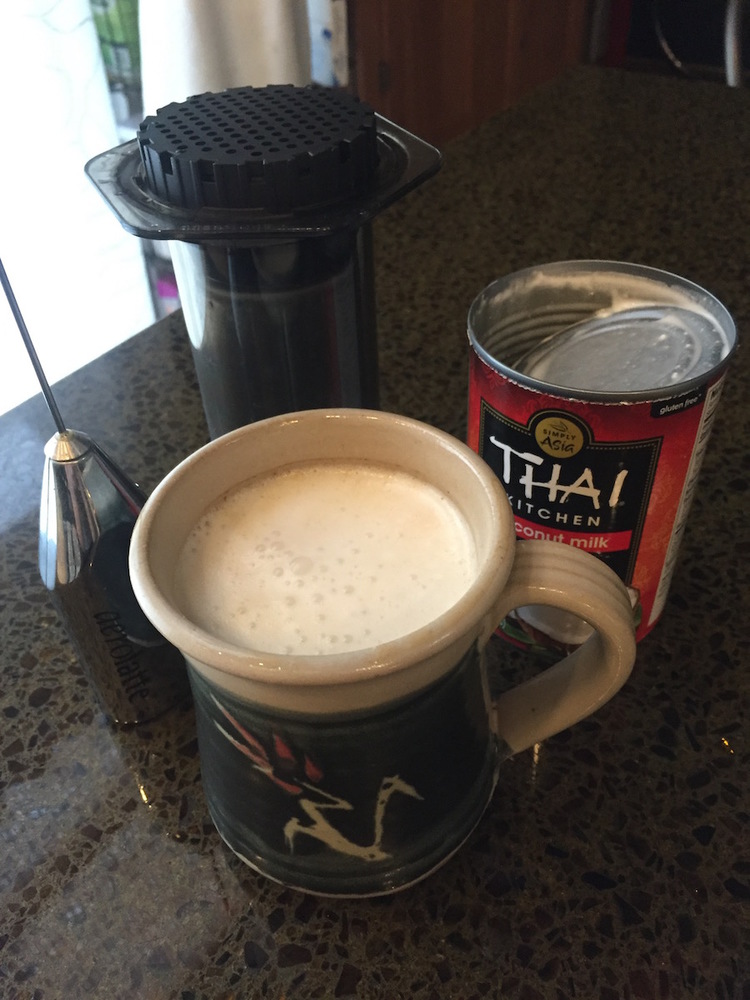 Breakfast: 3 scrambled eggs with coconut milk, 2 mandarins, black tea
Snack: Coconut milk latte (Okay, so this is a little bit SWYPO, but I had gotten up and gone to spin class for the first time in AGES. Plus I drank it as a snack, knowing it was calories.)
Lunch: Italian chicken soup, leftover roasted carrots
Snack: veggies with pseudo-guacamole (avocado smashed with salsa and lime juice), 3 leftover chicken tenders with salsa, 1 navel orange
Dinner: 6 oz steak (YUM), mashed potatoes with ghee and coconut milk (white potatoes are legit now!), green beans
Snack: Applie Pie Larabar
I woke up feeling FANTASTIC on this day, and it was great to get back to exercising after far too long a hiatus. We went to a friend's house for her birthday party, which consisted of…a macaroni and cheese bake-off. Womp womp. I brought along some cut up veggies so there would be something Andy and I could eat. I think I underestimated how hungry I'd be from spin class, though, because by the time we got home I was RAVENOUS and chowed down on some chicken tenders. Our friend was super sweet and had lots of beverage options to make sure everyone had something they could enjoy.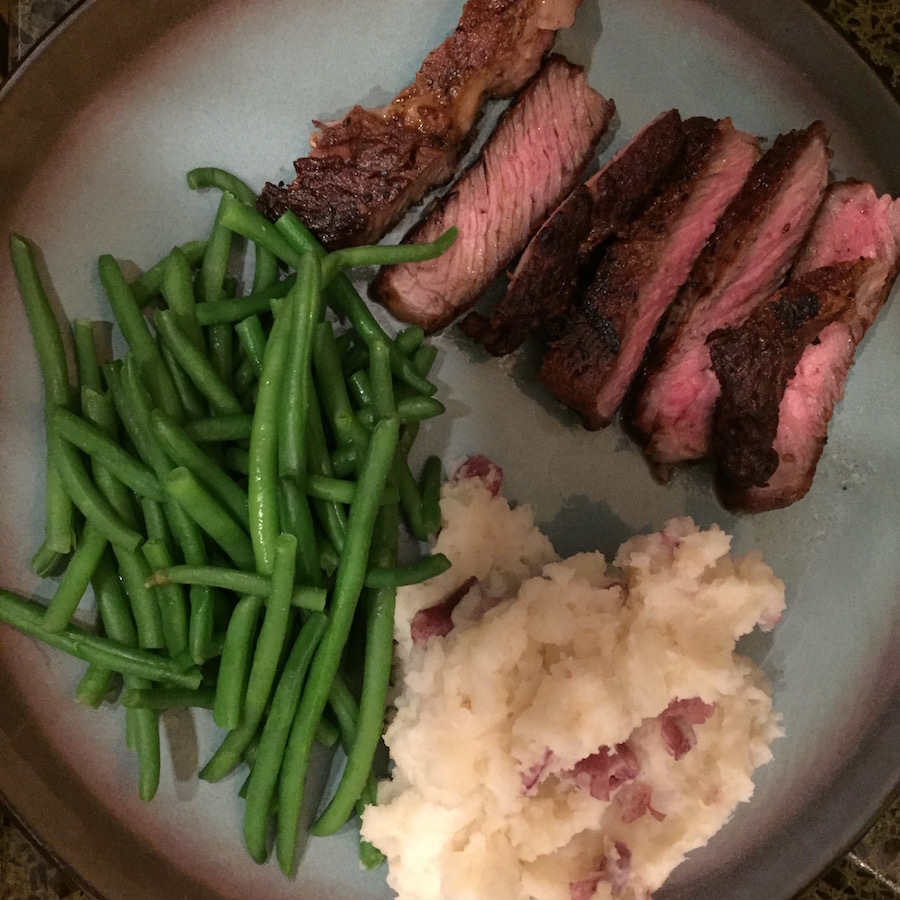 Andy made his first steak tonight, inspired by these directions. It came out a little more done than he likes, but I thought it was DELICIOUS. We're definitely going to do this again.
Day 10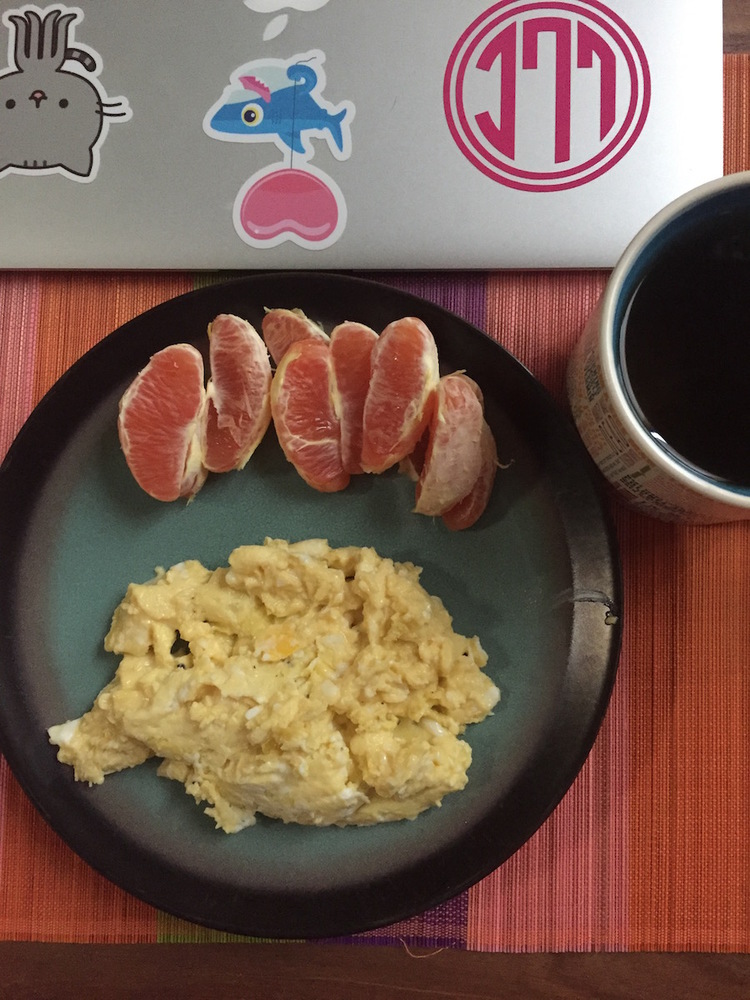 Breakfast: 3 scrambled eggs with coconut milk (low and slow, baby), 1 cara cara orange, chai tea
Lunch: 4 chicken tenders with salsa, leftover mashed potatoes (even yummier today!), green beans, cabbage
Snack: 1/4 cup walnuts, peppermint tea
Dinner: Trader Joe's angus beef burger on greens with fried egg and salsa, sliced red bell peppers and cucumbers, sweet potato wedges
I think I might be mildly allergic to walnuts. I've never noticed it before, but having been eating some snacks of only walnuts it seems like my throat gets a little scratchy. I stopped snacking on them for a few days and felt fine, and then having them again today made me notice it. Not so much that I will avoid them in things, but I won't eat them like this on their own, probably.
I baked about a million chicken tenders on Friday because that's how many were frozen in the bag and I couldn't separate them. I thought it was overkill, but having them leftover has made this weekend's eating a breeze.
For the yummy sweet potato wedges, I actually used a Paula Deen recipe but subbed coconut oil for the butter. I had hoped they'd be crispier. I might try this again and bake them on a rack instead of the pan.
Day 11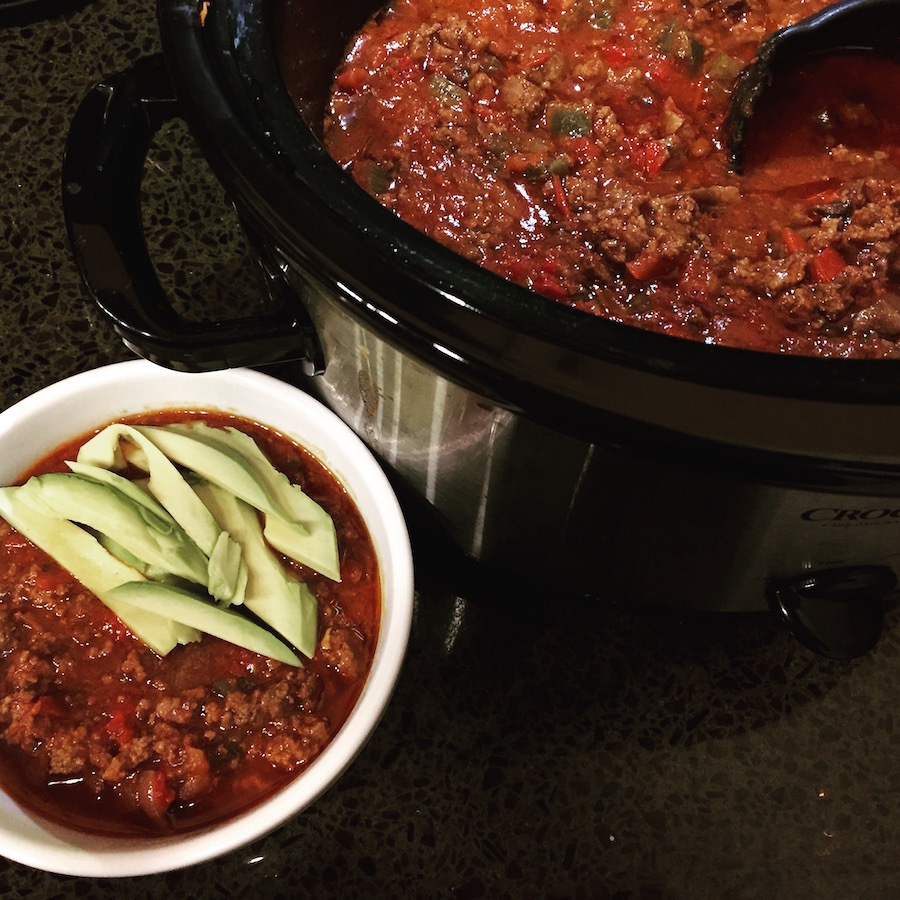 Breakfast: egg bake with Aidell's Chicken and Apple Sausage, 2 mandarins
Lunch: leftover burger and egg with salsa on salad greens, sweet potato wedges
Snacks: 1 apple, 1/4 cup nuts, 2 chicken tenders
Dinner: Chili, 1/2 an avocado, cantaloupe
This day was a bit of a bummer. The free lunch at work was sandwiches, which I really love. Andy was at a work thing for dinner (they went to a steak house, which worked well for eating Whole 30!), so I was on my own. I had been really excited all day about the giant crockpot full of chili, but then neither the avocado nor the cantaloupe were quite ripe enough, so it was a little bit of a let down. The timeline says Days 10 & 11 are the hardest, the days when most people quit if they're going to, and I was definitely feeling it.
Day 12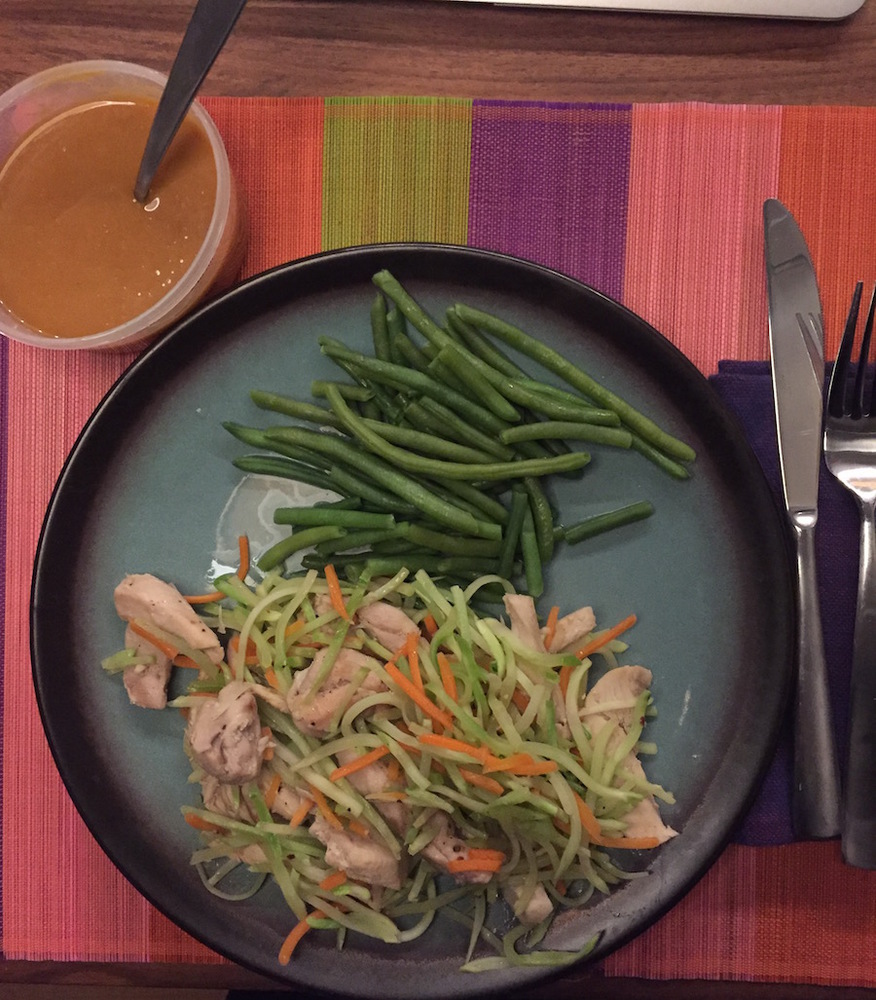 Breakfast: egg bake, sausage, 2 mandarins
Lunch: Leftover chili with 1/2 an avocado (tasted much better when microwaved with the chili!), sweet potato wedges, Pamplemouse La Croix
Snacks: 1 apple, 1/4 cup nuts *Dinner: Broccoli slaw chicken stir fry, green beans, butternut squash soup
I'm trying really hard not to simply replace my lunchtime Diet Coke with a lunchtime La Croix. I mean, I know it's still better for me, but it seems to fly in the face of the spirit of the Whole 30. But man, do I enjoy it.
Dinner was quick and easy, but tasty. I'm thankful I had the foresight to make that big batch of butternut squash soup and freeze it in portions, because they've been great for rounding out meals that didn't seem quite substantial enough.
I went to our traditional Tuesday night trivia game at a Mexican restaurant and managed not to eat the chips and salsa. For whatever reason, be it the soda gun or my changing taste buds, the club soda I had tasted particularly bubbly and delightful. Plus, we won the game!
Day 13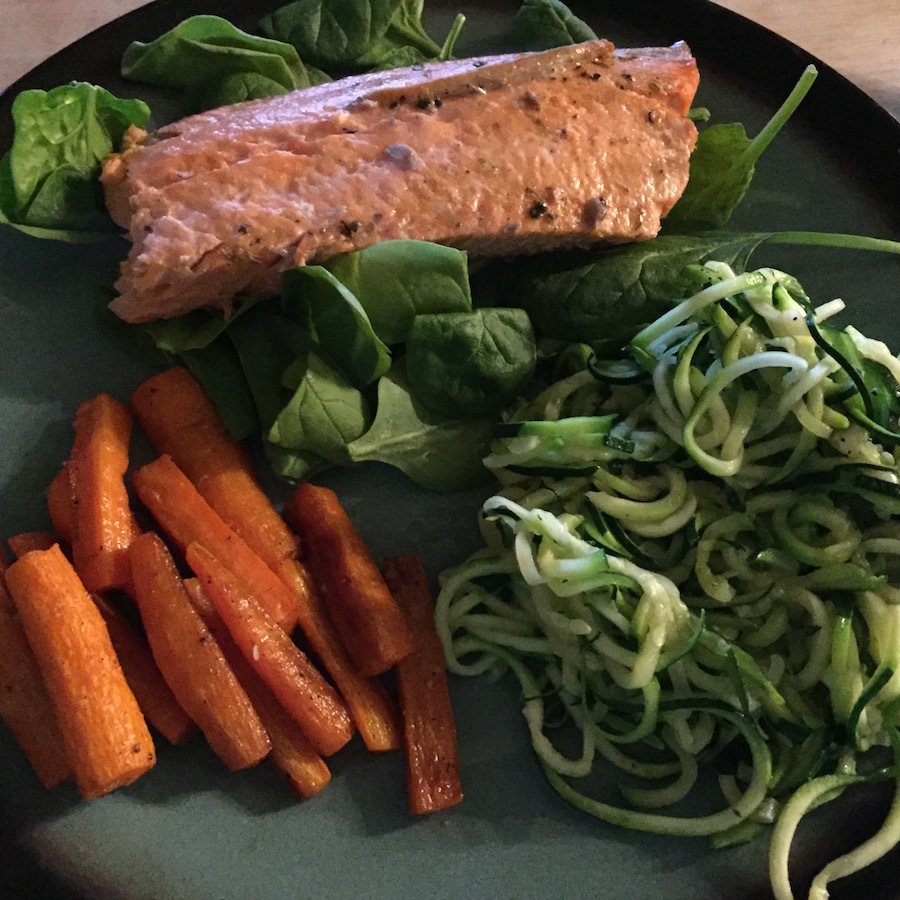 Breakfast: egg bake, sausage, 2 mandarins, Earl Grey tea
Lunch: leftover stiry fry, 1/2 an avocado, butternut squash soup
Snack: 1/4 cup nuts, banana, herbal tea
Dinner: baked salmon, zoodles, roasted carrots
I'm finding I really enjoy eating the same thing for breakfast every day and will likely continue batch cooking something like I've been doing even beyond the end of the Whole 30. I was disappointed in the salmon I made for dinner, as I often am when I make it at home. It seems like it's really hard to catch it before it just gets too dry.
Day 14
Breakfast: egg bake (I made a second one on Wednesday night to replenish), sausage, 2 mandarins, chai tea
Lunch: salmon, avocado, and leftover roasted carrots on butter lettuce with oil and vinegar, 1/4 cup cashews, Lime La Croix
Snack: apple, hard-boiled egg, peppermint tea
Dinner: Crockpot Italian pork with diced tomatoes served over cauliflower rice, roasted broccoli
I wanted a latte SO BAD this morning. Every time I saw someone on my way to work carrying a paper to-go coffee cup, my mouth was practically watering. It's definitely starting to seem like I need less to eat, though. Or more specifically, that I'm needing to eat less frequently. And when I do get hungry, I'm able to hold out longer if I have to before I get to frantic hunger levels. Today I was organizing a lunch and learn at work (yep, ordering food you won't get to eat is a challenge) and the food was running late, so I didn't get to eat my salad until about halfway into it, and I felt okay.
Freezer Goods Used:
Trader Joe's packaged burgers
Salmon
Pork Loin
My pre-stocked supply is rapidly dwindling. Let's just say doing this challenge is a departure from my normal frugal shopping. I'll be WAY over my typical grocery budget by the end of the month. It makes me a little panicky to see the freezer so empty. We'll make it–I'll just have to swallow my frugal pride and spend some money.
---
---