January 9th, 2016
Well, 1 week of the Whole 30 down, ~3 to go! I already wrote about Day 1 here, but I'll round out the rest of the week for posterity.
Day 2
Breakfast: 1 serving pumpkin custard, chai tea
Lunch: leftover egg roll in a bowl, green beans sauteed with coconut oil, 1/2 an avocado
Snack: 1/4 cup walnuts, 1 apple
Dinner: pork loin with mushrooms, baked sweet potato slices, spinach salad with toasted pecans and lemon vinaigrette
I felt crummy this day, with a headache and a bit of an upset stomach, much like predicted on the Whole 30 timeline. I didn't eat breakfast for quite awhile after I woke up and, when I did, I skipped the hard boiled egg that I had intended to include because I wasn't feeling hungry. Once I ate, though, I did feel a bit better, and I went about my day normally.
Day 3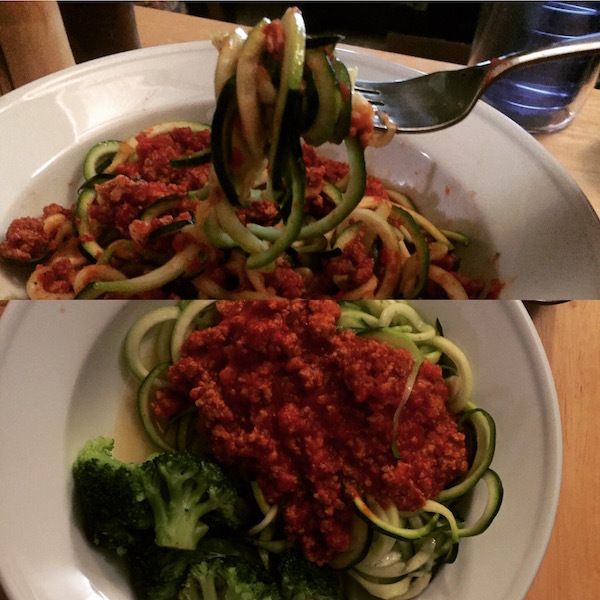 Breakfast: 1 hard-boiled egg, an orange, chai tea
Breakfast snack: 3/4 serving of pumpkin custard
Lunch: leftover pork loin with mushrooms
Snack: black tea, olives
Dinner: zoodles with meat sauce, broccoli, 1 kiwi
Midnight snack: Cashew Cookie Larabar
I still was not feeling hungry at all this day, so I ate my breakfast in stages. I made myself eat at lunch time because I was feeling woozy, though still not really hungry. And then unfortunately I could NOT sleep, so I scrounged for a midnight Larabar.
It was exciting to use my new spiralizer, though, and the zoodles were a hit, even with my husband who does not normally like zucchini.
Day 4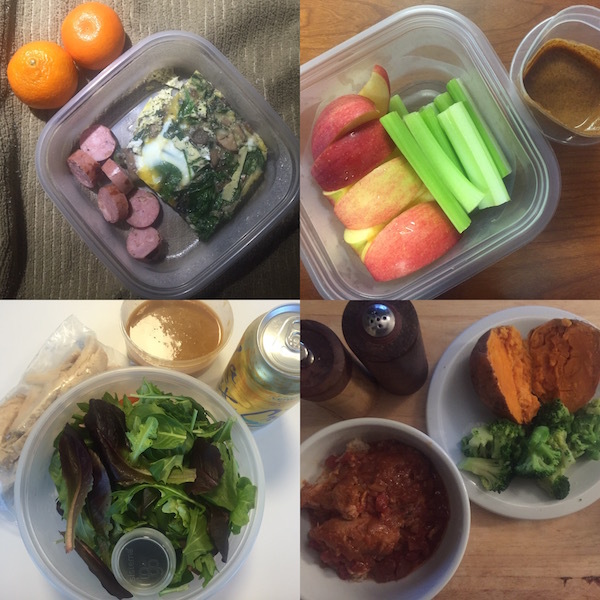 Breakfast: egg bake with mushrooms and spinach (1 dozen eggs, beaten, poured over sauteed veggies and baked for ~20 minutes. Makes 6 servings.), 2/3 Aidell's Chicken & Apple Sausage (the pack had 4, so I cut each one into thirds so I could divide them evenly into our 6 breakfast containers), 2 small mandarin oranges, black tea
Snack: 1 apple, celery sticks, 2 tbsp almond butter
Lunch: giant salad (there are other veggies hiding under that spring mix!), 1 sliced chicken breast, butternut squash soup, Lemon La Croix
Snack: 1/4 cup walnuts, 2 slices Applegate turkey rolled in 2 romaine lettuce leaves
Dinner: 1/2 small sweet potato, broccoli, 1 cup cauliflower rice, chicken tikka masala
This was my first day back at work after the holidays, and I felt like I had to pack the entire refrigerator for us! I was ravenous most of the day. We have La Croix in the fridge at work and that lemon one tasted SO GOOD. I also was feeling really weirdly nervous, kind of fluttery. The internet led me to believe it might have been from the coconut, from the high protein diet, or simply from making a dramatic diet change. Thankfully, it passed. Andy wasn't feeling hungry for dinner at all this night.
Day 5
Breakfast: egg bake, 2/3 Aidell's Chicken & Apple Sausage, 2 small mandarins, black tea
Lunch: leftover chicken tikka masala, 1 cup cauliflower rice, 1/2 a sweet potato
Snack: banana, 1/4 cup walnuts, sugar snap peas, turkey-lettuce wrap
Dinner: Sauteed shrimp with broccoli slaw, cucumber, bell peppers, 1 kiwi
Snack: herbal tea, Cashew Cookie Larabar
I didn't need a morning snack this day, but then I felt like I grazed all afternoon! I had a Larabar after dinner because I was nervous about not being able to sleep again, as dinner was on the lighter side. It was a winning super simple recipe though! I just threw one package of pre-shredded broccoli slaw into a skillet with some coconut oil and coconut aminos, and added the shrimp for a few minutes until they cooked through. Yum!
I was feeling a little sniffly and realized I hadn't been taking my Zyrtec. It has corn starch in it, but, I think I need it, and the Whole 30 forums say that call is up to you, so I went for it.
Day 6
Breakfast: egg bake, sausage, 2 small mandarins, chai tea
Lunch: Leftover shrimp and broccoli slaw over salad greens with Trader Joe's salsa verde as dressing, 1/2 an avocado, cut-up veggies, Lemon La Croix
Snack: apple with 2 tbsp almond butter, walnuts, herbal tea
Dinner: Italian chicken soup, roasted cabbage with lemon & olive oil
I was suuuuuper tired this afternoon, right on time, according to the timeline. It was a chilly day, and all day at work I looked forward to coming home to my warm soup in the crockpot. It was really simple and really tasty. Would make again!
Day 7
Breakfast: 1 banana with almond butter, 1 hard-boiled egg, black tea
Lunch: leftover soup and cabbage
Snacks: 1/4 cup Back to Nature Almonds, Cashews, & Pistachios, peppermint tea, 1 mandarin orange, 2 meatloaf muffins
Dinner: baked eggs on mushroooms, zoodles and shredded carrots sauteed in olive oil, butternut squash soup
I woke up feeling really bleh on Day 7 and decided to work from home. I'm very thankful I have the flexibility to do that! I felt re-engergized by the next morning.
Freezer goods used:
2 chicken breasts
1 pack meat sauce
chicken tikka masala
1 lb shrimp
4 meatloaf muffins
And that's a wrap! I've been Instagramming up a storm if you're interested in more photographic detail. It has been a fair amount of work so far, but I've been telling myself this is just my hobby for a month–prepping food and keeping the kitchen clean. And, to be honest, I'm having a blast! It's been fun tapping into my creative juices to meal plan and pack food for the day. Plus (spoiler alert!), I woke up on Day 9 feeling FANTASTIC. More on that next week.
---
---