January 1st, 2016
Hello, my name is Laura, and I'm doing a Whole 30. Yes, that was me who tried to do it almost three years ago and bailed out after a week. But with more cooking and meal planning experience under my belt, I'm hoping to approach it better this time around.
I can't pinpoint exactly why I feel so compelled to give it a go. I think it's related to why I continue trying to be a runner: I feel like I should be able to. (I wrote almost a thousand words about it back then and you should read them.) I also know that I am addicted to sugar. The more of it I eat, the more of it I want to eat!
Anyway, all that to say, I took the bull by the horns and planned to start a Whole 30 on this, the most cliche of days.
I worked my BUTT off leading up to today, planning, shopping, and prepping foods for the freezer that I hope will make the 30 days feel more doable. (I had the week off of work and spread the prep over several days. I wouldn't recommend this as an all-in-one day freezer cooking plan because I literally don't think there'd be enough time to get it all done! But over a few days it was doable.)
I hit up Aldi, Trader Joe's, Kroger, and Whole Foods for a few things I couldn't find anywhere else. PSA that the produce at Aldi is CHEAP! So I may continue going there for some things that I know I'll be buying a LOT of throughout this month, like bell peppers, sweet potatoes, and avocados.
Here's what I bought at each store: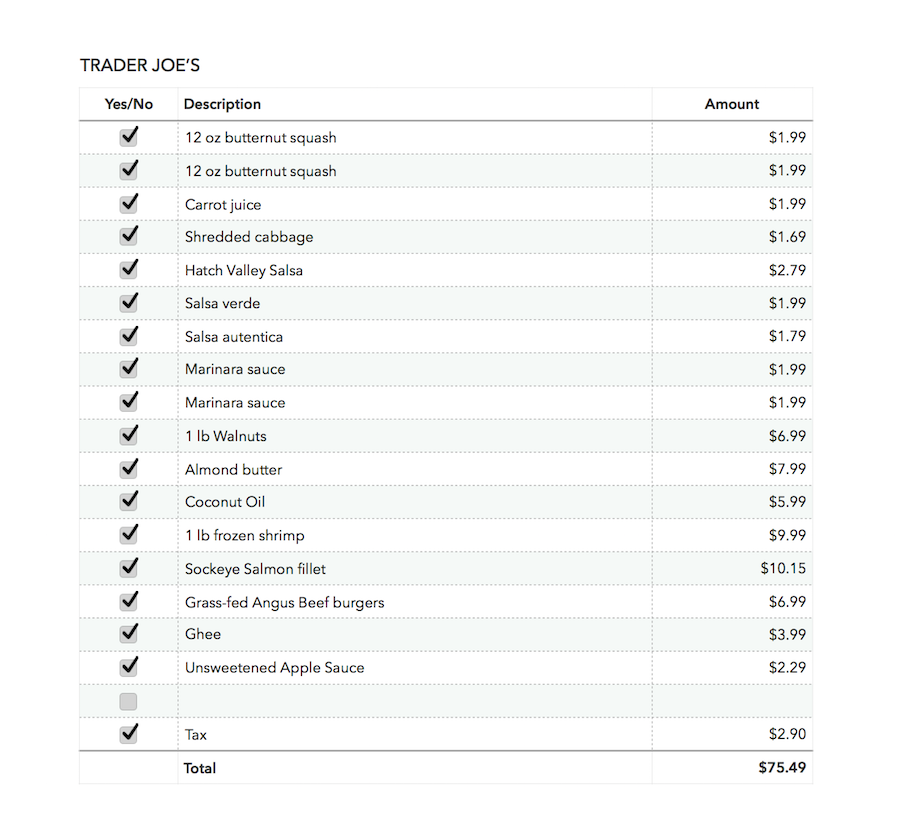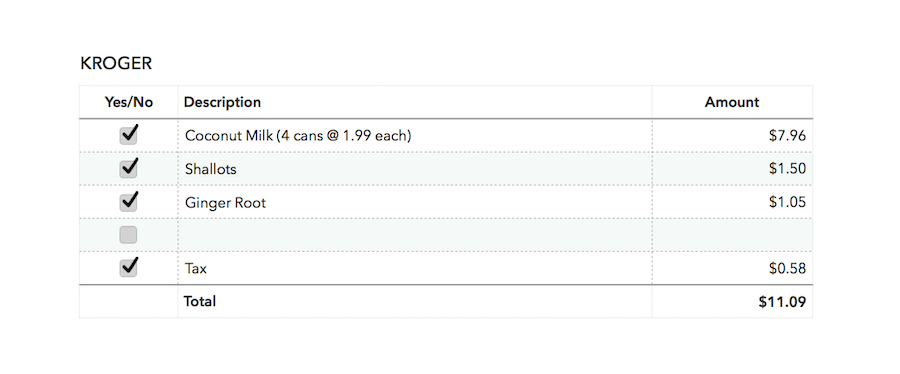 And here's what I made:
Cauliflower Rice in the food processor (4x quart-sized freezer bags)
Baked Chicken Breasts (sliced and frozen in individual bags, for salads)
Breakfast Pumpkin Custard (will serve us for 3 days)
Chili (Beef is browned and ready to dump everything in the crockpot.)
Meatloaf Muffins (Baked and ready to be thawed and heated.)
Turkey Meat Sauce (Just browned some ground turkey, simmered it in compliant pasta sauce from Trader Joe's, and divided into quart-sized bags. Will serve with zucchini noodles.)
Salsa Verde Chicken (Uncooked–ready to thaw and bake.)
Beef Stir Fry (Ready for crockpot.)
Butternut Squash Soup (Frozen in individual containers ready to supplement lunch-time salads.)
1 dozen hard-boiled eggs
Sliced Veggies (cucumber, celery, bell peppers)
Um. I'm sort of tired just typing all of that.
I also made sure to plan for Friday and Saturday's meals, since I typically shop on Sunday. So I'll regroup with a plan for next week then.
I took great inspiration from The Lazy Girl's Guide to the Whole 30 and this Must-Have Pantry Items list when I was shopping, and I'll certainly be approaching things differently this time around. Namely, batch-cooking breakfasts and planning dinners that make leftovers for lunch.
Here's what today looked like:
The pumpkin custard was a winner. Really yummy, and neither Andy nor I were hungry until lunch time. A simple salad with a can of tuna and quick lemon vinnaigrette for lunch, walnuts and an orange for a snack, and Eggroll in a Bowl for dinner. Also yummy! I used coconut aminos for the first time. They tasted sweeter than soy sauce, but not bad.
I'm feeling mostly okay, though I have a bit of a headache which I'm not convinced has anything to do with my eating. I've been satisfied by my meals and was able to pinpoint at one point that I wanted to eat out of habit, not because I was hungry, and forego grazing for the time being, which felt like a small win.
I discovered on Facebook today that another friend and her husband (with whom I happen to work) are also embarking on the Whole 30 journey, so it will be nice to have someone else local along for the ride!
Any of you virtual friends kickstarting the year with a Whole 30 or making any other New Year's eating changes? Follow along this month for plenty more healthy recipes and reflections.
---
---