December 31st, 2015
After a lackluster display in November, my reading has been back on point in December. I'm sitting at 73 books read for the year, and just checked out my 74th from the library, which I may finish by midnight tonight (but I may not). I am at peace with this state of affairs. (Oh, I have another iron in the fire as well, but I'm leaning toward abandoning it.)
Here's what I read in December:
A long read, but a good one! Vampires, a bookish witch, and romance set at Oxford is a pretty winning combination. Though, one Goodreads reviewer described it as "Twilight for adults," and I definitely got that feeling at a few points myself. I'm not rushing out to read the rest of the books in the trilogy, but I probably will eventually.
You know I had to read this latest release from Judy Blume! It was different from her teen novels that I devoured back in the day and I'd only describe it as "okay." The real story it was loosely based on was fascinating, though, and I thought it was neat to read a novel that was clearly a means for the author to process something she needed to process personally.
Also only "okay," but it was a fun, light read to get me in the Christmas spirit. As with The Hurricane Sisters, the only other Frnk novel I've read, it irked me to no end how so many lines of dialogue started with the name of the other member of the conversation as a question. Super annoying.
The final book for my Read Harder challenge! A short one to satisfy the "book published before 1850" task. And, I have to admit, I actually quite enjoyed it! I obviously knew the story of A Christmas Carol, but there were some lovely phrasings in the original.
Eh. That's about all I have to say here.
Another "eh" (but I think I got it for free one day). If I'm going to read Christian romantic fiction I'll stick to Francine Rivers, I think.
After being underwhelmed by Moyes' follow-up to Me Before You, I was pleased to find this one right back on par! And a little bit sexier, to boot. Though it took a large dose of willing suspension of disbelief to swallow the main plot element, everything else about it was lovely. Will there be a sequel to this one too?!
I have a list of books to read for professional development, of which this was one. I've been chipping away at it since September. As with many non-fiction books, I loved the concept but felt like it fell flat in the book format. Could have done with a blog post or series of posts to tell me the same thing. Not cohesive enough to keep my interest. And the last few pages felt like an advertisement. But I have some takeaways, for sure.
So, another 8 book month! That seems to be about my upper bound, and usually involves a decent amount of fluff when I hit it.
Now for the year's recap!
I completed Book Riot's first-ever Read Harder challenge (and am sporting the t-shirt today to prove it!).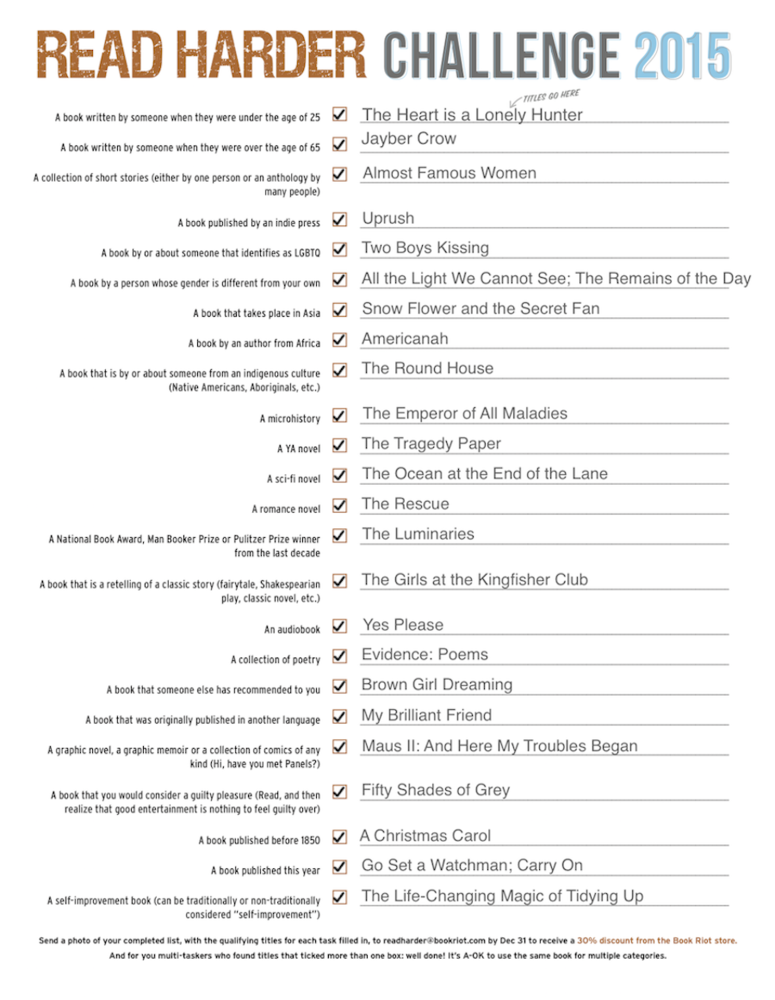 This was a lot of fun to do, and I read some winners, for sure! On the A+ would recommend list are: Americanah by Chimamanda Ngozi Adichie, Almost Famous Women by Megan Mayhew Bergman, The Emperor of All Maladies by Siddhartha Mukherjee, and The Girls at the Kingfisher Club by Genevieve Valentine.
We also had a great year for my book club.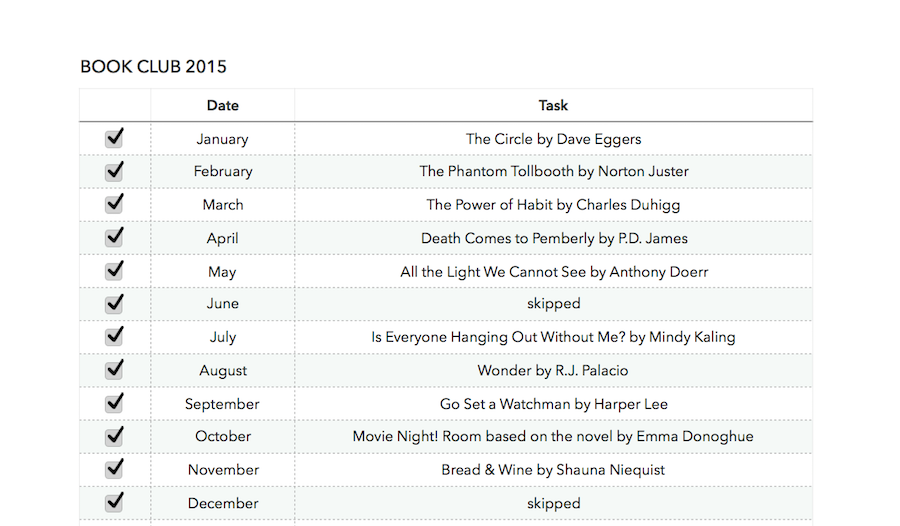 This January marks three years since my book club's first read, Wolf Hall, and I could not be more thankful to have this group of women in my life! Interestingly, the makeup of the group has almost entirely shifted since then due to people moving away & being busy, but each and every one of them is special to me.
This year's favs were The Circle by Dave Eggers, The Power of Habit by Charles Duhigg, Wonder by R.J. Palacio (seriously, go read it right now), and Bread & Wine by Shauna Niequist.
Go Set a Watchman by Harper Lee was interesting to talk about, but I don't think we'd recommend reading it. I was the only one who didn't care for Is Everyone Hanging Out Without Me? by Mindy Kaling. I think we mostly agreed that The Phantom Tollbooth maybe wasn't quite as wonderful as we remembered it being when we were kids, and Death Comes to Pemberly wasn't the most satisfying tale.
We skipped a couple of months (June, when people are busy with summer travel, and December, when people–namely me–are consumed by holiday visitors), which is fine. This is meant to be fun, not a boot camp! And in October we went to the movies. I like mixing it up with page-to-screen adaptations occasionally! One person had read Room before we went to see it. I hadn't, and I now don't think I will, but the movie was quite good.
So there you have it! My 2015 in books, featuring double the number I read in 2014. I'm already working on my list for Read Harder 2016, so put your thinking caps on and keep an eye out for a post soliciting recommendations!
Happy new year to you all and I'll see you on the flip side.
---
---