January 31st, 2016
Current status: drinking a soy latte that tastes every bit as good as I imagined it tasting all those days over the past month that I wanted one. In other words, I made it, and I'm celebrating today by indulging in some of the things I particularly missed. (Tonight = pizza.) I also got a massage today, because there are non-food ways to treat yoself!
Here's how the last 9 days went down.
Day 22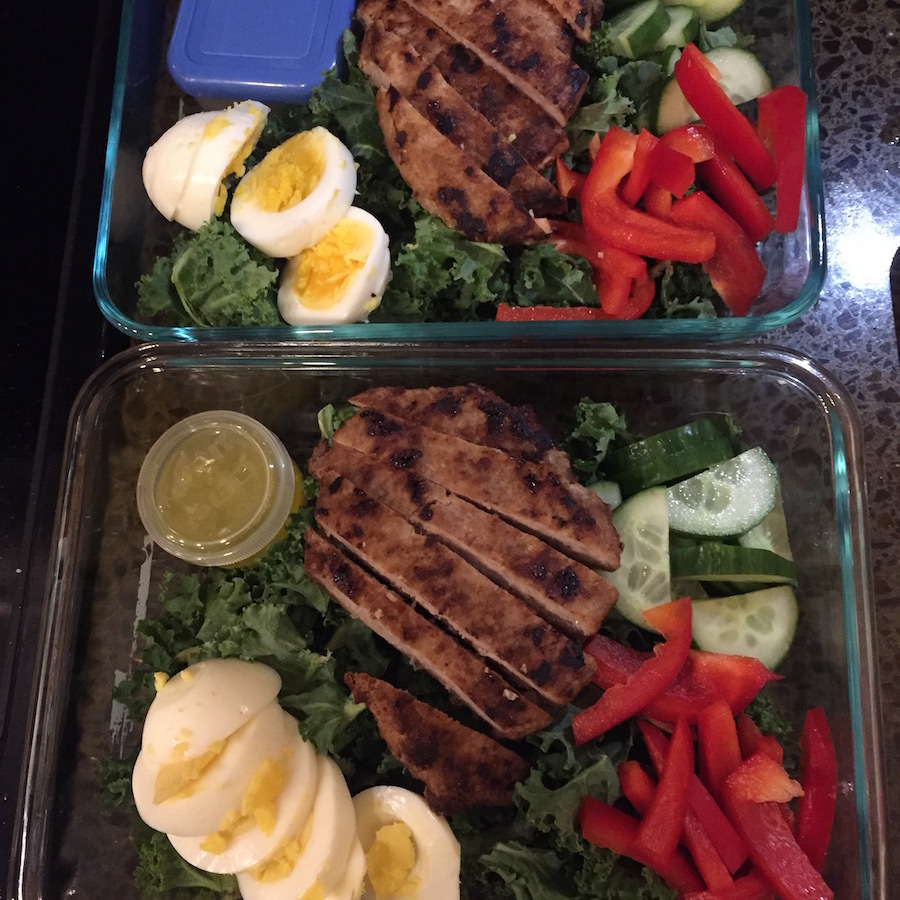 Breakfast: egg bake, prosciutto, 1 cara cara orange, 2 cups of black tea (it was one of those mornings)
Snack: apple with almond butter
Lunch: kale salad with chopped turkey burger, hard-boiled egg, cucumber, and bell pepper; sweet potato wedges
Snack: cashews, banana, baby carrots, 1 cup Italian chicken soup
Dinner: pork egg roll in a bowl, roasted carrots, green beans
Rough day. I had ALL THE HUNGERS and kept seeing people Instagramming their pizza dinners and I WANTED IT.
Day 23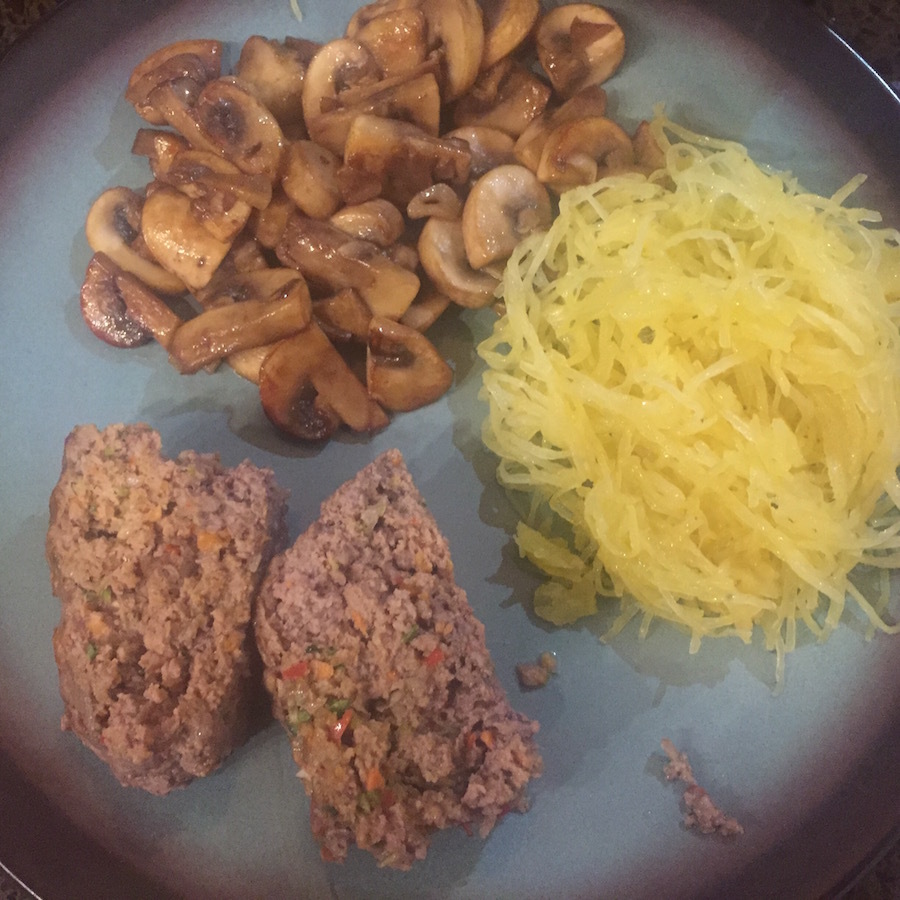 Breakfast: egg bake, 1 cara cara orange, prosciutto, 2 mugs black tea
Lunch: Italian chicken soup with mashed potatoes stirred in, roasted carrots
Snack: cashews, peppermint tea
Dinner: Farmer's Market Meatloaf, spaghetti squash with olive oil, sauteed mushrooms with ghee and balsamic vinegar
Slightly less hungers today. I realized I was starting to obsess a little bit when I got to the end of the day and felt like I had eaten everything in sight, but then noticed my food log said quite the contrary. This meatloaf was a WINNER, and I'll be making it even when I'm not doing a Whole 30. It was really satisfying, and I didn't miss the breadcrumbs or ketchup topping at all. The mushrooms that I threw together were also really good and had that umami zing. I hope I can recreate them in the future!
Day 24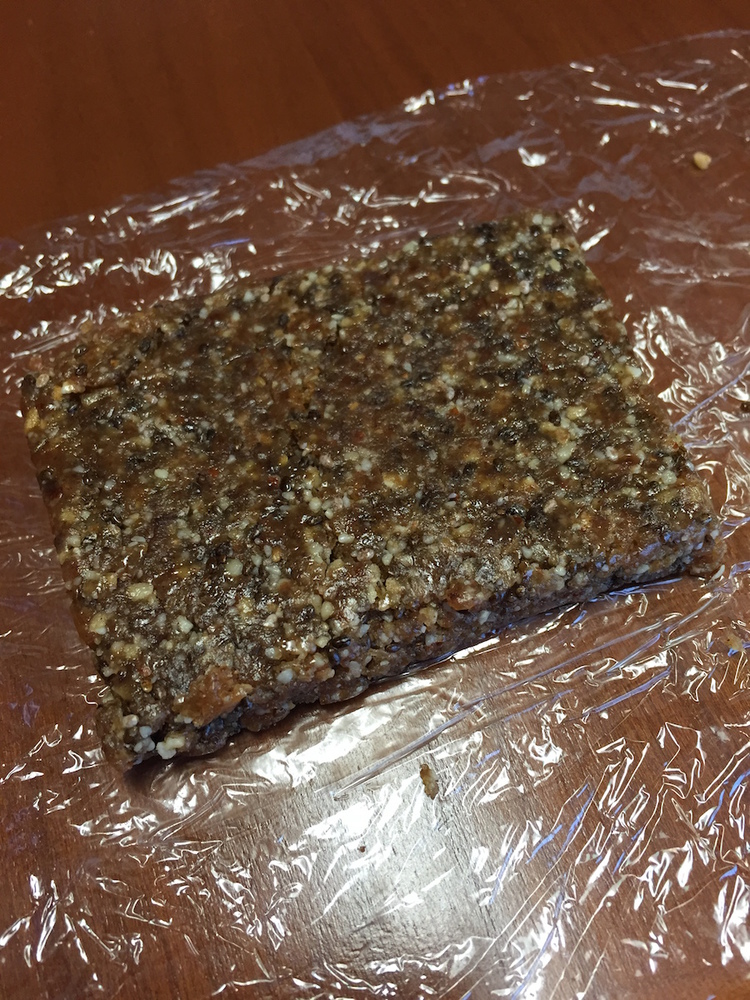 Breakfast: leftover meatloaf with a fried egg on top, 1 cara cara orange, tea
Snack: cinnamon plum tea
Lunch: Italian chicken soup, apple, baby carrots, sugar snap peas
Snack: Homemade Larabar
Dinner: zoodles with meat sauce, broccoli
Snack: applesauce, almonds
I was out and about today and found myself with 15 minutes to kill before a store I wanted to go to opened, so I went to a nearby coffeeshop. Much as I wanted a latte, I settled for tea, and they had a delicious Rishi Cinnamon Plum tea that I now fully intend to order for myself. They brewed it in a French press, which I thought was an ingenious idea!
I also finally made some imitation Larabars, and let me tell you, I'll never spend $5.99 on a box of them again! They were super easy and came out quite well. My co-worker dubbed them Laurabars. I'm newly enamored of my food processor.
I can tell my tastes are changing a bit. I was peckish after dinner and had a bowl of unsweetened apple sauce, and it tasted so decadent!
Day 25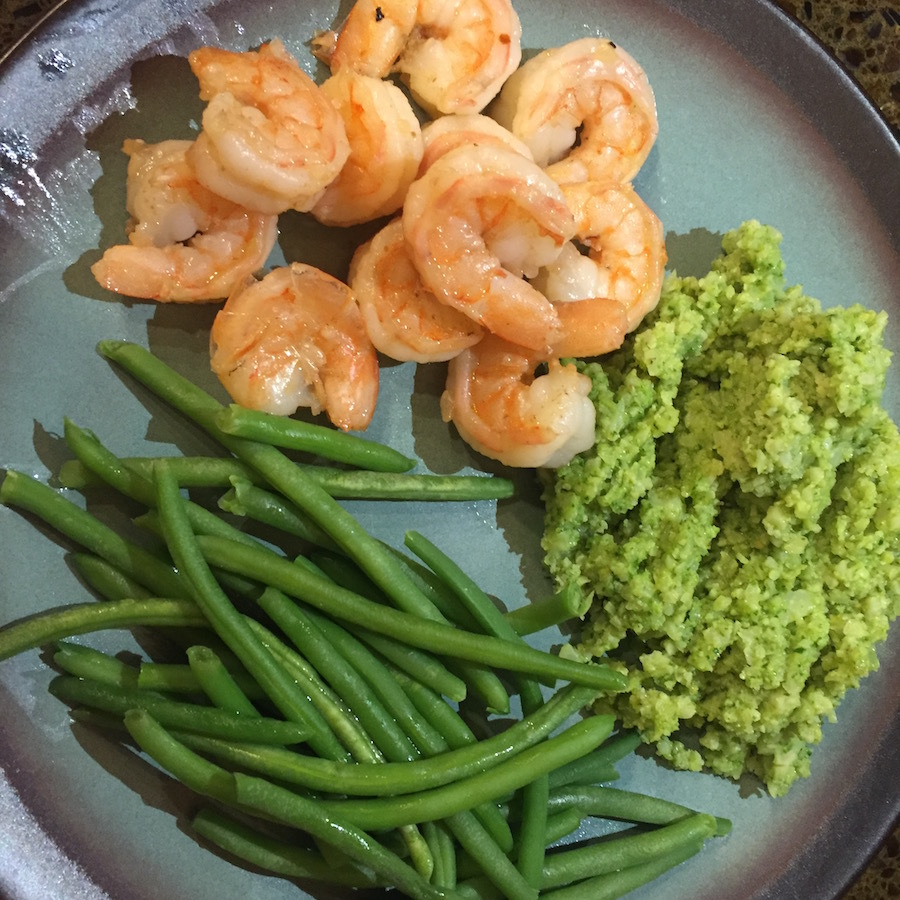 I never thought I liked green juices, but we have free Arden's Garden at work on Mondays, and I needed a little something. The Yoga 1 was really tasty! (I tried a different kind the next day though and it was bleh, so I'm not a total convert.)
Aldi discoveries of the week: they sell prosciutto, and it's only $2.99! They don't sell fresh herbs, though, so I made the cauli rice dish with spinach instead of basil. I LOVED it, but Andy didn't like it at all. More for me for lunch the next day!
Also, shrimp is super easy and delicious, but the trick is to make enough of it, if you're planning for it to be your main meal protein.
Day 26
Breakfast: egg bake, 2 slices prosciutto, 1 cara cara orange, tea
Lunch: Leftover shrimp and green goddess cauli rice, cucumber, green beans
Snack: Laurabar
Dinner: 2 slices meatloaf, sliced bell peppers, hard-boiled egg
Snack: applesauce
I had a hectic day at work prepping to host an evening networking event, and the day started early with me going to swim. I literally packed and carried all three of my meals with me! I didn't have much time to snack, and I scarfed down my dinner cold in a corner at the restaurant where the event was. I was surprisingly satisfied by it all!
Day 27
Breakfast: egg bake, 2 slices prosciutto, 1 cara cara orange, tea
Lunch: carnitas salad from Chipotle, mandarin orange
Snack: apple, hard-boiled egg, almonds
Dinner: chicken soup, roasted potato wedges, sliced bell peppers and cucumber
After the late night work event, I just couldn't even with packing lunches for the next day, so Chipotle it was (for only the second time, which I'm pretty pleased with).
This soup was fun! You basically make the broth around the ingredients–it's just bone-in, skin-on chicken thighs in water with some aromatics, and it turns into a nice broth. It was a bit of a mess to get the chicken out to shred and to strain the broth, but not terrible. And I've finally learned how to cut potatoes into nice wedges! These roasted potatoes were the bomb.com. I think Yukon golds are WAY tastier than red potatoes, which is what I always used to buy.
Day 28
Breakfast: banana with almond butter, hard-boiled egg, 2 slices prosciutto, tea
Snack: Laurabar
Lunch: chicken soup, roasted potato wedges, sliced bell peppers and cucumber
Snack: 1 cara cara orange, almonds
Dinner: crockpot Italian pork, mashed potatoes, green beans, salad
I had my book club over tonight, so I made a giant pork loin in the crockpot and mashed about 8 potatoes.
Day 29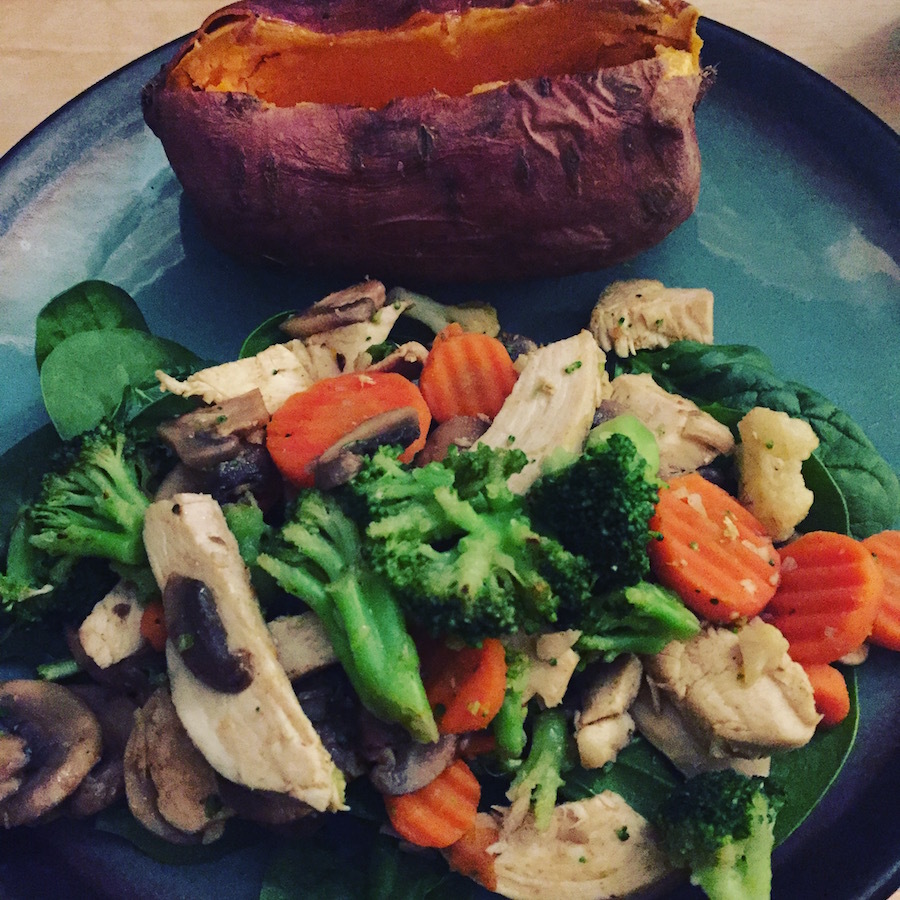 Breakfast: banana with almond butter, 1 slice prosciutto, hard-boiled egg, black coffee
Snack: Laurabar
Lunch: leftover pork and mashed potatoes, slice cucumber and bell pepper, lemon La Croix
Snack: 1/2 an avocado, mandarin orange
Dinner: stir-fried chicken, mushrooms, and California blend frozen veggies on spinach, 1/2 a sweet potato with coconut oil
Snack: cinnamon apple tea
Provisions running low. Super simple dinner of pre-cooked chicken slices from the frezer and some veggies in olive oil sprinkled with garam masala spice blend.
Day 30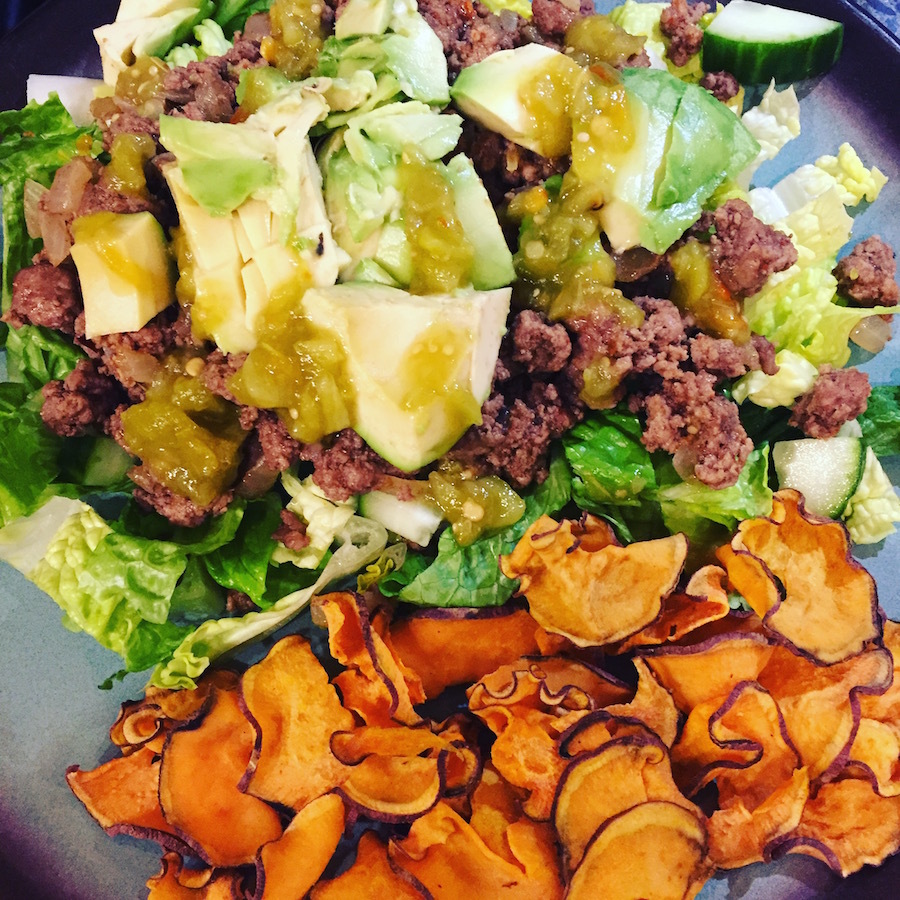 Breakfast: banana with almond butter, 1 cara cara orange
Snack: chai tea
Lunch: leftover stir fry & spinach, 1/2 sweet potato with coconut oil
Snack: apple, baby carrots, hard-boiled egg wrapped in prosciutto
Dinner: ground beef taco salad with cucumbers, 1/2 an avocado, and salsa; sweet potato chips
The final day! I sort of can't believe I made it, after feeling like I didn't plan well this week and was running really low on appropriate foods. Andy had already transitioned away from Whole 30, so I had to tell him he only had non-compliant snacks today so that I'd have enough to munch on.
Freezer Goods Remaining
3 small containers Italian chicken soup from week 3
1 quart-sized bag of meat sauce
1 sliced chicken breast
4 Trader Joe's frozen chicken breasts
4 meatloaf muffins (I won't make them again.)
Final Thoughts
I lost 9 pounds, which is unprecedented for me. For comparison, I spent a few months last year tracking calories using My Fitness Pal. I was also exercising pretty regularly at the time, and the most I ever lost was 3 pounds. I started to get excited this past week because I could tell I was losing weight. I had to move my belt a whole notch tighter! Some of that is surely water weight–at the risk of sharing TMI, I was peeing SO MUCH the first few days of the Whole 30 as my body got accustomed to its new food supply.
I wouldn't say I ever got to the Tiger Blood energy phase the Whole 30 creators rave about, but I feel pretty good. I think I am carrying a lot less tension in my body. I previously would often realize my shoulders were all hunched up, but over the past couple of weeks I would consciously be aware that I felt awfully relaxed, even though nothing other than my eating habits had changed.
Partway through I thought I would never do it again, but now I'm not so sure. I could see doing it for a week at a time here and there as a re-set after a vacation, or even maybe once a year in January. And I'm definitely planning to limit what I add back in (though I'm not doing the official individual re-introduction the plan recommends). I haven't missed rice really at all, so I won't be adding that. And I'm going to be really careful with sugar, now that I see how I feel without it. I may try to eat mostly like this, with exceptions here and there (and without worrying over every little ingredient in, say, my chicken broth).
All in all, I'm really proud of myself for making it all the way through! Knowing I can commit to something hard and see it through is a worthwhile feeling in itself.
---
---