July 14th, 2011
I never fantasized about my wedding growing up. I had one Barbie doll, and I didn't even really like her. My favorite books for a long time were about girls living on the frontier and girls that survived horrific events like the Holocaust and earthquakes. I loved swimming and playing on my monkey bars in the backyard. Wedding? Who wanted to think about weddings?
I'm sure a lot of this stemmed from the story of my parents' marriage. They were a bit older when they got married, and my mom was pretty hands off about planning their wedding (mostly because her mom insisted that she be!). They got married in a casual backyard ceremony, and I'm pretty sure my mom was literally barefoot and had flowers in her hair. I didn't grow up ogling pictures from that day, or playing dress-up in her dress, or hearing stories about how magical it was. And you know what? I don't feel like I missed out on anything.
I think the pressure that our society puts on a girl's wedding day is too much. Many girls grow up expecting to feel like a princess that day and expecting it to be the best day of their lives, and I think this puts undue pressure on the planning process and the actual day. AND, it takes the focus off of the real reason for the day: the marriage.
Needless to say, when it came to shopping for a wedding dress, I was pretty clueless. I tore several images out of magazines and found some things online, but then on a random Tuesday afternoon when I needed to get away from school for awhile, I called up my friend Kaleigh and said, "You wanna go to David's Bridal with me?"
I tried on many dresses that afternoon, most a far cry from what I thought I wanted. The first one was magical, I'll admit, because there was something incredible about seeing myself in the fabled white dress.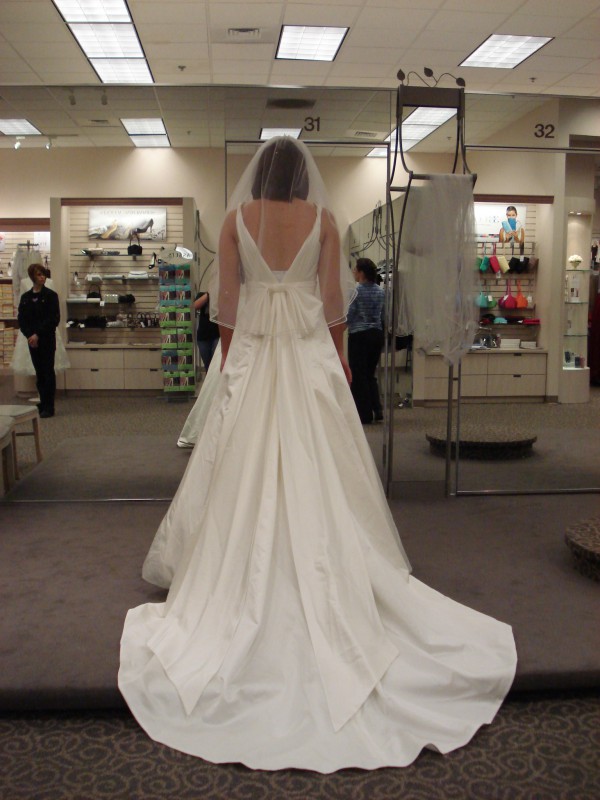 I posted pictures in a limited access album on Facebook and got a lot of comments–many of which I utterly disagreed with. So I realized that, ultimately, the dress had to be what I wanted. I had to feel comfortable and beautiful in it, regardless of what other people thought.
But somehow this excluded my mom. I needed her to be a part of the process. She and I made a whirlwind trip to a consignment bridal boutique when I was home for Easter and discovered that we had pretty drastically differing opinions on what my dress should be. In spite of her simple wedding, she envisioned me in something decadent and princess-y. (I can't believe I'm posting this terribly awkward picture of me on the Internet, but that's the sacrifice we bloggers make, isn't it?)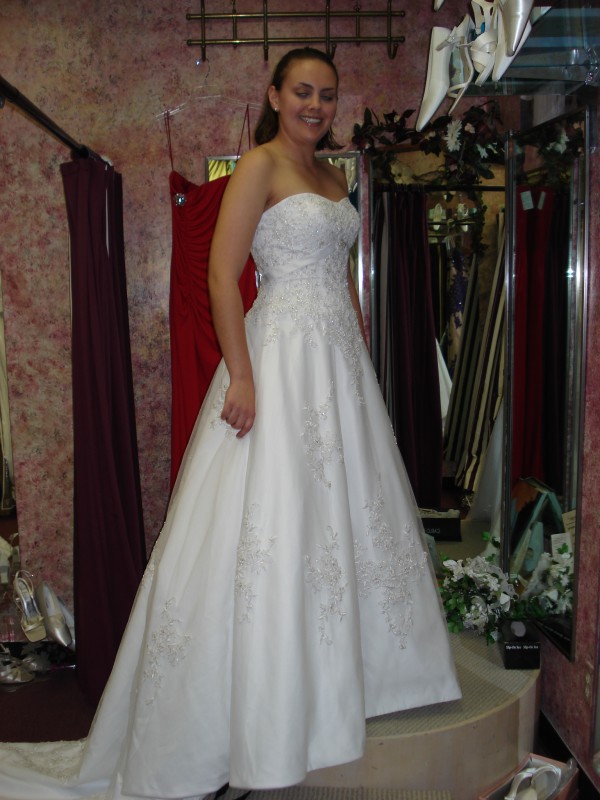 I was surprised but also knew that I needed to stick to my guns that that wasn't for me.
I went back to David's Bridal a few weeks later and brought the requisite cadre of friends, thinking it would be fun but not necessarily expecting to find a dress. I wasn't necessarily looking to cry, or be overcome with emotion, but I did figure I would somehow know.
And then I made The Face.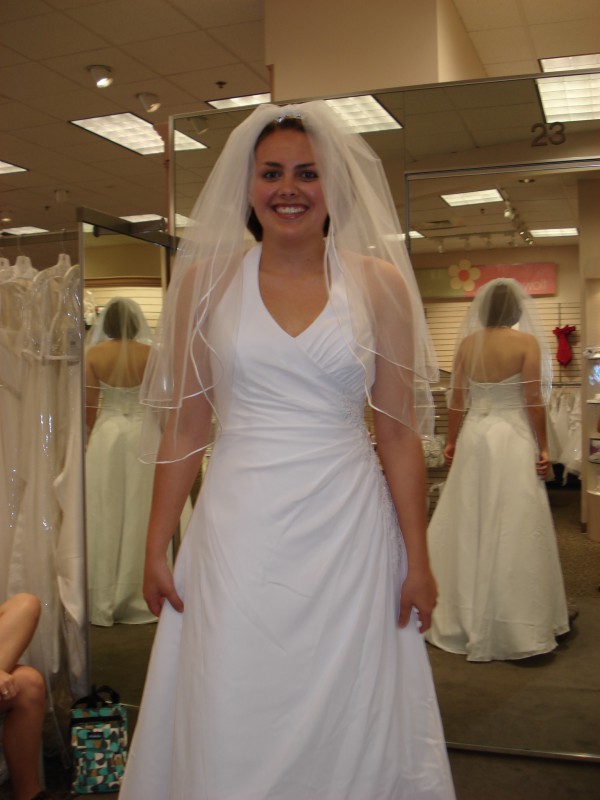 I didn't realized I was making The Face, but my friends all noticed it. They exclaimed that I had found it. I was unconvinced, because the dress seemed too simple, too comfortable. It had seemed too easy. But the more I stood around in it, and especially when we added a veil and some shoes, I decided they were right. And conveniently, my parents were coming to visit two days later, so I put the dress on hold, knowing I couldn't make a decision without them there.
We headed back to David's Bridal as a family unit and I tried on The Potential Dress, in addition to a few others. At first, my mom was hesitant, and I got frustrated, knowing I couldn't buy a dress that she didn't love and thinking I would have to start the process over again. My dad, when pressed, simply said I looked beautiful, though I think he would say that if I were wearing a potato sack, so he was not much constructive help. But as we pondered, a woman came out of the dressing room next to me stuffed into a too-small, too-bedazzled gown that looked heavy and uncomfortable, and my mom's countenance changed. She was won over by the simplicity of my dress that had made me question it in the first place and, as cheesy as it sounds, said she realized that I was the sparkle. I didn't need a fancy ballgown in order to shine.
And so we bought it. It was a middle-of-the-range David's Bridal style. I knew from the beginning that I couldn't bring myself to spend even a thousand dollars on a dress I would wear for only a few hours, despite having watched countless episodes of Say Yes to the Dress. I was giddy to finally have a dress and felt utterly pleased with my purchase (though I would, inevitably, have doubts about it over the course of the year that would pass until the wedding, which were assuaged each time by trying the dress on and falling in love all over again).
And I also knew practically from the moment of purchase that I had no desire to keep it for all eternity. The fabric was nothing special, and there were no beading or lace details that could become family heirlooms. It was a fairly modern style that I'm not sure would stand the test of time. A. and I will likely be in apartments with limited storage for the foreseeable future, and closet space is at a premium. And I know that a potential future daughter of mine will not miss it if I raise her not to miss it.
The pictures from our wedding I will, of course, treasure. In a last minute panic before the wedding, I frantically insisted that we upgrade our photography package to one that included a professional album, and I'm glad I did. The shoes from our rehearsal dinner I will wear out on numerous dates in the future and smile every time at the memories. And the earrings from our wedding day have become some of my favorites that I wear on normal days, not just for special occasions, and I am glad of that. But I'd rather my dress serve someone else well than have it become a relic. I'd rather make a little money from it to buy Kindle books or go out to a nice dinner than have it sit in a box and turn yellow. I'd rather move on and focus on our marriage and make new special occasions. I don't want to keep my wedding dress.
I hadn't even thought about the controversy of this until I posted on Facebook earlier this week that I was finally beginning to search in earnest for a means to sell my dress. A friend's mom, who has also done her fair share of mothering for me over the years, commented and said simply, "You don't want to keep it?" And I was reminded in a sentence of the importance we've erroneously imbued on the wedding gown.
I'm not knocking anyone who wants to keep her dress, nor am I berating girls who grew up envisioning their weddings and idolizing their mother's gown. I'm just saying that choice is not for me, and it's not for my future daughter. My wedding dress felt utterly me; I was comfortable in it, and I felt beautiful. But I'll never wear it again, and for me that is impetus enough to pass on the love.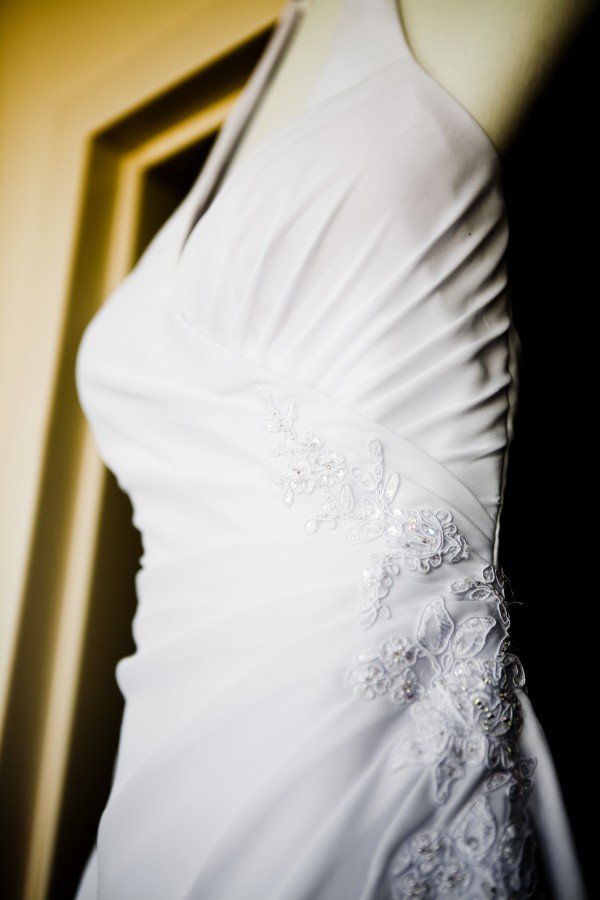 Did you dream about your wedding as a child? Will you keep your wedding dress? What are your thoughts on the Princess Culture we and the media impose upon girls?
---
---