July 12th, 2015
Happy Sunday, folks! My birthday is coming up in a few weeks, and I want to try something new this year. Many charities, most notably charity:water, offer supporters the opportunity to "donate" their birthdays. When I worked at BCM, we would occasionally get large drop-offs of food that came from someone soliciting canned goods instead of gifts.
I'm not going to lie, I really like getting gifts. I still make a birthday wish list every year even though I am an adult. But I also like supporting causes I care about.
For much of my life, books were the big hit on my birthday. I mostly read on my Kindle these days, and I don't need any new physical books. But there are a lot of kids who don't get to know the pleasure of being immersed in an alternate universe.
This year for my birthday, I want to send books to them. I've set up a virtual book drive through FirstBook, a Charity Navigator four-star charity, that sends books to kids in need. 97% of all donations to them go directly toward the cause, and just $2.50 sends a book to one of the recipient organizations who will make sure it gets into excited little hands.
I've set an audacious goal of raising $1,000 for my birthday–that's a whopping 400 books!! Will you join me? Click the image below to head to my fundraising page and chip in.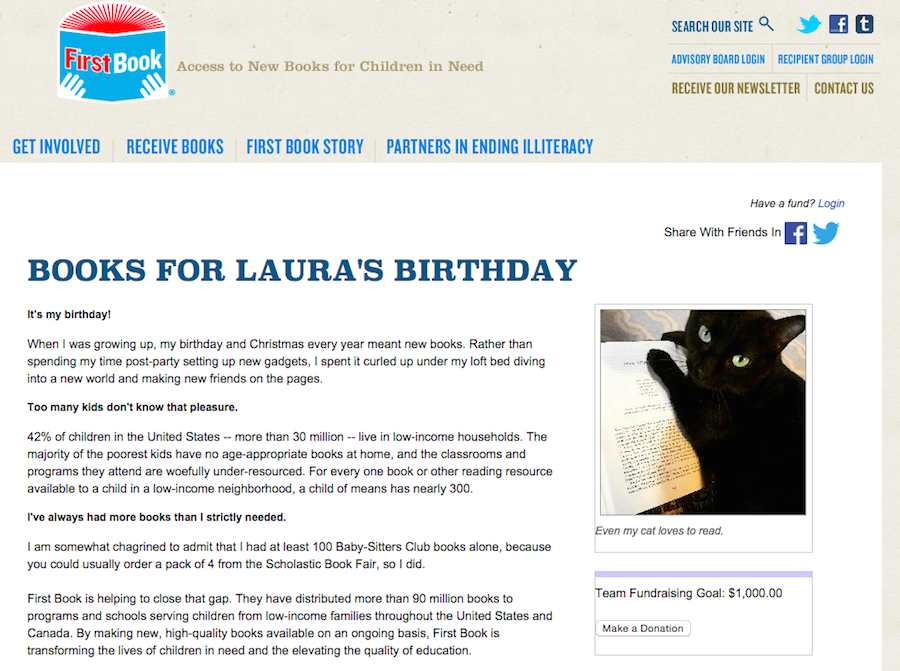 ---
---