August 9th, 2013
I have a picture this week for High Five for Friday! It was fun throughout the week to think, "Oh! This might be a highlight of my week; I'd better take a picture!"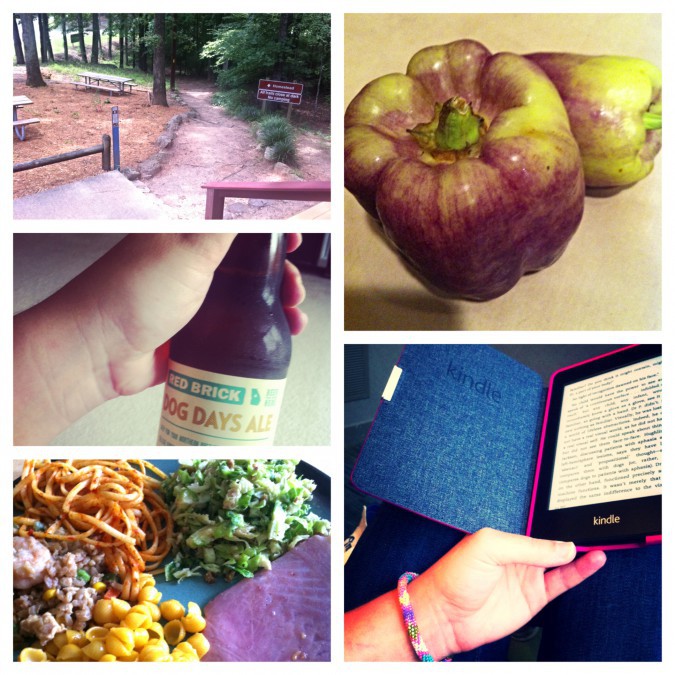 Andy and I went hiking on Saturday. This is something we really enjoy doing, but it's easy not to make time for it. We visited

Red Top Mountain State Park

. I've passed the exit for it off of I-75 N a million times and have been intrigued, so it was nice to finally check it out! The hiking was very nice, and there are enough trails that I think we'd be game to go back! 

I splurged on a 6-pack of this local seasonal beer, and it is deLISH.

We like Red Brick

, and this brew doesn't disappoint.

I had a cooked a fair amount of meals last week, so on Monday I just pulled out all the leftovers and we had a smorgasbord! It was a pretty random assortment of food, but it was all tasty, and it was fun. (Though I was hungry by bedtime, so I'm not sure all those carbs served me too well...)

On Thursday I had to run some errands after work, but they were fun errands! Even the traffic cooperated with me. I got to go to some of my favorite places:

Ansley Wine Merchants

,

The Cook's Warehouse

, and

Whole Foods

. I was picking up stuff to celebrate Andy's birthday, so more on that later, but I found these gems at Whole Foods: purple bell peppers. Who knew?!

I've been enjoying reading on my

Kindle Paperwhite

!!! I just flew through 

Eleanor and Park

by Rainbow Rowell. Has anyone else read it? I'm not entirely sure what I thought...
I'm linking up with Lauren Elizabeth for High Five for Friday!

---
---